Bespoke and modular kitchen designs are gaining attention these days due to the rise in innovation, comfort, health, and hygienic demands. The Best kitchen design always includes something that makes your life easier with its presence. Modern kitchen designs are called modern due to a reason because they speak for themselves in terms of functionality and design.
Bespoke kitchen designs are custom-made that fulfill your needs. The kitchen is one of the most precious and important places in a home. It must always be manufactured according to your lifestyle, comfort, tastes, and needs. But somehow, a person who lacks the knowledge of interior and manufacturing industries misses out on the chance to have bespoke kitchens and ends up compromising with redesigned kitchens.
New kitchen designs give the control to access all accessories, equipment, and units of a kitchen seamlessly. With bespoke kitchens, you will have every uniqueness and functionality that will make a kitchen design more attractive and practical.
In many cases, we tend to love the piece of the design shown to us before the construction, but we do not feel the same after using the kitchen. So, to improve your lifestyle and health, a tailor-made kitchen is a work of art.
Best Bespoke Modular Kitchen Designs that you must know and have for the most convenient experience are as follows:
1. Simplicity At Its Best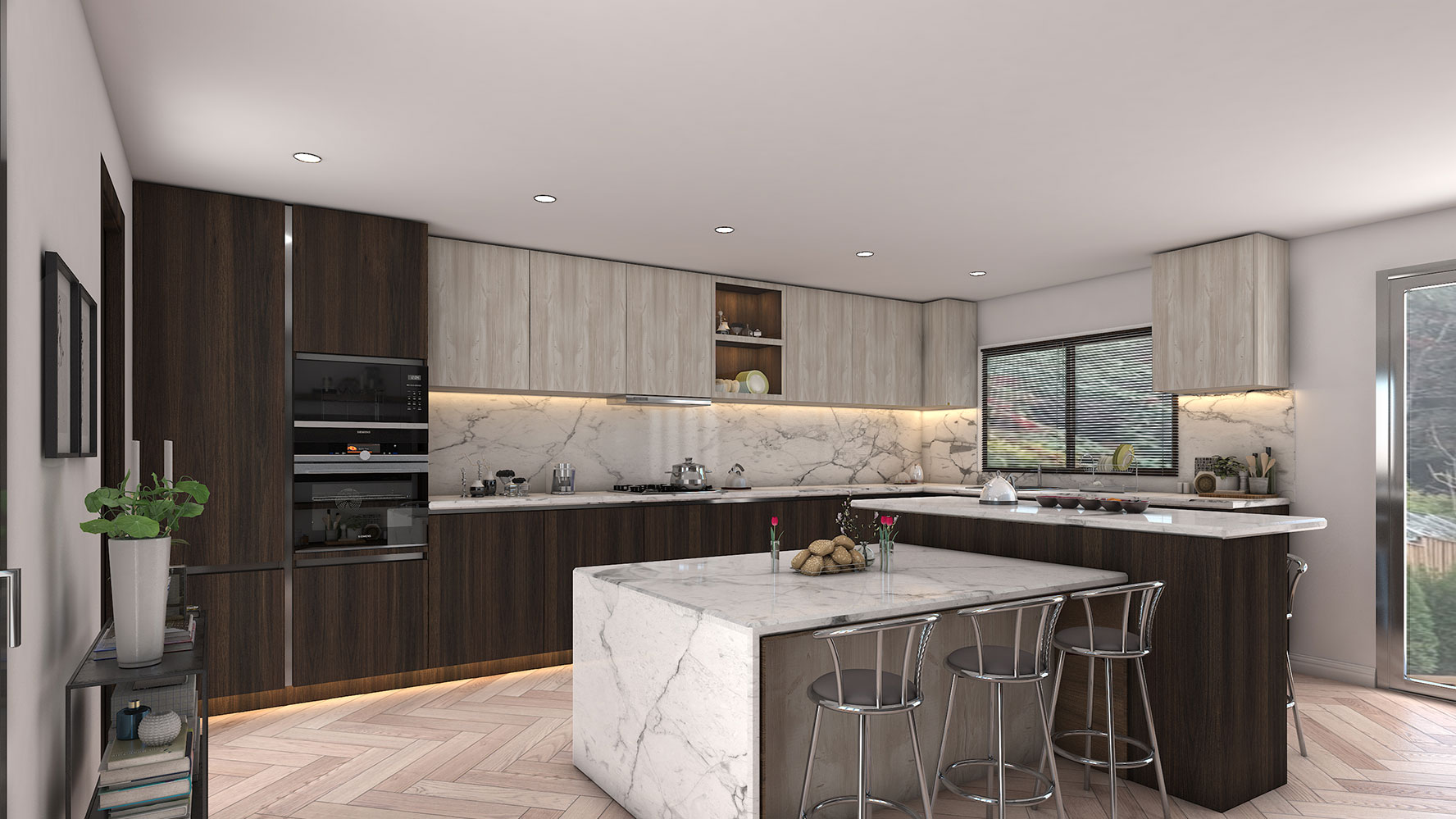 A Beautifully designed modern kitchen is a masterpiece to bring a family together for happy and memorable moments. This design has its beautiful uniqueness, followed by sleek and sophisticated materials fitted for fully functional and complete looks. The wooden and marble combination in the table with bespoke designed open kitchens looks stunning.
Quartz worktop is spill-resistant, stain, and water-resistant and makes life easier.
White polished walls and ceilings leaves, graceful texture for a small kitchen to look at the large modern kitchen.
Black-fitted inbuilt units and kitchen accessories steal heart whenever you work in a kitchen.
Glass splashback turns the table as it is pure bliss for lovers of the hygienic and deeply cleaned kitchen.
The latest kitchen design proves to be beyond trends when provides a whole matt finish.
2. The Super Space Kitchens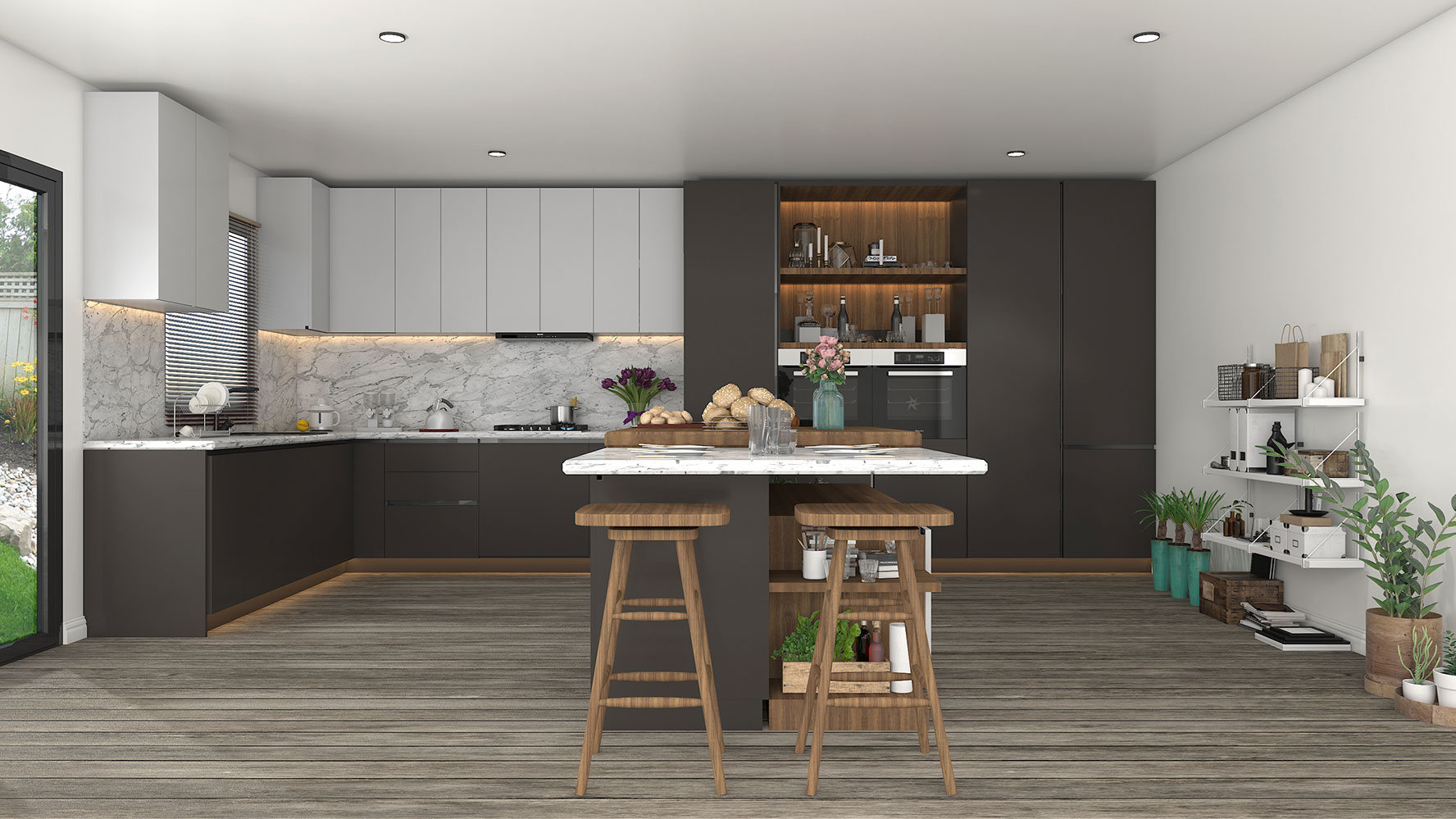 Another superlative kitchen design among bespoke and modern kitchens is a many in one space bus kitchen. If you want a good-looking, practical and kitchen with excellent storage space, you must put this attractive option to your bucket.
A modular kitchen designed with high-quality materials such as Quartz and wooden finishes protects the kitchen like a guard.
Being non-porous, stain resistance, and durable material make a clear path for you to choose for your home.
You will have enough storage space with integrated built kitchen accessories and units.
Safer and a matt finish kitchen supports an economical and stylish kind of living.
3. A Kitchen Designed With Elegance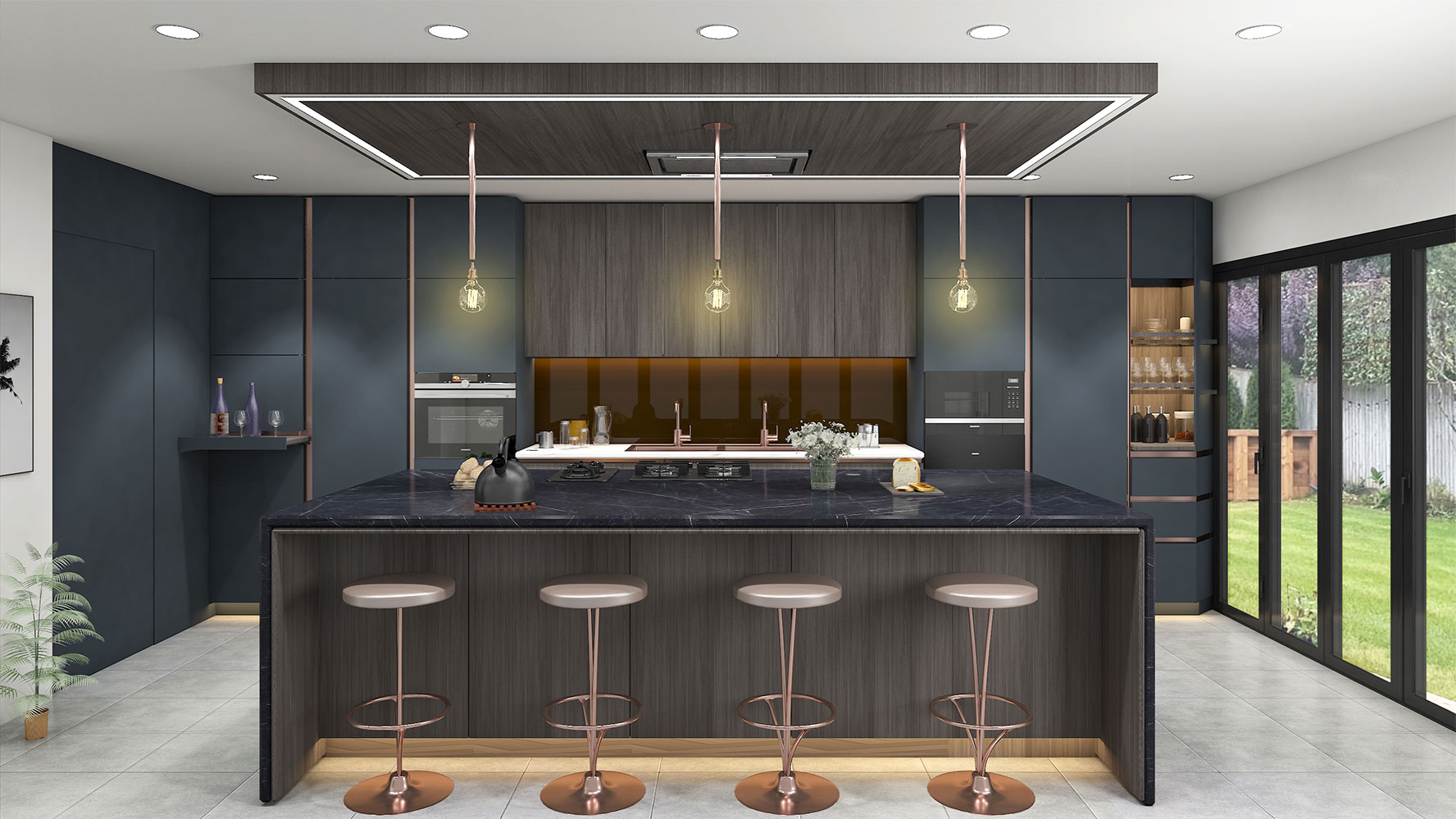 Modern kitchen design with bespoke fittings is an excellent choice for larger spaces and prominent families. Having a double island kitchen design made up of wooden as well as quartz and fitted with a well-designed sink, cabinets, and ovens.
It is a perfect combination of marble, wood, and quartz, making a kitchen worth having for every luxury home.
Durable and simplistic motion technologies made the kitchen cabinetry system easy to maintain.
Beautiful heart-warming lightning soothes the mind by giving a positive, uniform, and enlightening outlook of your favorite place.
4. Kitchen Of Pride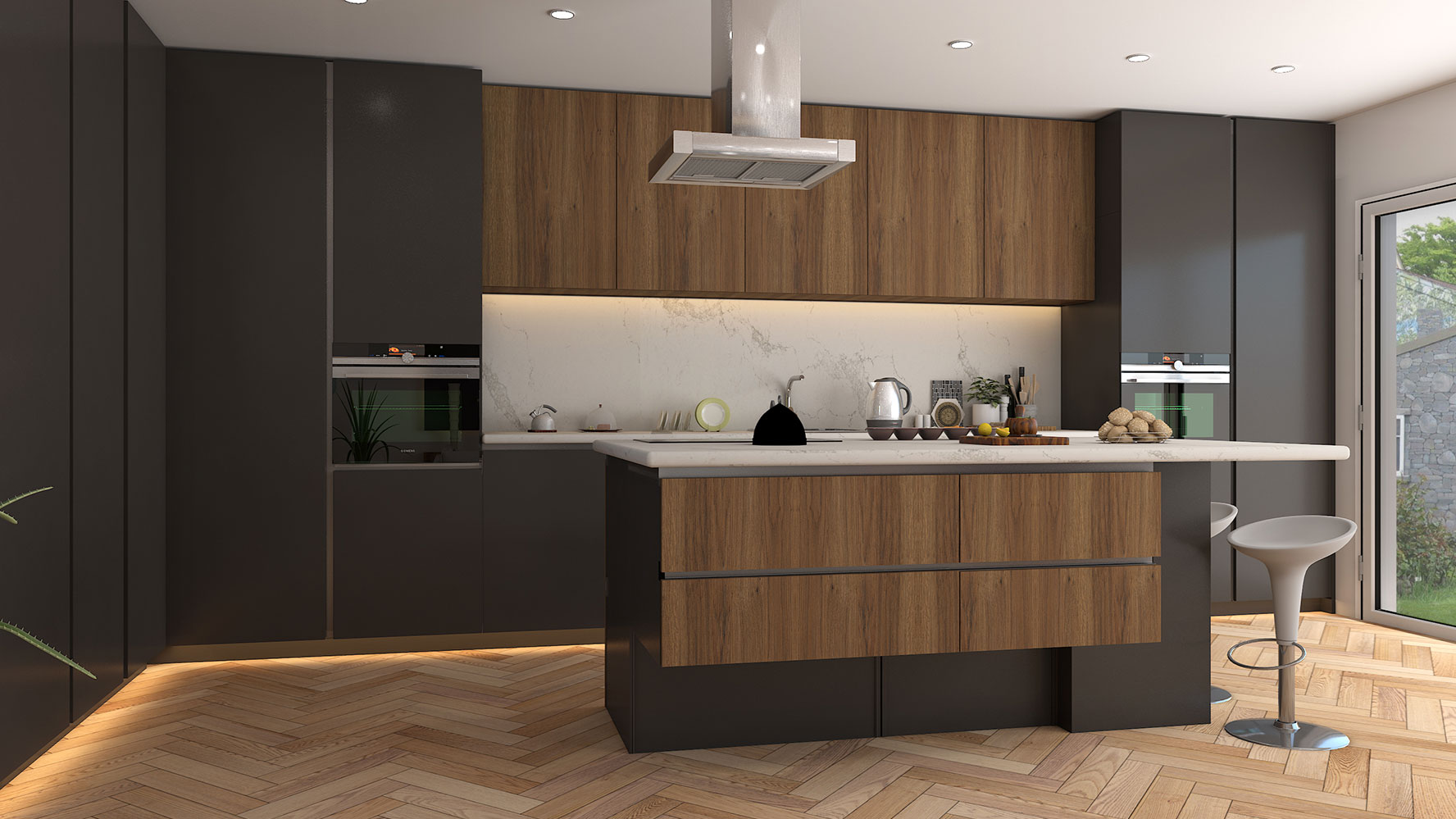 We call it our kitchen of pride as it comprises the best technologies, materials, functionalities, trends, and styles. A modern design kitchen gives you goosebumps while having a glance at a handless modular kitchen.
Fully integrated kitchen appliances with fantastic storage coverage blend beauty with good utility.
The lights under the wall cabinets commendably provide visibility at the time needed to elevate the task and appearance.
Best kitchen design that gives matt and glossy finish at the same time satisfies your soul.
Glass splashback made life easier with handy a cleaning solution that makes the kitchen more health-friendly.
5. Kitchen With Classic Beauty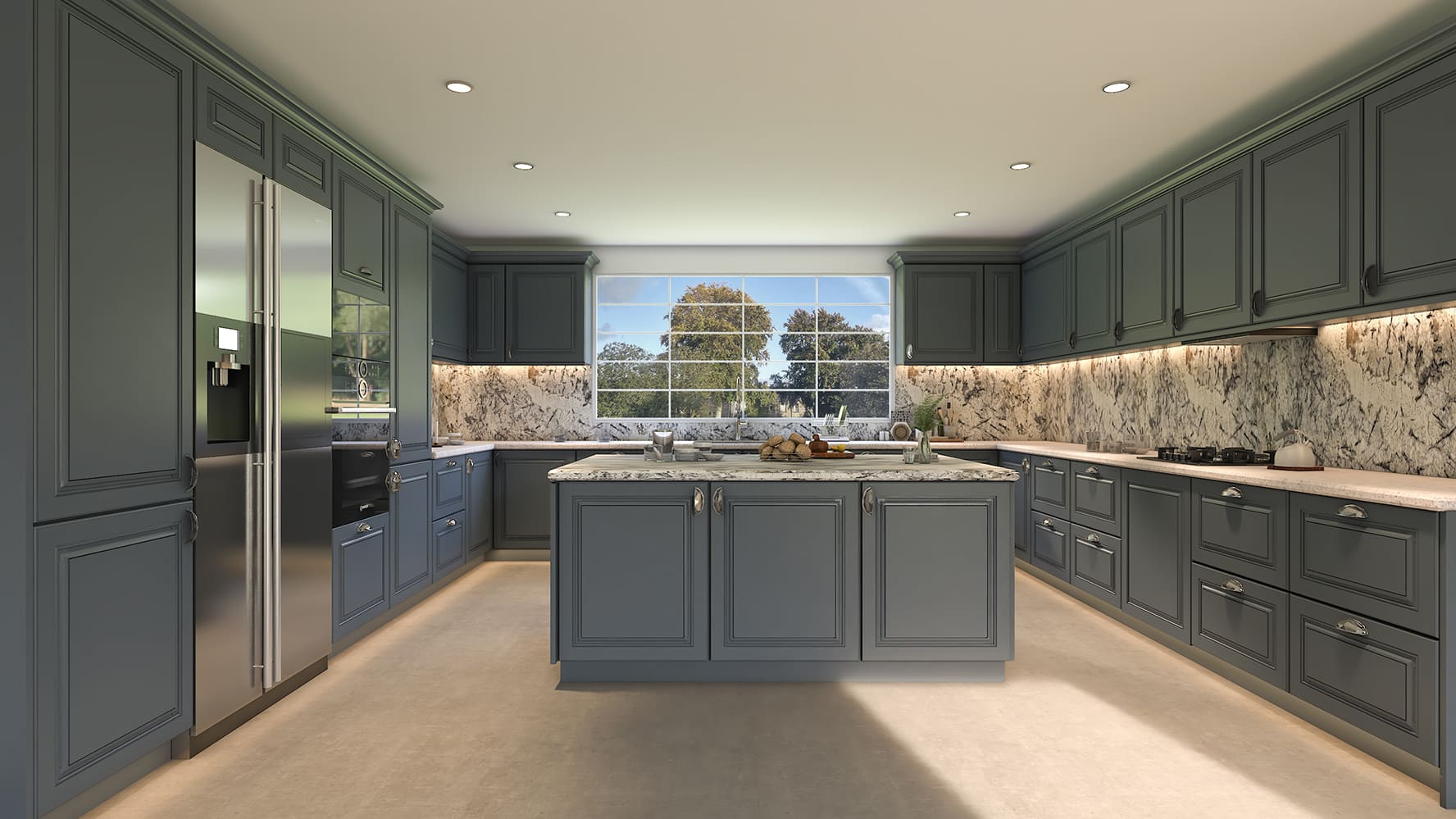 Our professionals make the best kitchen designs that follow a unique sense of style with possible optimal materials. The outstanding contemporary bespoke-designed kitchen influences a dealer with aesthetic and classical procedures. We understand what a client needs, then work on those desires.
Combination of timelessness and elegant kitchen designs made from the high-end skillful experts of London, UK.
Robust materials ensure durability and give a royal appearance to a bespoke kitchen.
Made of matt finished marble, wood, and quartz, that makes your kitchen effective and easy to maintain.
This British modular designed kitchen is resistant to grease and stains.
6. Love Your Kitchen At First Site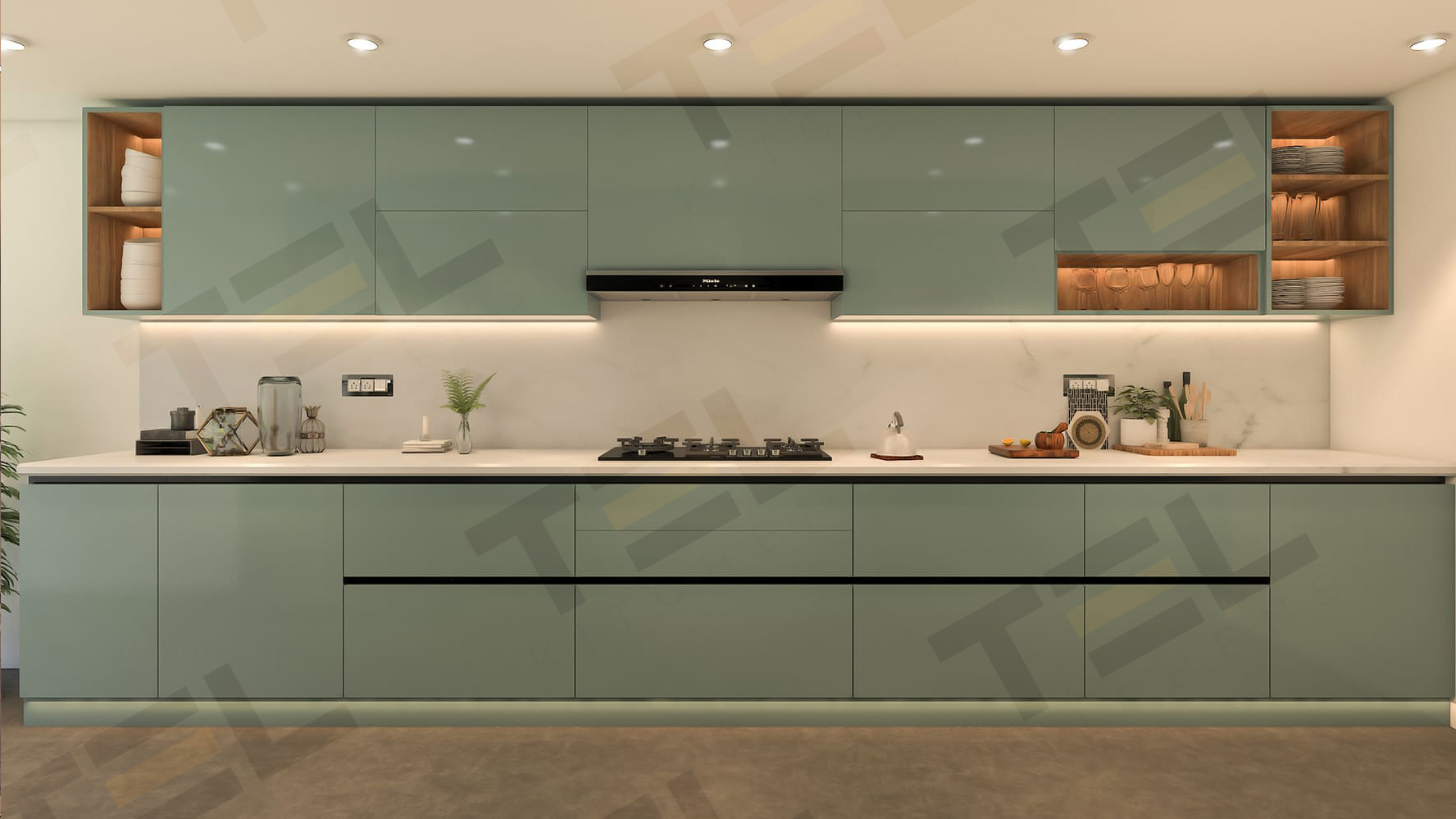 Fall in love with your kitchen at once with your single-wall kitchen giving a matt finish. New kitchen design appreciates each edge of your kitchen with adorable integrated accessories and appliances.
Marble and Quartz made worktops are stain and scratch-resistant, so feel free while working with amazingly manufactured counters.
Gray matt and Black finish with wooden walls emphasize the kitchen designs.
7. Create Royal Memories With Kitchen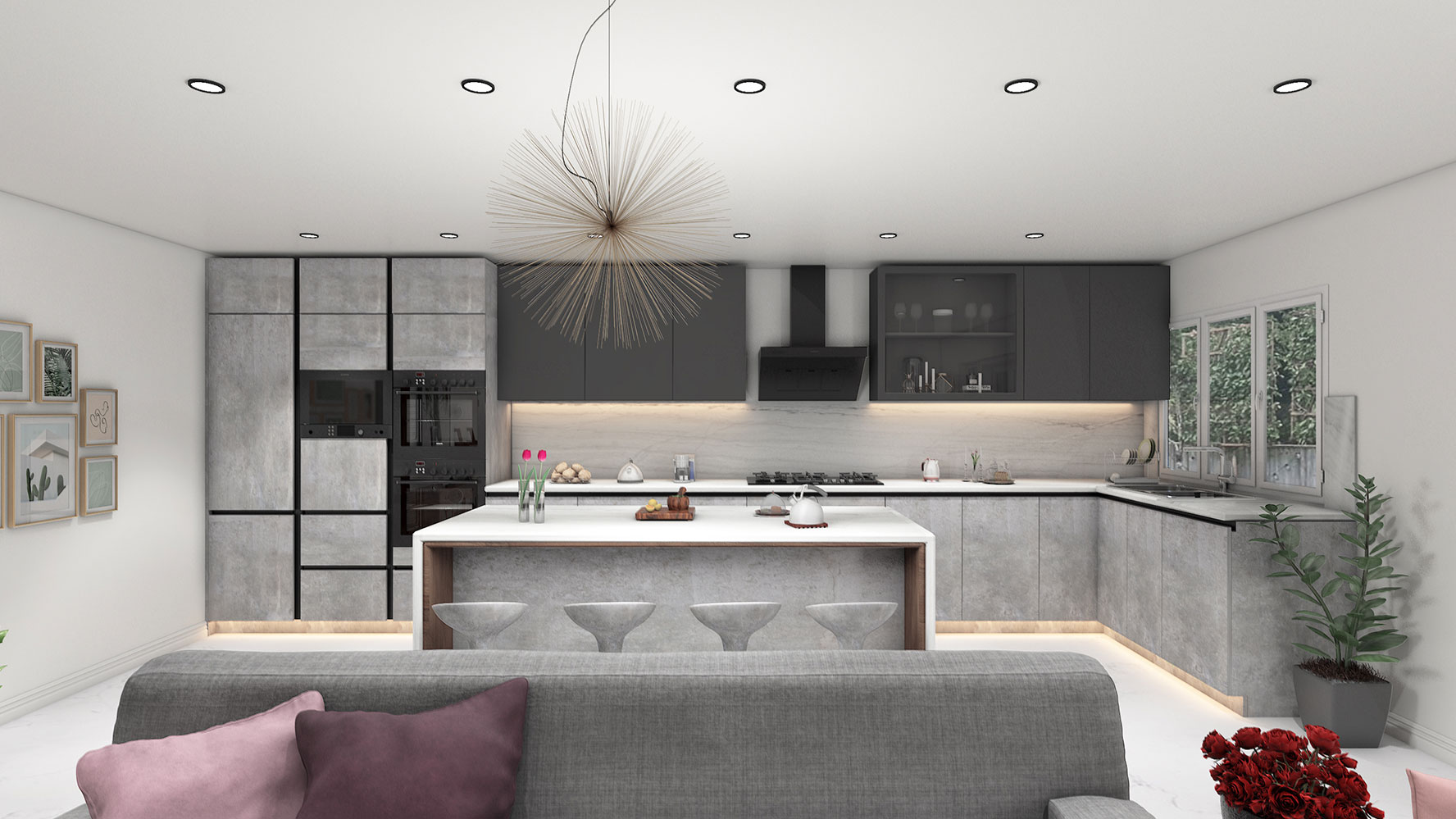 Modular kitchen design made Bespoke TEL Kitchens stand out with a G-shaped layout and extended island to create beautiful memories with family. It suits your daily lifestyle and encourages you to work systematically without making a mess around.
This Quartz island and countertop material provide non-porous and anti-bacterial properties to have a strong concern about your family and health.
Bespoke modern design kitchens follow a range of storage solutions with integrated kitchen appliances.
Hanging lights and customized sinks are more practical and handier for a client.
To give an additional contrast, light-colored wooden material has been added to the kitchen design.
8. Bring The Stylish Kitchen To Your Home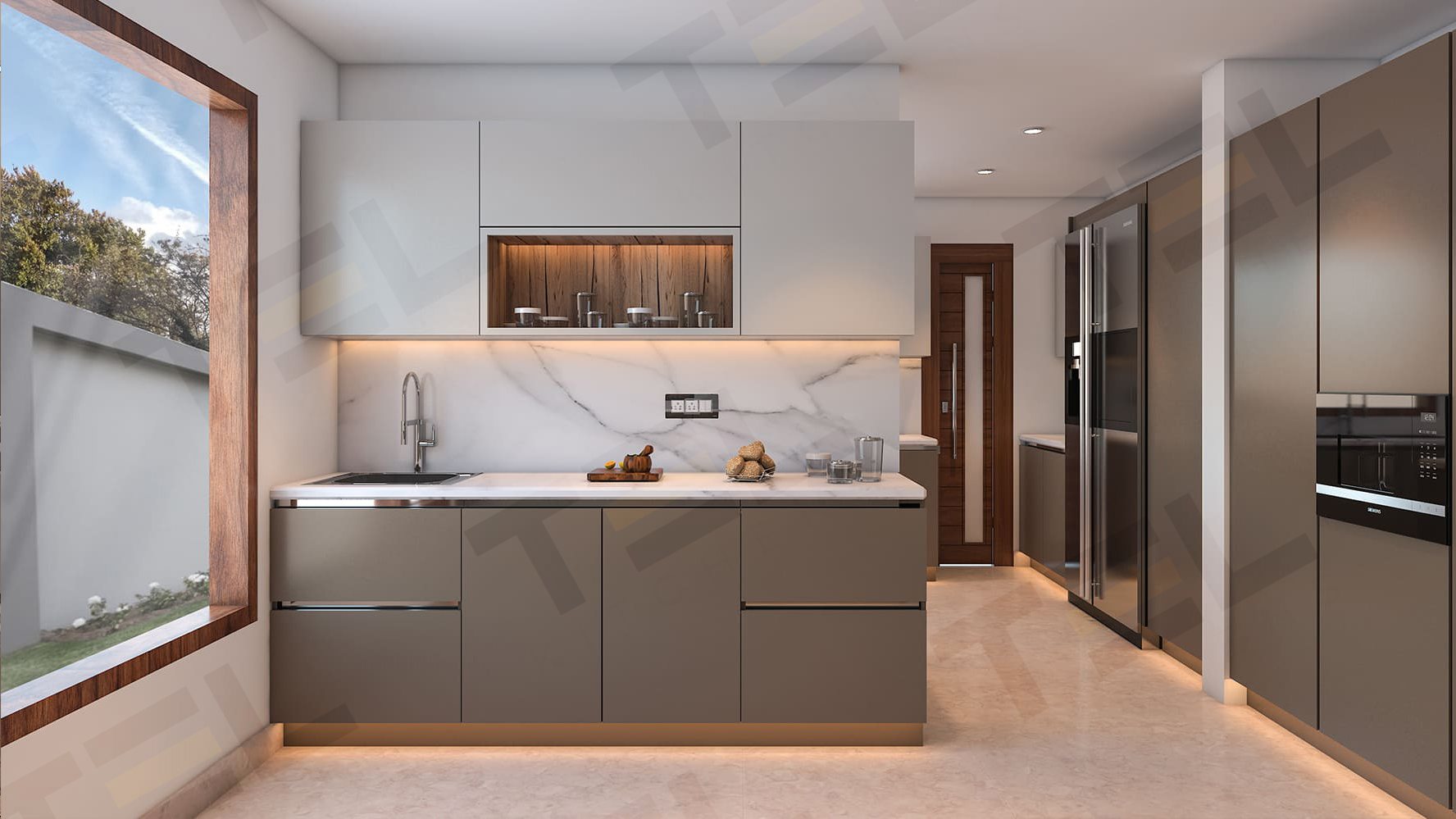 Modular kitchen designs with bespoke trends are specially made to grasp your needs inspired by luxury and contemporary architectural designs. We provide you with a kitchen design that looks good now and forever. The best quality carpentry assures a long, and robust life of wooden accessories fitted in a kitchen.
The handless cabinetry solutions are crafted in our advanced workshops by experts.
The waterfall style of the Island and beautifully fitted quartz is a better choice for a small and lovely home.
Worktops are best for the problems that came with water and grease drops.
9. Aesthetic Appealing Kitchen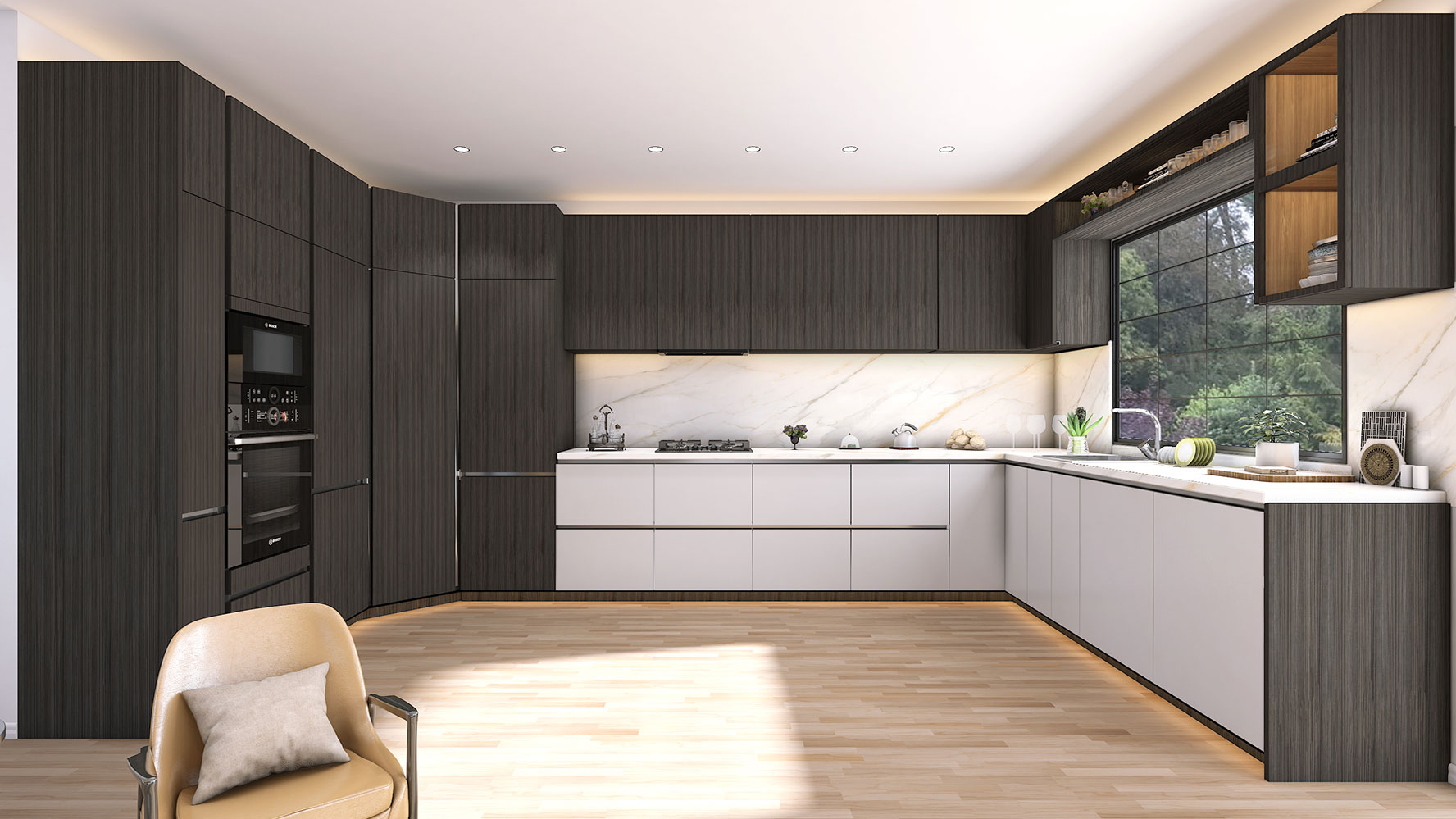 The new kitchen design followed a modular kitchen style and was made by the latest technologies invented by the most remarkable architectures. It provides you not only gorgeous designs but a gift of perfect functional and state-of-the-art techniques.
Hanging lights nourish your family place with a feeling full of love and wellness.
The most organized kitchen results from standardized designs of a similar layout that manages the kitchen accessories at their best locations.
It leaves no mess behind as Quartz is highly practical and handy to deal with.
You will feel grounded every time on interact with wooden fittings.
10. Bespoke Kitchen With Mirror Effect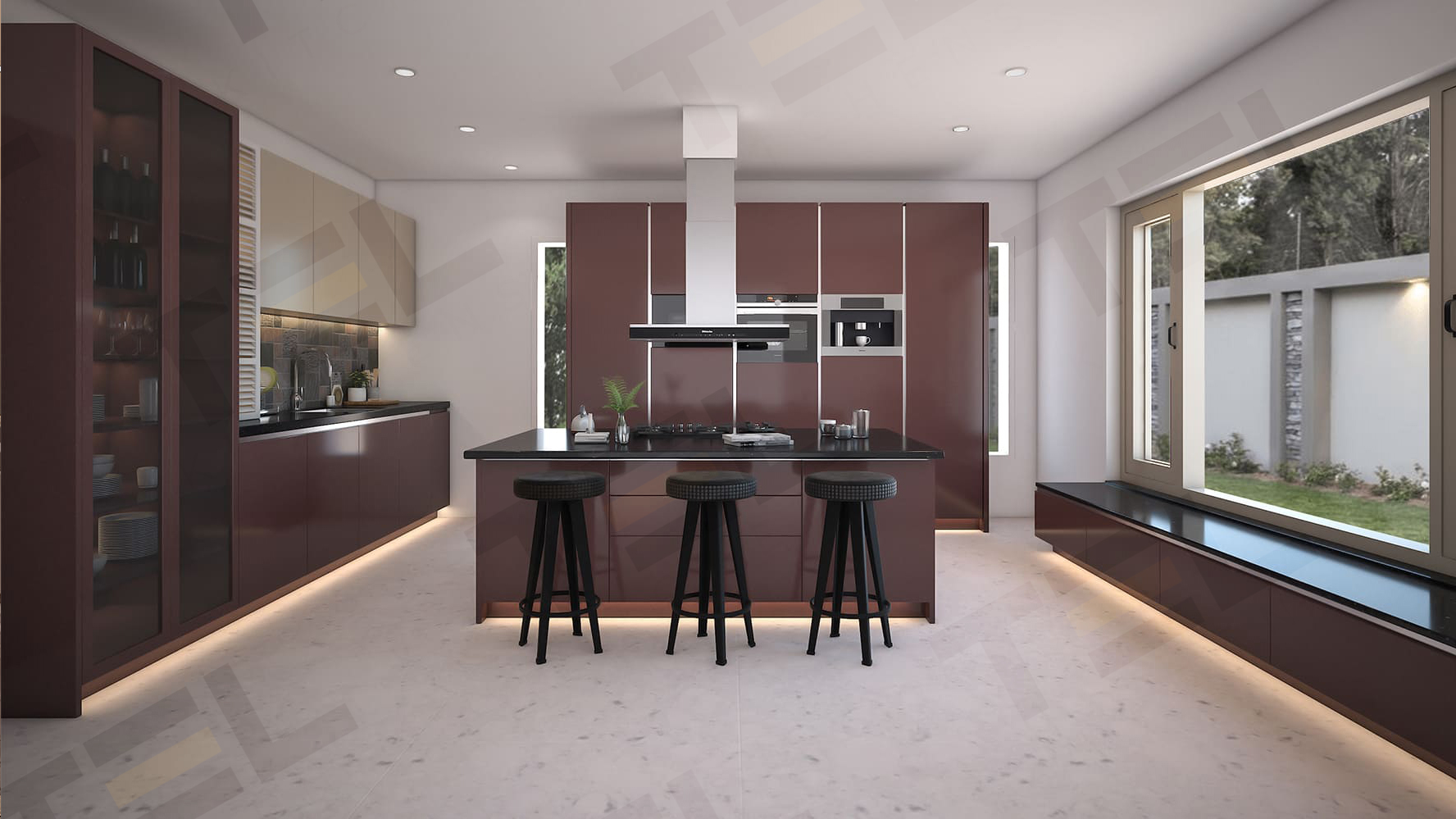 Modern kitchen design gives an appealing look with glossy stainless steel kitchen accessories and handles. Cabinets are made up of white material that makes your storage setting nicely placed and organized. You will get lost inside the marvelous finish of mirror effects designed in your kitchen.
A durable, rigid, and timeless piece for bespoke kitchens and has various ranges to choose from.
Materials are anti-bacterial, cost-effective, heat, and stain-resistant.
There is no additional island between the kitchens, so it's a perfect choice for small portions.