"Design is not just what it looks like; Design is how it works and makes you feel."
The traditional Indian Kitchen styles have always imbued timeless yet classic appeal with grace.
The conventional setup is obviously in trend, but the value a timeless traditional kitchen adheres to can never be beaten.
Let us dig into the trendiest ideas to bring timeless beauty to your kitchen.
Ultimate Kitchen Designs for Indian Homes
The ultimate kitchen design for Indian homes comprises the one that suits their requirements and desires the best.
And the best part is the designs can be completely customized according to the requirements and expectations of the space.
Before exploring the below-mentioned designs for Indian home kitchens, it is always great to be noted that TEL Kitchens provides the opportunity to customize the kitchen space completely.
With a diversified range of high-quality materials in various sophisticated and luxurious finishes, our real forte is delivering the best kitchen designs matching the taste and expectations.
And the best is yet to come!
With TEL Kitchens, one can now easily visualize their kitchen space without actually laying down a brick!
Yes, that's true.
It is now possible to have an architectural 3D Visualization of your constructive kitchen space.
Here are some best kitchen design ideas for Indian Homes that the experts have exclusively designed!
Trendiest Kitchen Design Ideas for India Homes by TEL
1. Kitchen Design with an elegant golden décor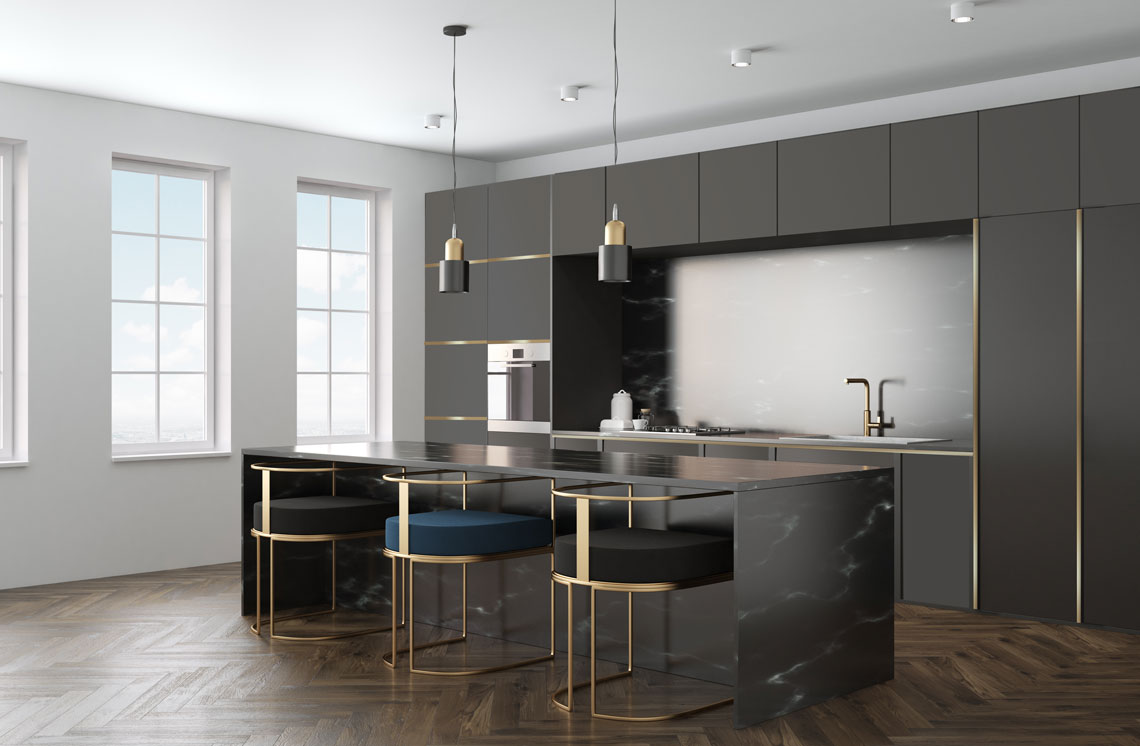 This gold-plated kitchen design is one of the best choices for an Indian Modular Kitchen.
People are fond of admiring shiny things.
If you are one of them and looking for a feasible solution, this is it!
2. Illuminating kitchen design in pristine white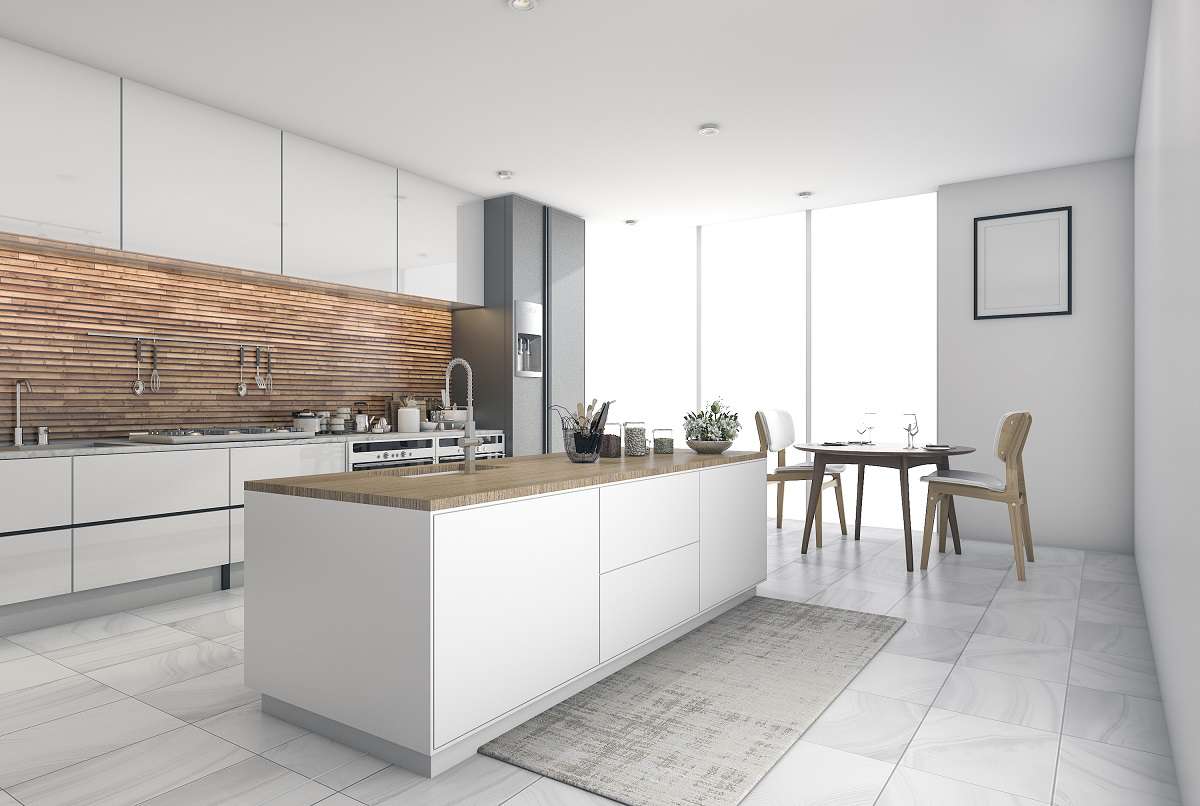 This beautiful kitchen design combined with timeless white with rustic wood brings in more lighting, warmth, and harmony.
3. A kitchen design with a minimal color combination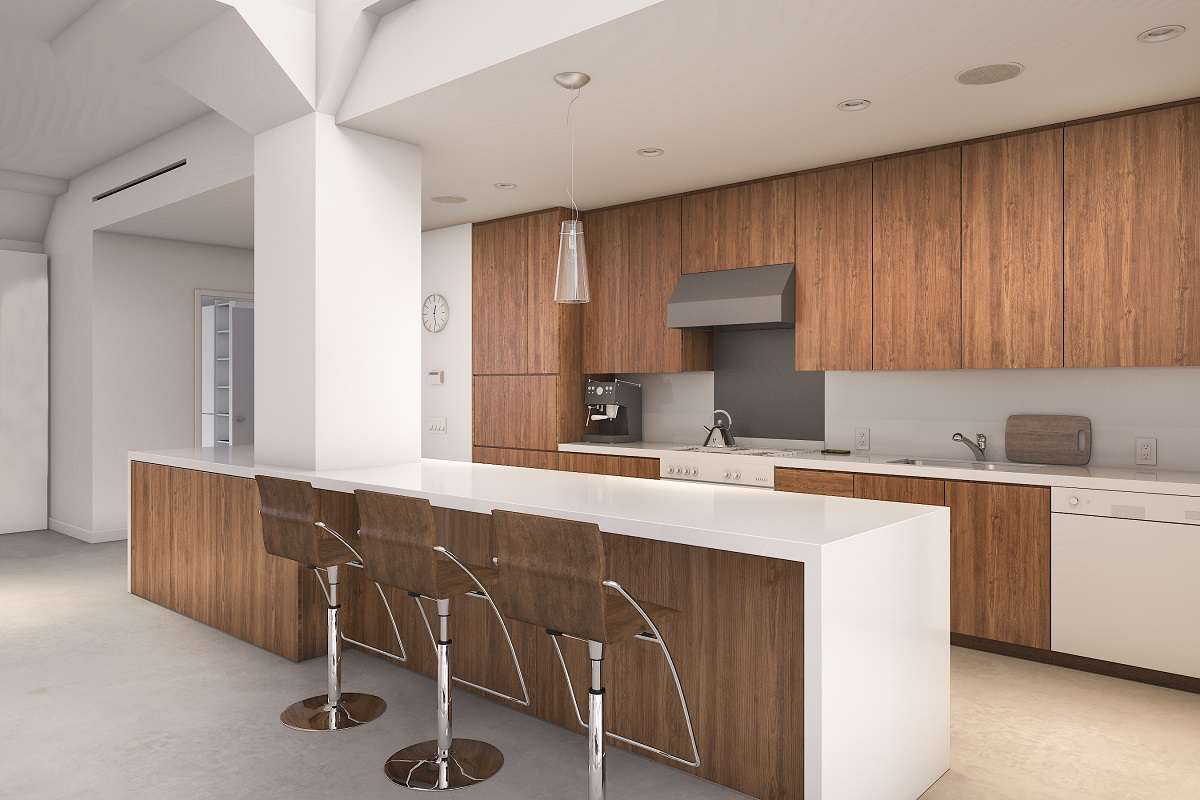 Here comes a perfect example of "LESS IS MORE."
This kitchen design is a perfectionist in terms of delivering graceful elements while keeping it all functional.
4. Modern Kitchen Design with upbeat cupboards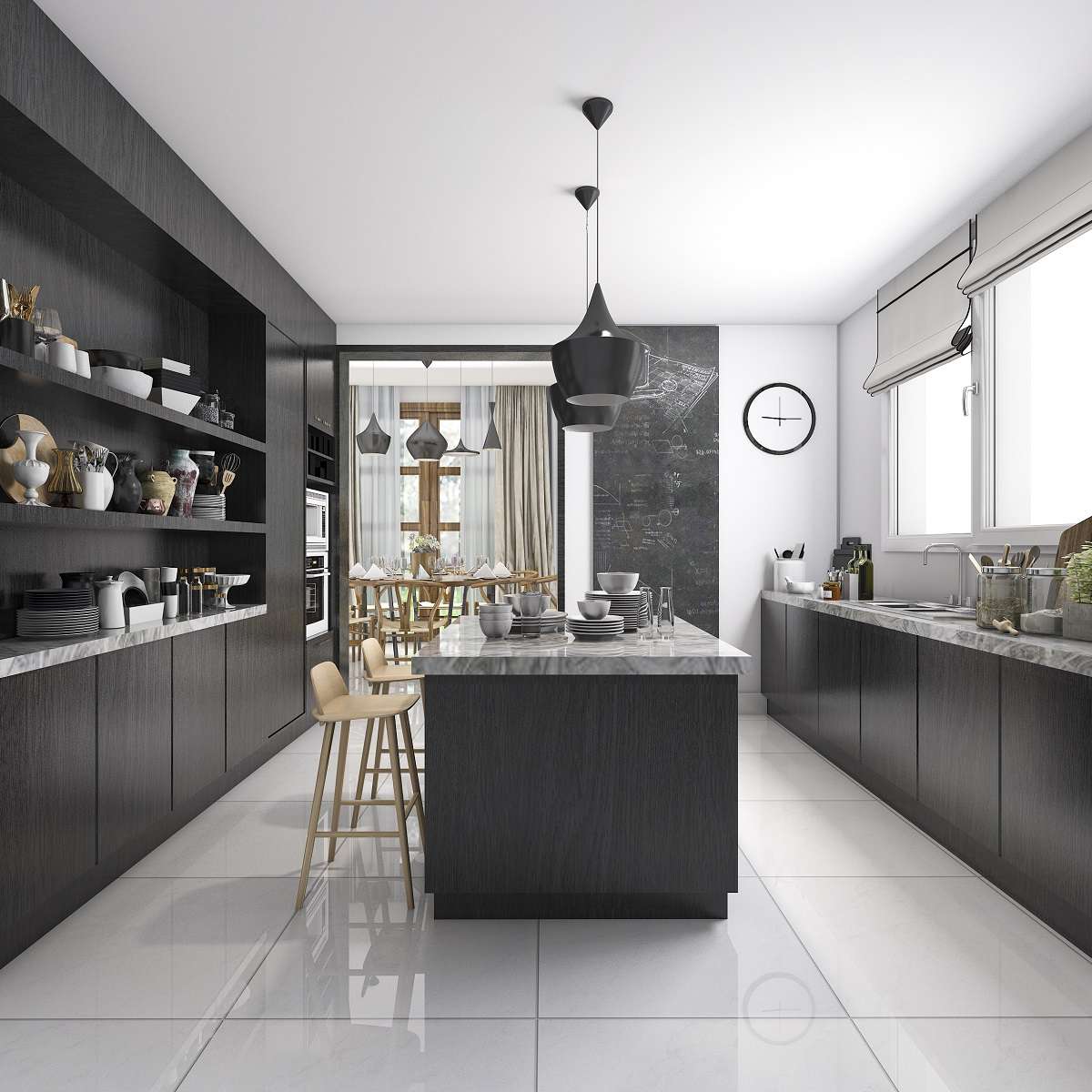 This wholly integrated modern kitchen design with floor-to-ceiling cupboards puts a full stop to all the woes of keeping the kitchen mess-free.
5. Monochromatic Kitchen Design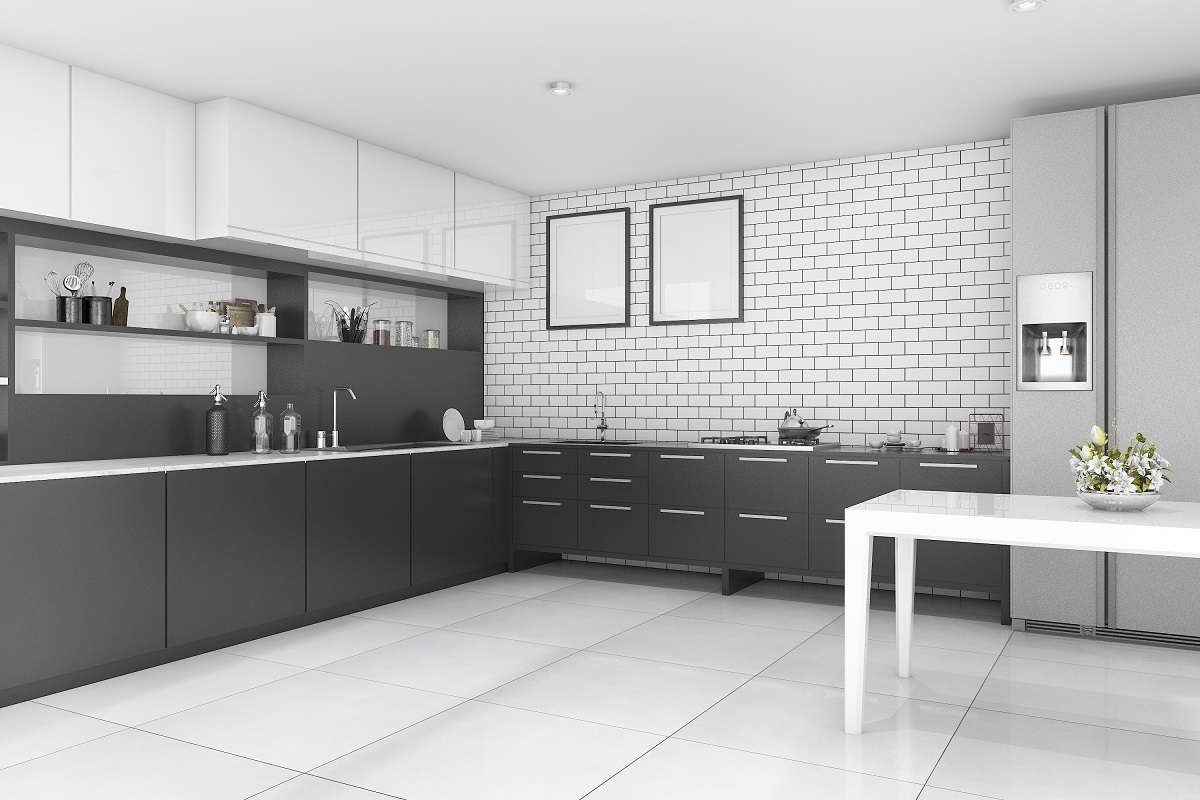 If you love keeping the kitchen space subtle with minimalistic combinations, this kitchen design is an excellent way to have a playful mix of black and white.
6. Kitchen design with no wall kitchen cupboards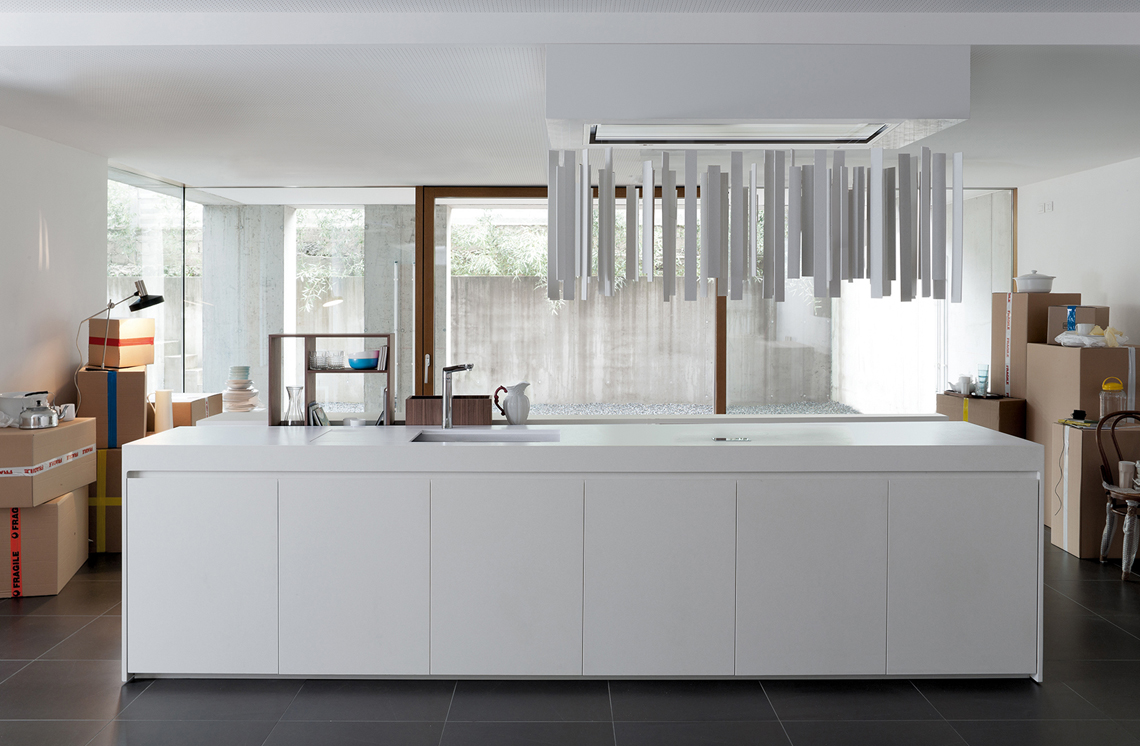 Who said you need wall cabinets only to keep the kitchen space clutter-free?
This kitchen design is a perfect example to prove that a kitchen does not always require wall cabinets.
7. Kitchen design with an island and sitting set up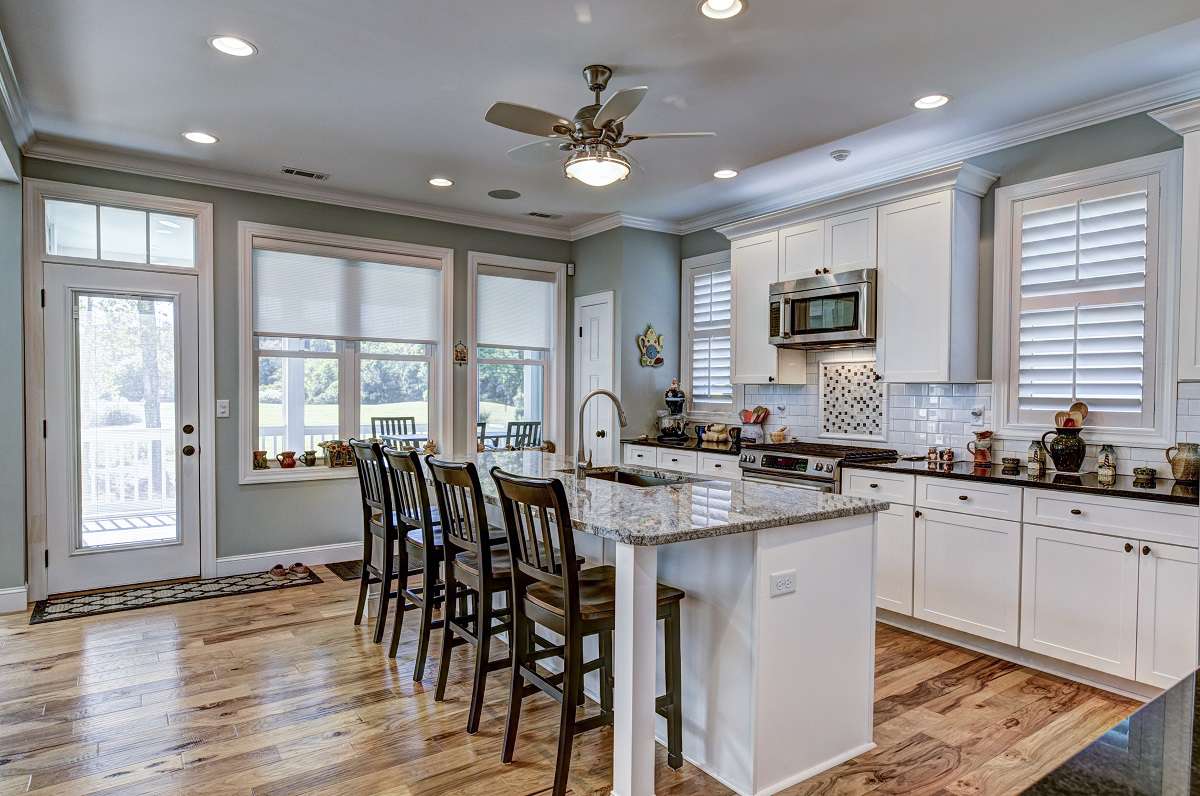 No heavy and extra finishes here! Get an utterly fragile kitchen with a complete setup to keep it all functional.
8. A completely integrated kitchen design in black beauty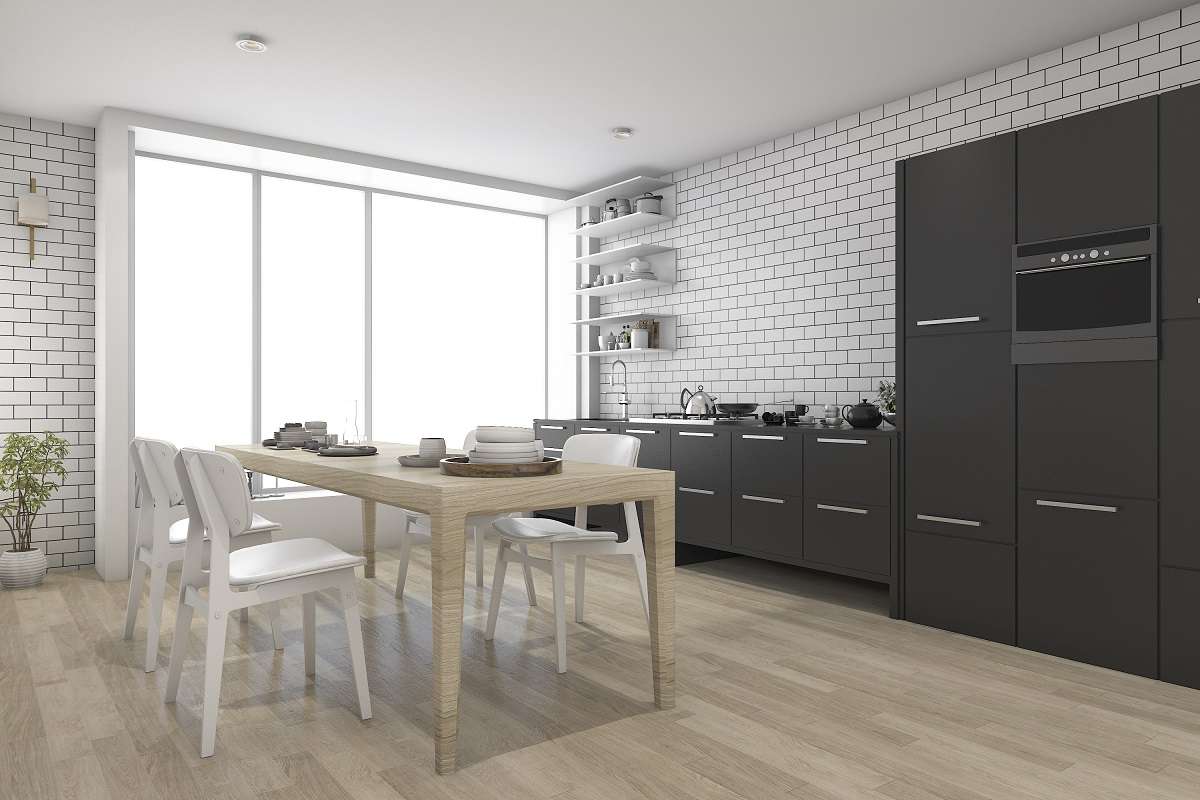 If you are a black lover, we bet you must have stopped by this design.
With a complete integrated appliance setup and ample storage space, this kitchen design delivers a seamless look to any space.
9. A luxurious kitchen design with combinational elements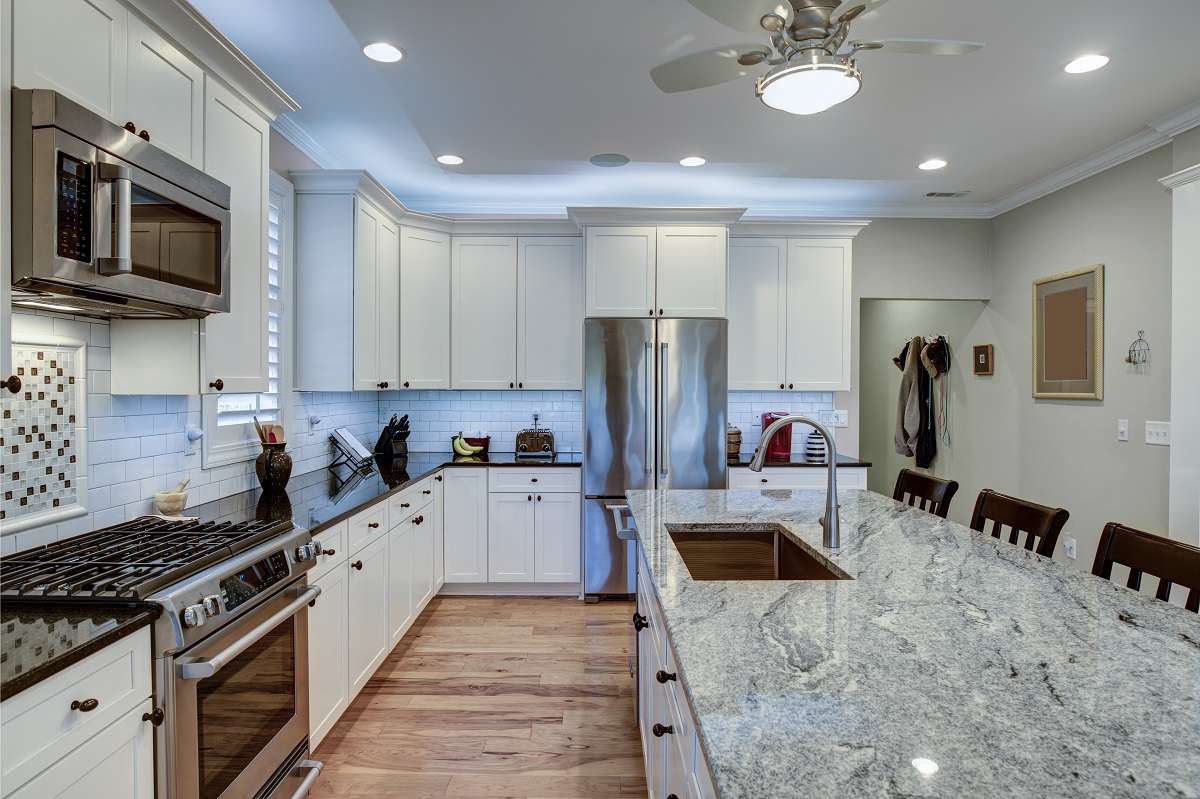 Here comes a design that allows you to do experiments with the combinational setup of materials, colors, and kitchen appliances.
Settle the way you want to.
10. Kitchen design in timeless beauty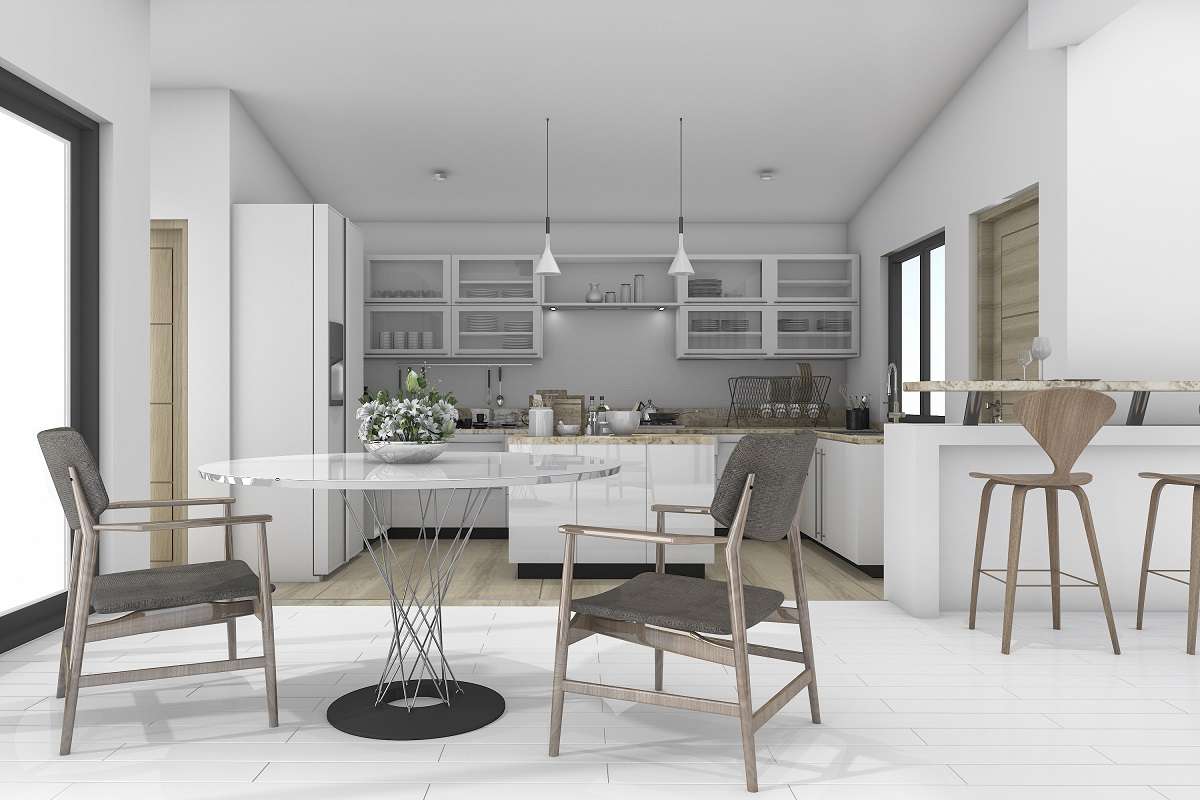 What do you have to say about this kitchen design?
Isn't it a perfectionist design idea in a glossy white finish giving a full stop to searching for a "best idea for modular kitchen design"?
11. An innovative minimalist kitchen design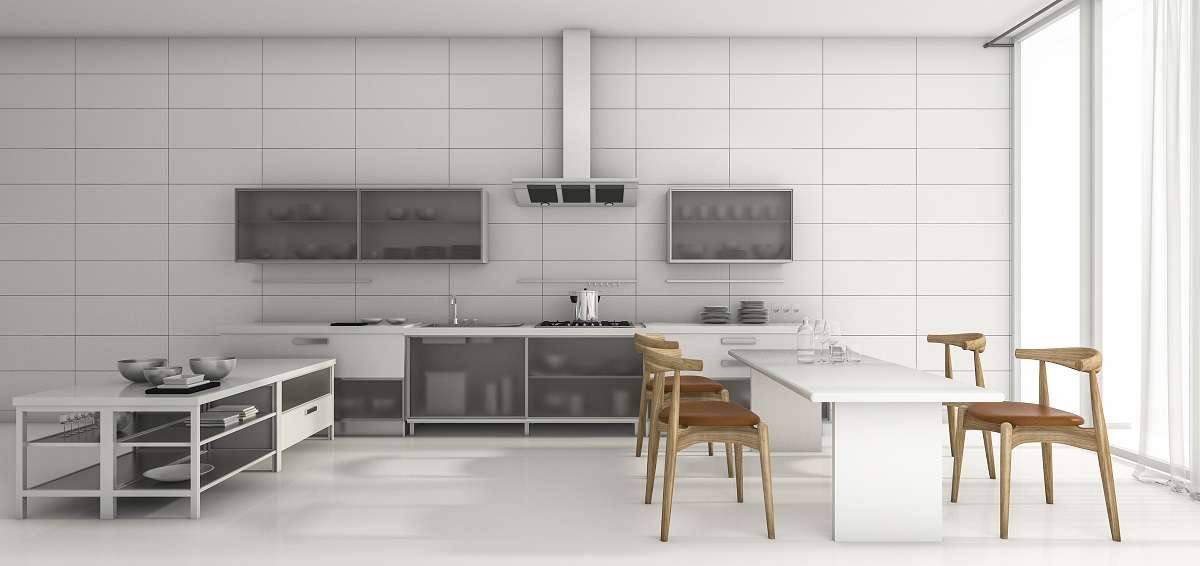 Larger spaces are not necessarily required to be filled with ample stuff and materials.
Sometimes this type of kitchen design following the kitchen ergonomics while delivering a seamless look can be an excellent solution.
12. A kitchen design with traditional tiled backsplash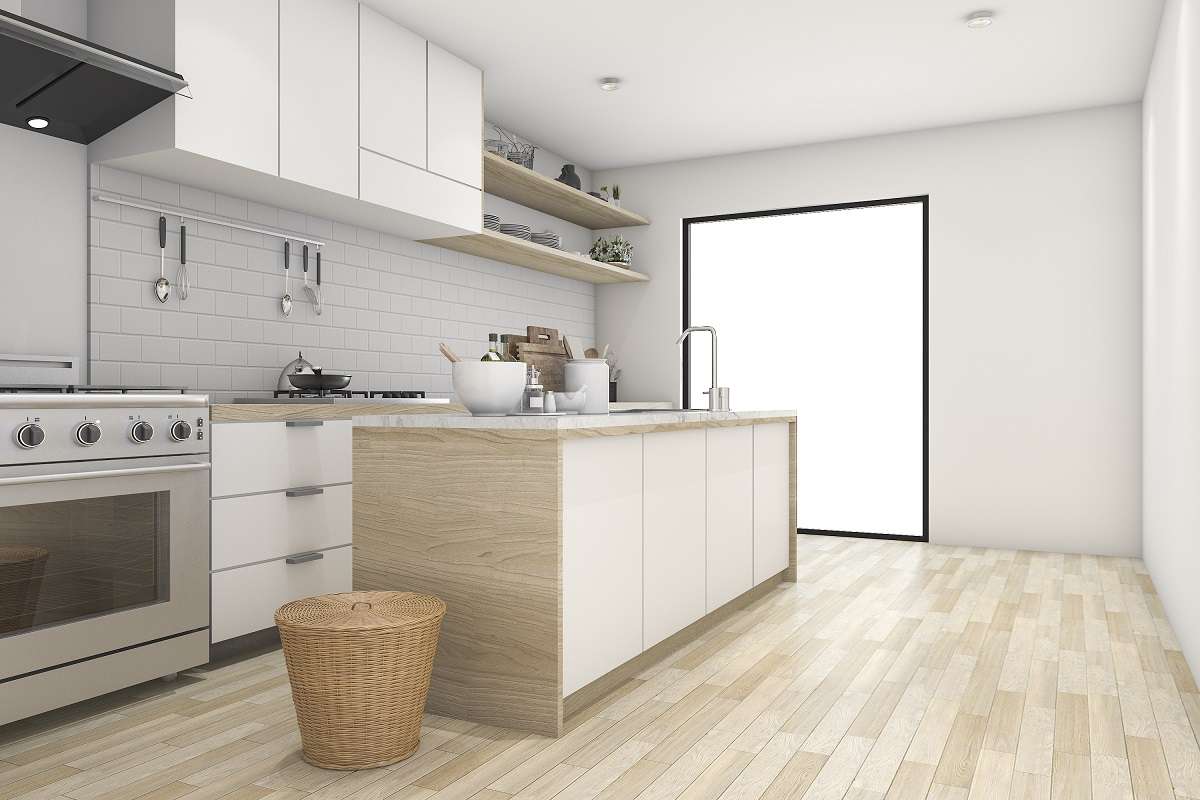 Looking to give your kitchen a classic feel?
Well, nothing can beat a simplistic tiled backsplash serving the functionality of the space while keeping it all traditional.
13. The understated elegance of glass kitchen cupboards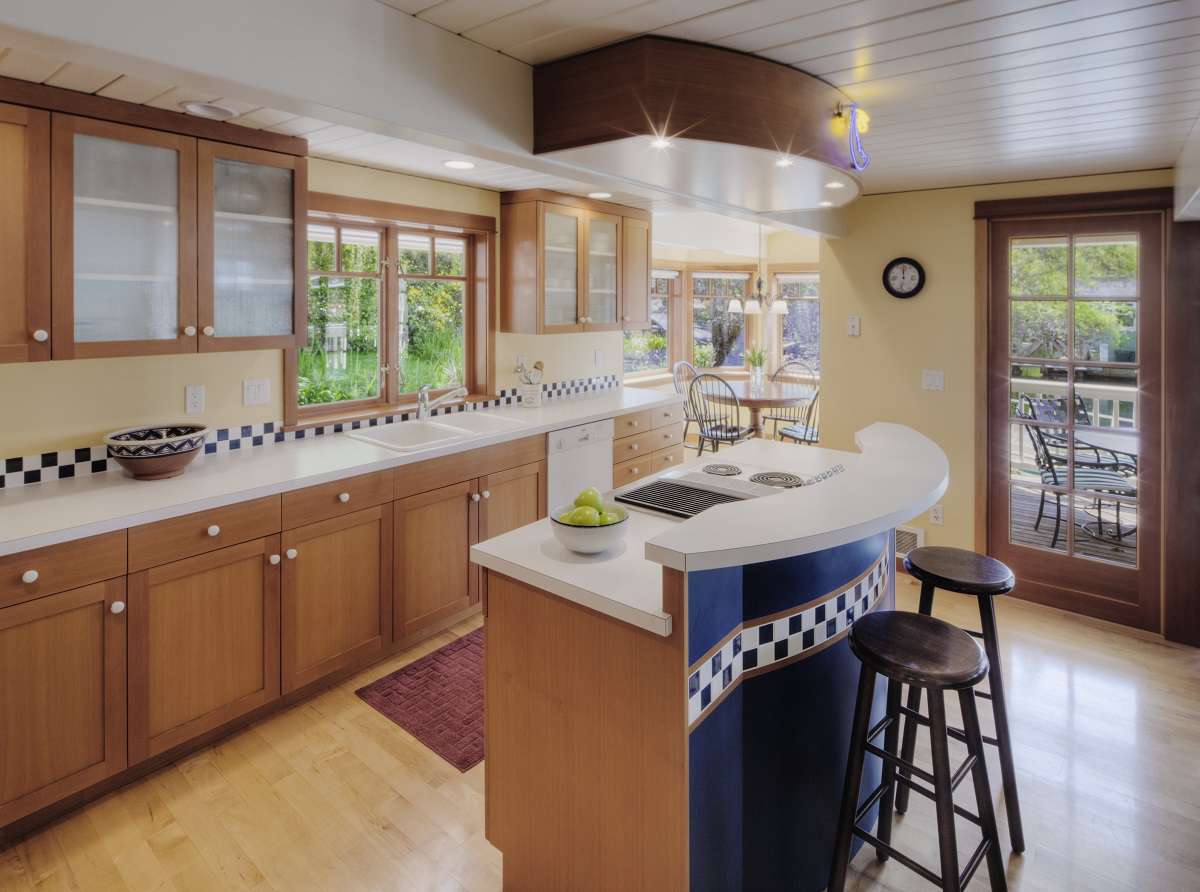 Who said that kitchen elements require to be wooden or strong only.
This kitchen design with glass kitchen cabinets can give a real change to your perceptions about a kitchen.
14. Mix and match kitchen design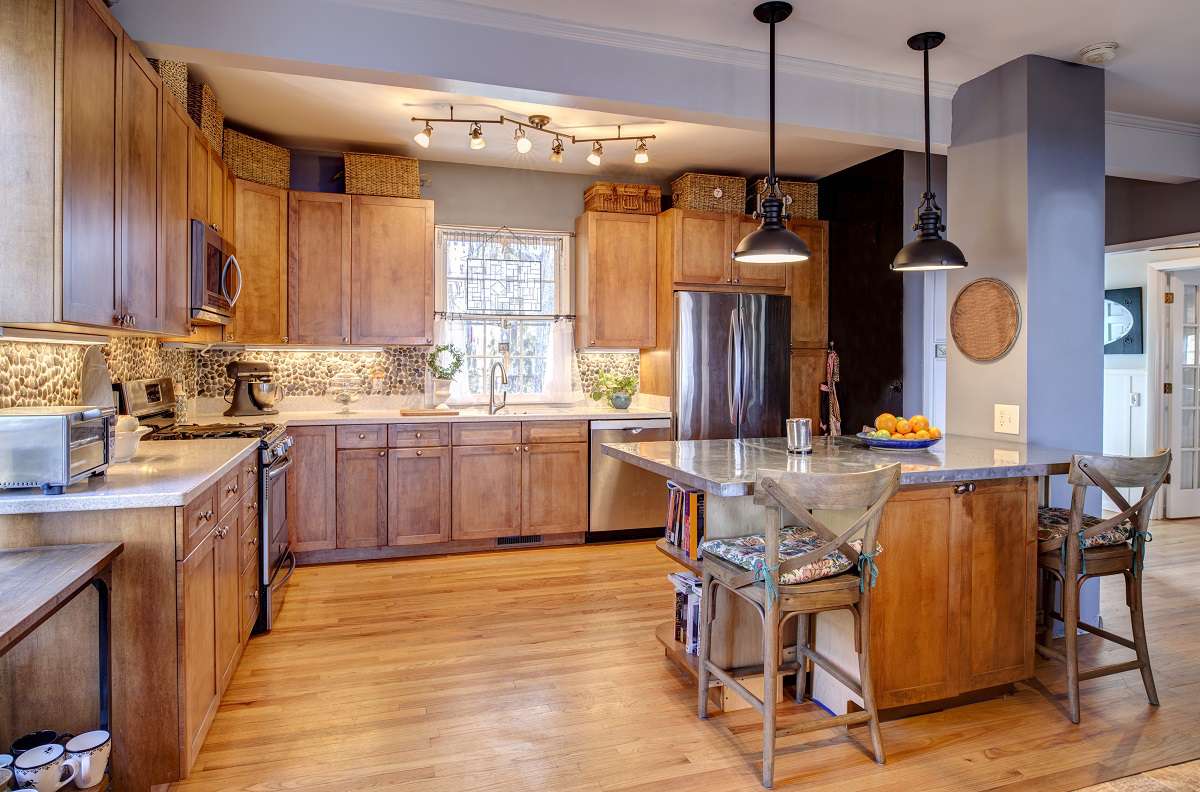 Say goodbye to a single kitchen design, style, or material.
It's time to mix, match and have a playful combination within your space to elevate your cooking mood.
Now that you have explored the trending kitchen design ideas for home, one query is still there that has remained unanswered.
Right?
Ohh, you forgot which one?
Well, it's "Why these designs are best for Indian Homes"?
Let us get an answer to it as well!
Why are these designs best for Indian homes?
Indians like to have playful combinations where they can experiment with the various elements that make a kitchen a functional piece.
And not only this but these kitchens also delivers:
Following kitchen ergonomics rule
Convenience to perform the chores of the kitchen with ease
Durable materials with an appealing appearance
Bottom Line!
Indian kitchen designs are a complete blend of playful combinations!
That definitely does not need to be boring!
Have you got your inspiration for your kitchen space?
Or looking for more? See more Indian Kitchen Design inspirations here!
Get in touch right away because the right time is now!!
To stay updated with the latest trends in the kitchens, do not forget to stay connected through our social media handles. We will keep you updated there!
Call us @ +91 99144 34349 or write to us @ sayhello@telkitchens.in.