2022 is all about experimenting with new within your home spaces.
The constantly changing trend is actually the new normal within the designing industry, including so much to look out for and choose from.
How about having a stunning piece in your home that is not only functional but aesthetically appealing too?
Excellent indeed.
Here's all about the trending TV Units from the TEL Kitchens design experts.
Trending TV units design suggestions by TEL
A simpler and minimalist TV unit design or a traditional or harmonious blend of the contemporary and modern, the one that suits the space is indeed a perfect piece for your area.
But which one looks the best within the space is pretty challenging.
However, the universal models are the ones that are appropriate options for spaces with any style.
Some of the universal models include:
High Tech: High Tech includes a geometric TV unit stand made of metal, glass with chrome detailing.
Loft: loft includes the TV unit models with roller pallets and forget elements.
Country: this includes the aged look with a blend of rough textures.
Art deco: art deco includes TV unit models with golden elements.
French Country: French country includes vintage coasters with scuffs and carved details.
But are they really ones that fit your space too?
Well, maybe!!
Or maybe not!
You might be wondering why not when they are the universal models, right?
But this is due to this might not match your requirements and desires.
Since change is the only constant, it is challenging to figure out which one is the right option for you!
What if you can have your desired TV unit furniture while matching the current trends?
Indeed, a great deal!
Let's have a look at the trending types figured out by TEL Kitchens experts!
Trending types of tv unit design for living room for 2022 by TEL!
The 2022 trend is completely going to be the one inclined towards the media units with some soft lighting environment shaping well an interior space's aesthetic perception.
In the modern world, TV models that not only serve the functionality but also expand it are always an excellent choice.
However, the trends will remain around the following!
TV Unit without legs
TV units without legs are the most trending yet popular models for modern wall spaces.
With no legs, wall-mounted or floor-touching TV units are perfect for taking your living room's décor to the next level.
Get a perfectly seamless look within the space with no awkward matches.
Place some vases, souvenirs, and candles to décor the interior and enjoy a perfect viewing experience.
Suspended Model
How about having ample space to clean below a wall mounted TV Unit without any dead spaces?
Indeed Perfect!!
The new season's trend is super impressive, where the placement of the TV unit is at the height of 10-50 cm up from the floor level.
Choose a solid and calm colour to rock your room's interiors.
Composite TV Unit
Do you have a contemporary look interior?
Yes?
Then Composite TV Unit is the fresh pick for your space!
It's not just a single type only but a beautiful blend of two different furniture pieces.
The primary feature of such a type is having a shelf located just above the media stand that is not always connected to the entire setup but can also be a constituent element of it.
Trending Materials of 2022
Wood
Wood is the traditional element to construct the main hall TV unit design.
Being a traditional one, it is still a trendy choice that showcases the best of best interiors and enhances the aesthetics as well.
The natural imperfections within the furniture are increasingly becoming a trending pick in 2022. And the colour transitions, wood's nature in knots, and its irregularities give it a complete expressiveness and liveliness to enhance the space's décor.
Contrast the wood elements with glass, metal, or some golden elements and make your space more lively than ever!
Metal
Metal is another trending pick from 2022 that looks stylish and can be created in a loft, high Tech, and minimalist style.
It's a perfect combination of wood and metal, giving an ideal option to do experiments within the space with some unique designs.
Glass
Believe it or not, but glass never lacks in enhancing the space's aesthetic.
People often think that glass requires high-end care and maintenance.
But it's time to say goodbye to all the fears concerning embedding these glass elements in home interiors.
Do not be afraid of glass as all thanks to modern advancements and technologies; one can now have attractive glass at home that is scratch resistant with polished edges.
And the best part is it always creates a feeling of spaciousness and lightness within the area.
Trending colours of 2022
Since simply black or white never goes out of style, and a monochromatic combination never fails to attain the look you always desire, a pop of colour can actually do wonders.
2022 is all about choosing pretty colours to add a touch of colourful joy to the space.
However, how can a professional tip be left behind when we can have the trends in terms of colours, types, and materials?
To accentuate your experience of having a media unit in your living room space, here are some pro tips from the TEL experts to ensure that you will have the best in your room!
PRO-TIPS!!
Here are three essential things to be kept in mind that our professionals often suggest.
Add lights
Adding lighting to the space can actually make a huge difference. Along with an elegant yet eye-pleasing TV Unit design in the room, good lighting can enhance the entire TV watching experience while making it more comfortable and cosier.
Choose functionality over form.
Well, always keep the functionality over the form. Instead of just going for the TV unit that only adds aesthetic appeal to the living room space, choose the one that matches the functional requirements of the area.
This will help you narrow down the ideas and build a fully functional piece with the desired aesthetic appeal.
Prioritise your needs
One essential point to be taken care of is choosing the media unit design that matches your requirements. So always prioritise your needs rather than regretting them later.
Trending Media Unit Designs by TEL!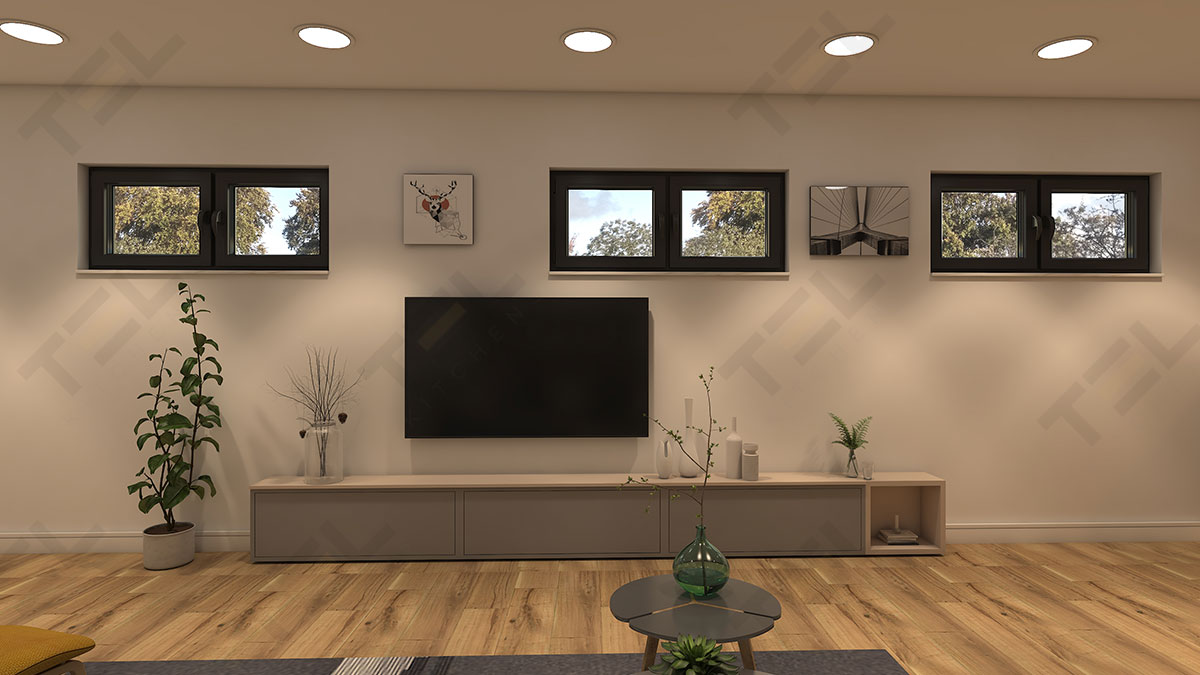 A complete minimalist design with a touch of warm wood and rustic appearance matching any interior's décor style.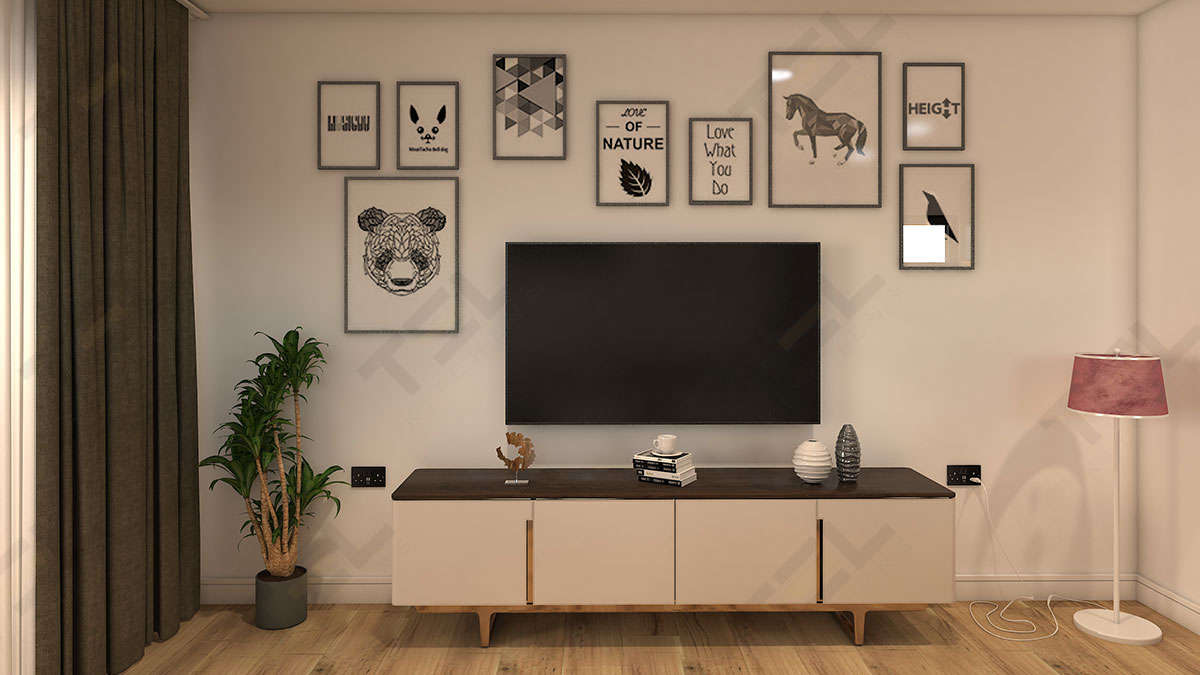 A pretty combination of wooden media units with pretty pastel and golden handles adds elegance to the entire look.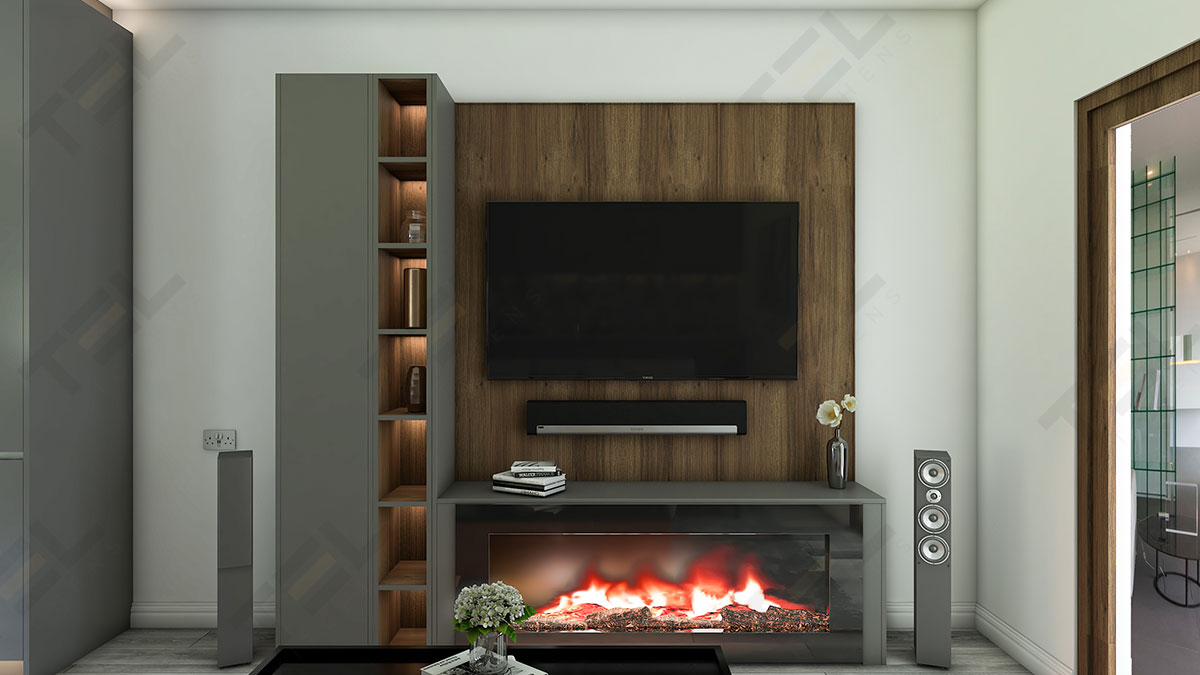 This TV wall unit is a stunning piece of a living room having compact space but never lacks in serving functionality with a combination of open shelving.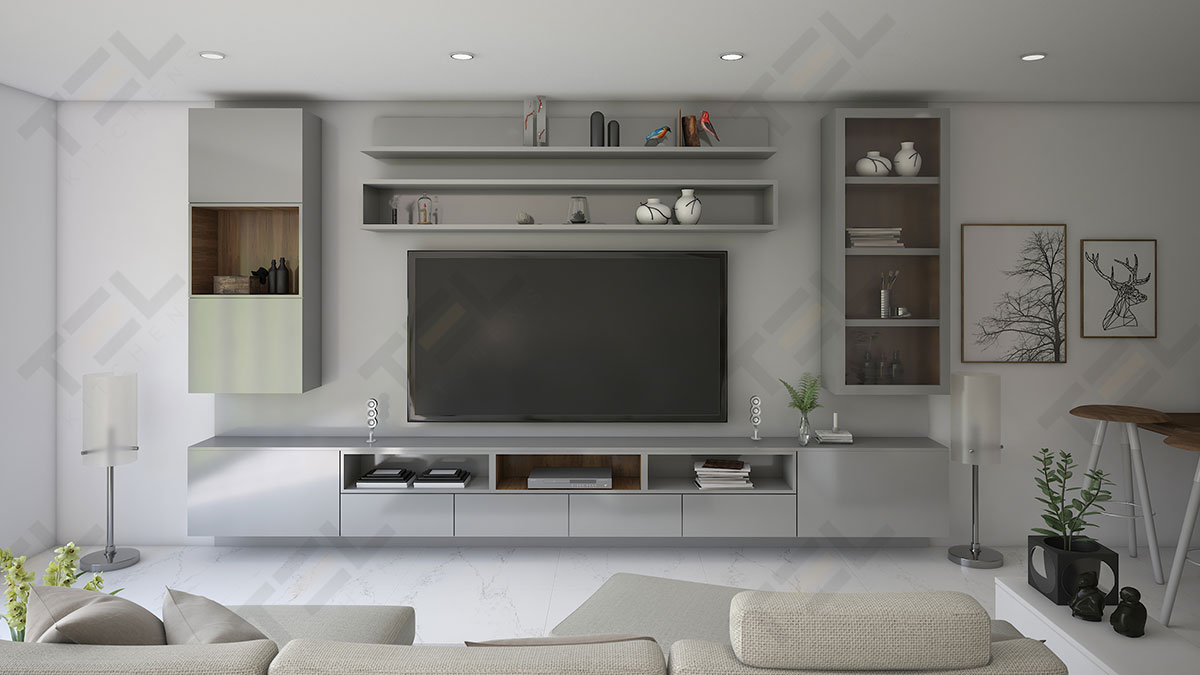 A stunning suspended media unit model in a subtle grey with a combinational setup of open and closed styling to accommodate all essentials while displaying the collectibles.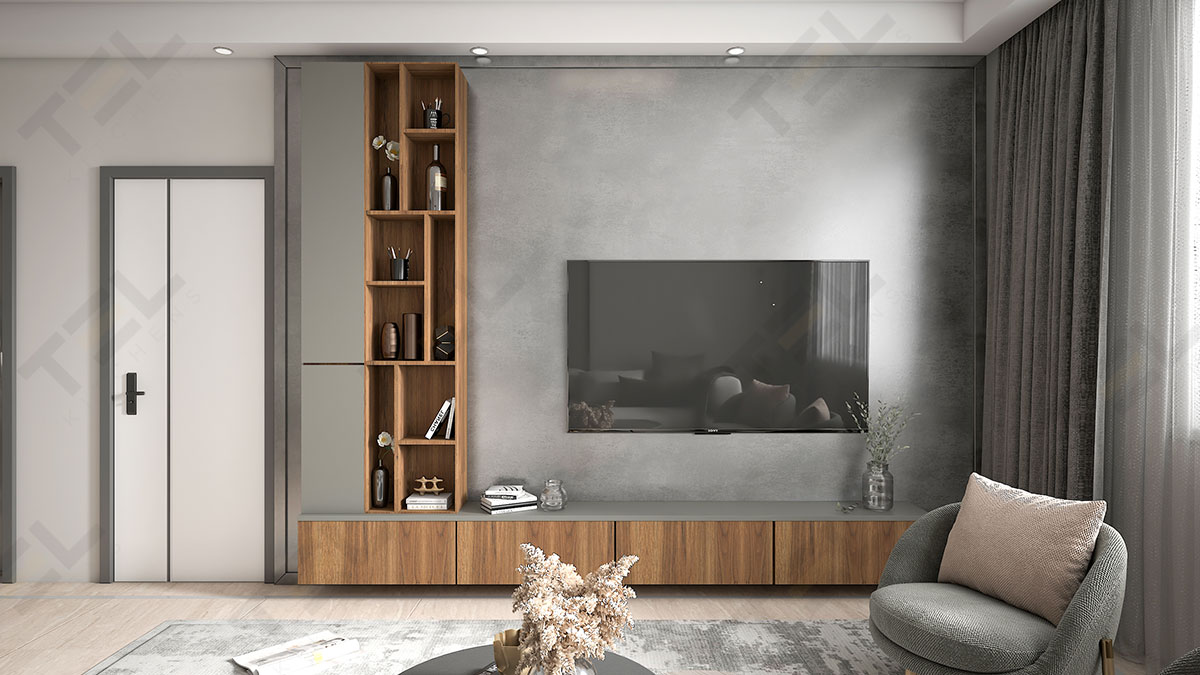 Another suspended TV unit model with an elegant background in glossy textured grey colour matched with oakwood open shelving.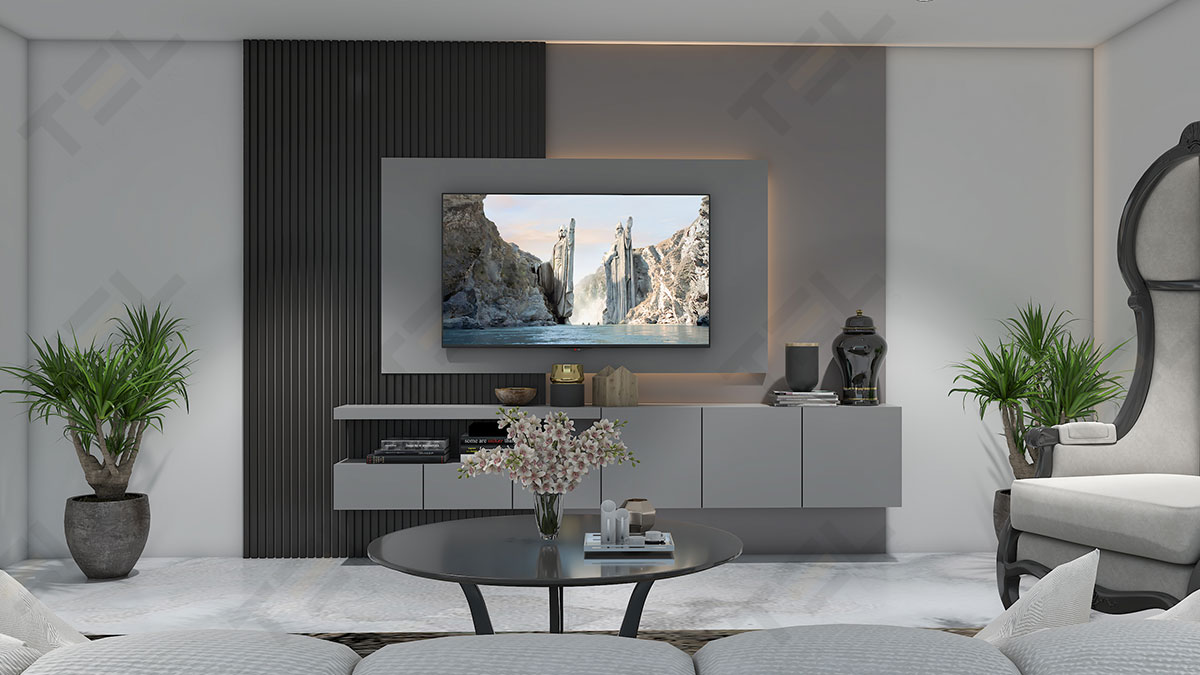 This media unit is creating an unparalleled beauty within the living room space, making your viewing experience relaxing while following the trend of appropriate lighting within the area.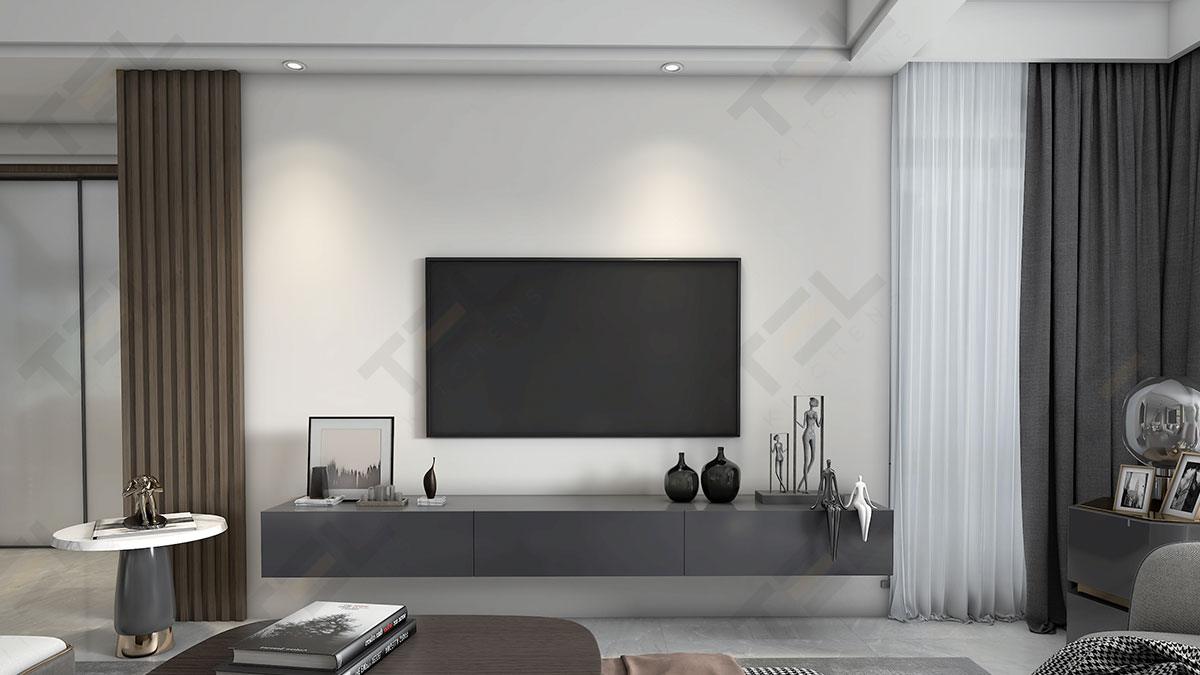 A monochromatic fusion with a sleek and minimalistic look makes your viewing experience relaxing and fun-filled.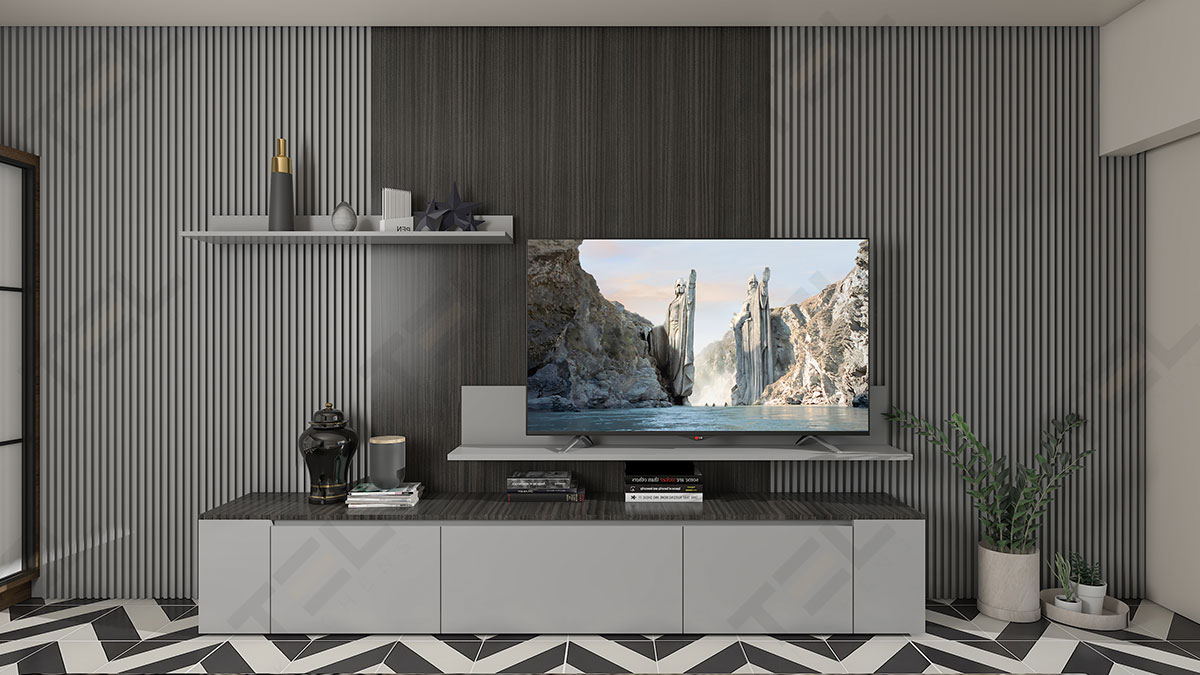 A flawless combination of floor-standing handleless cabinets with open shelving set up in grey and woody touch attains elegance within the design.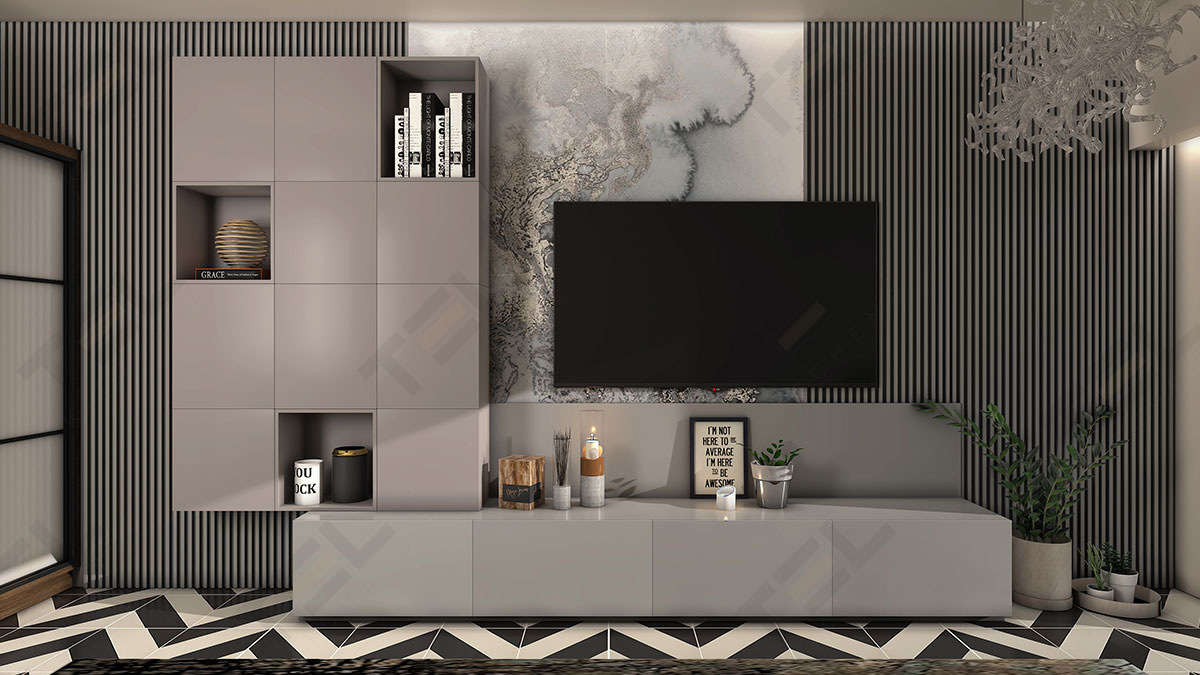 This media unit in pretty pastels with a combinational cabinet setup and textured background is attaining finesse within the space with all attractive elements.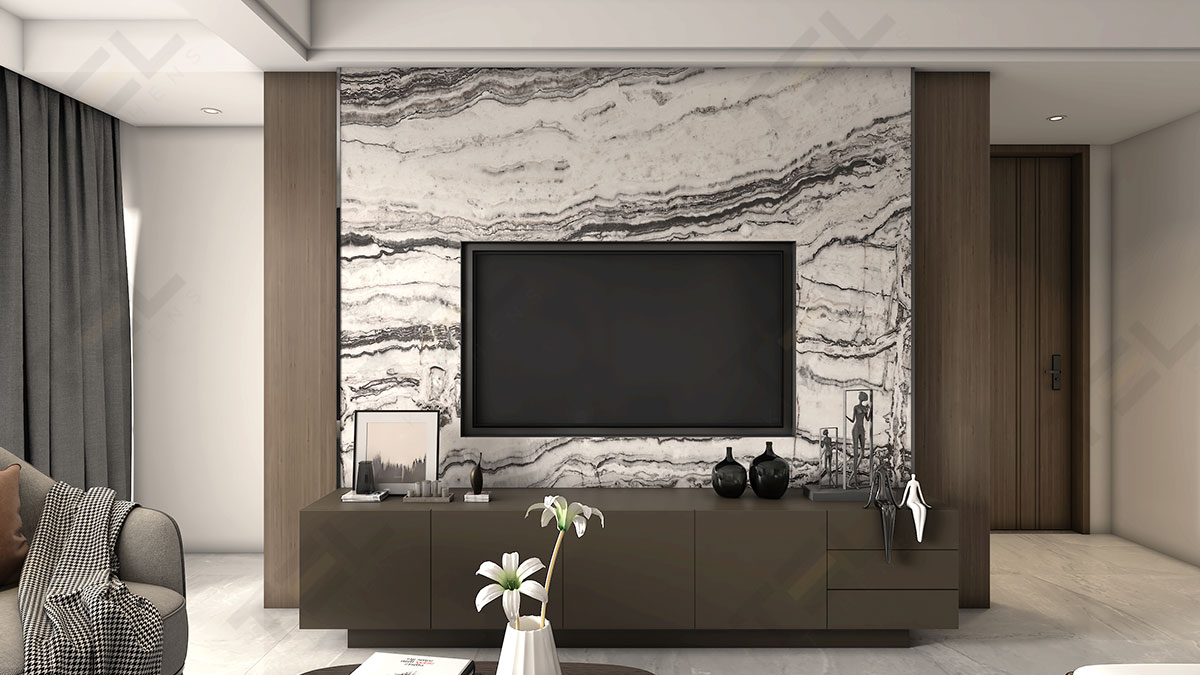 This TV unit design is a complete perfectionist blending well within the existing décor, a warm wooden feel, and textured background in monochromatic fusion.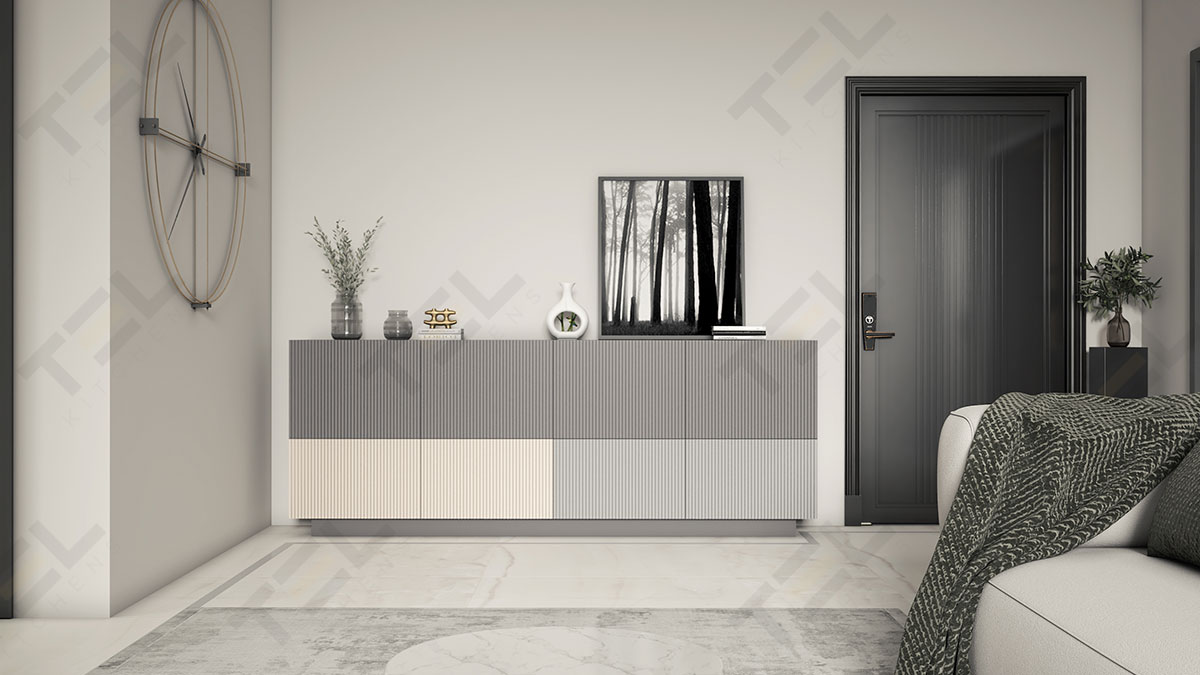 This media unit design is characterised perfectly by minimalism and intuitiveness with subtle colour combinations while preserving precision and exactness.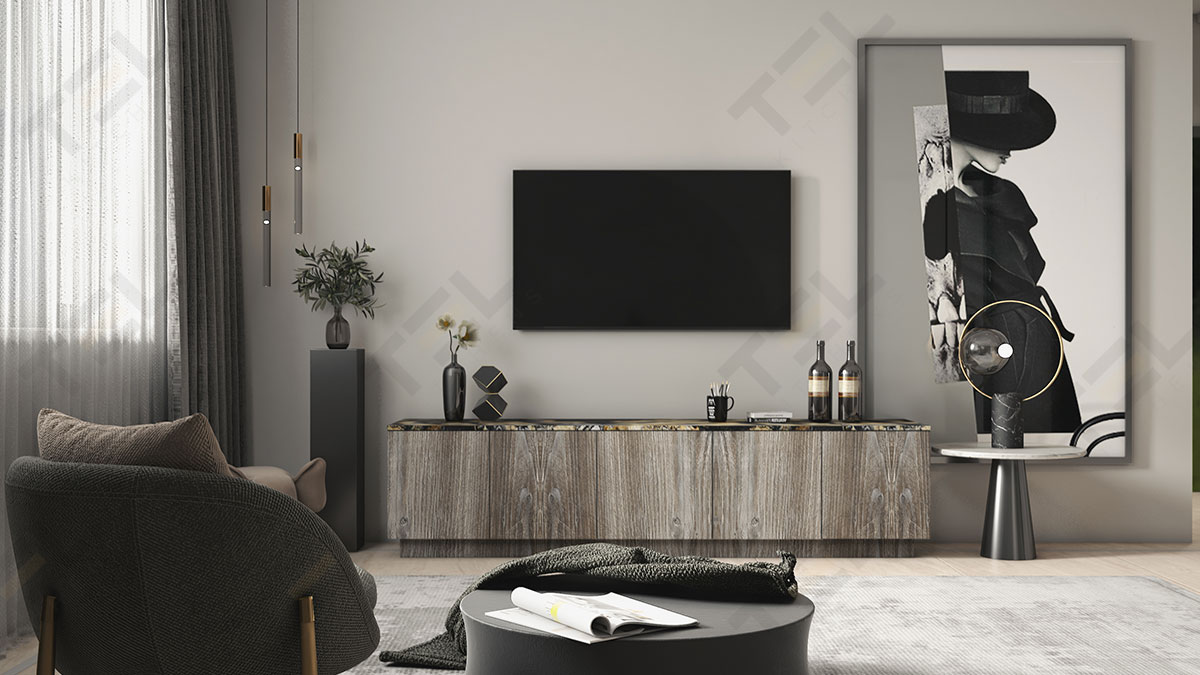 An extremely simplest media unit design in rustic and wooden touch with handleless cabinets and open space above to display your collectibles.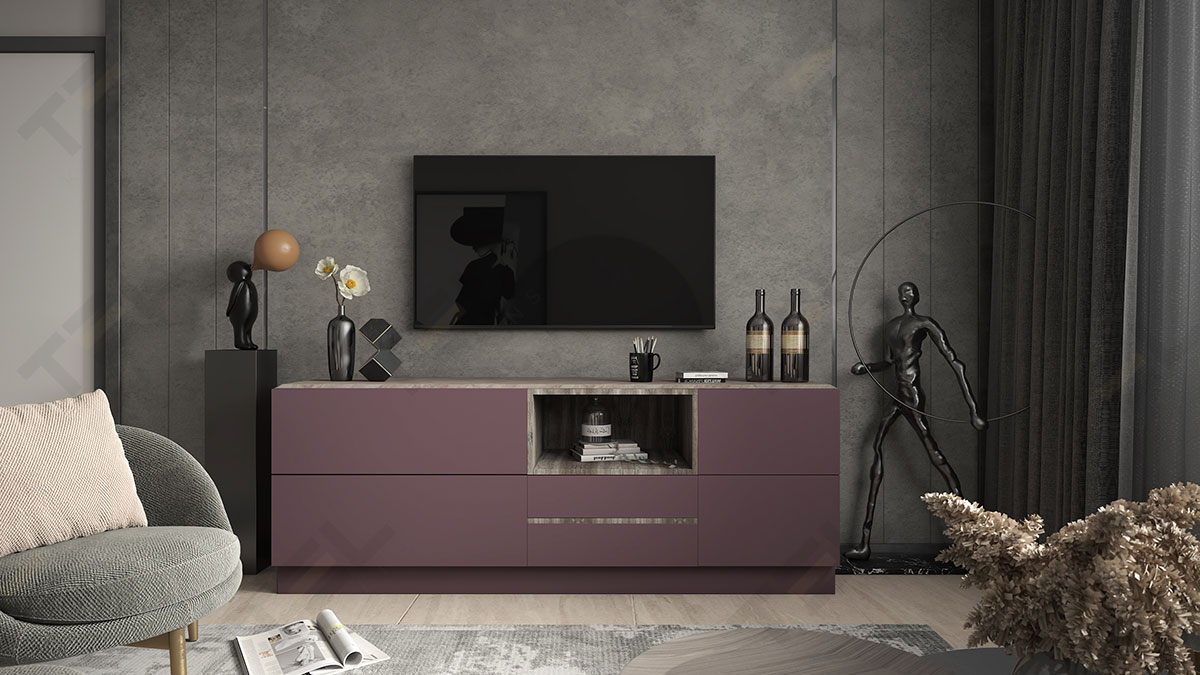 This media unit is a stunning piece crafted with a combination of traditional wood and a pop of colour, attaining the look of current trends of 2022.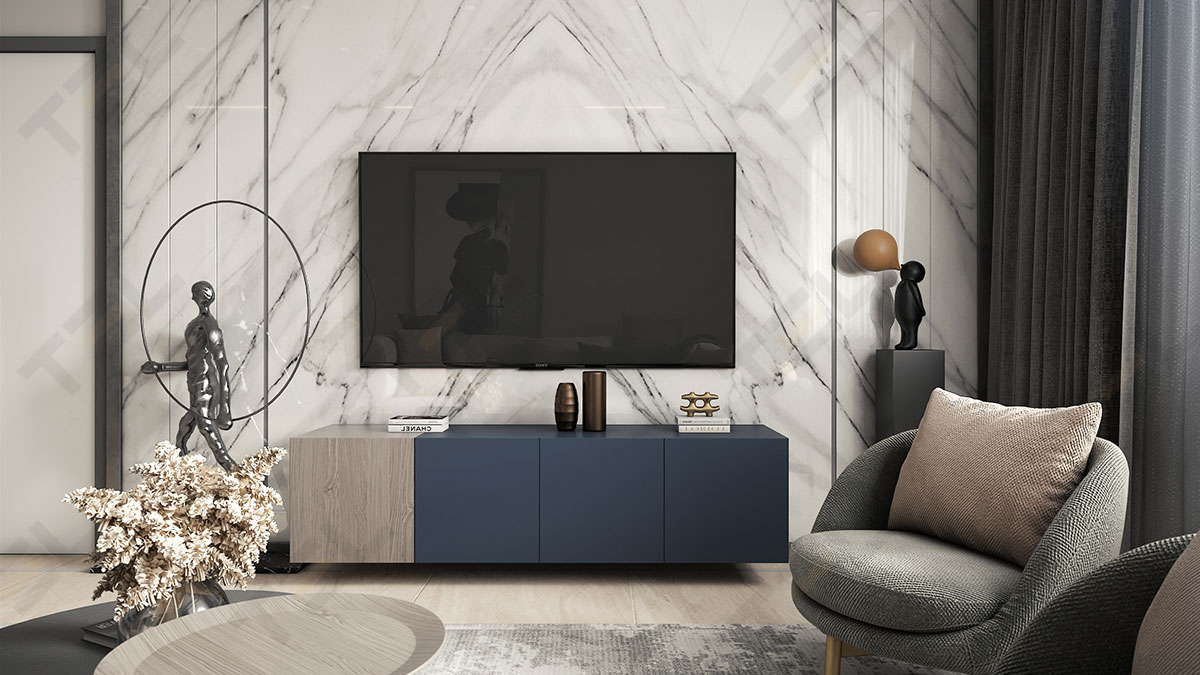 A gorgeous yet minimalist media unit design with an elegant textured marble background.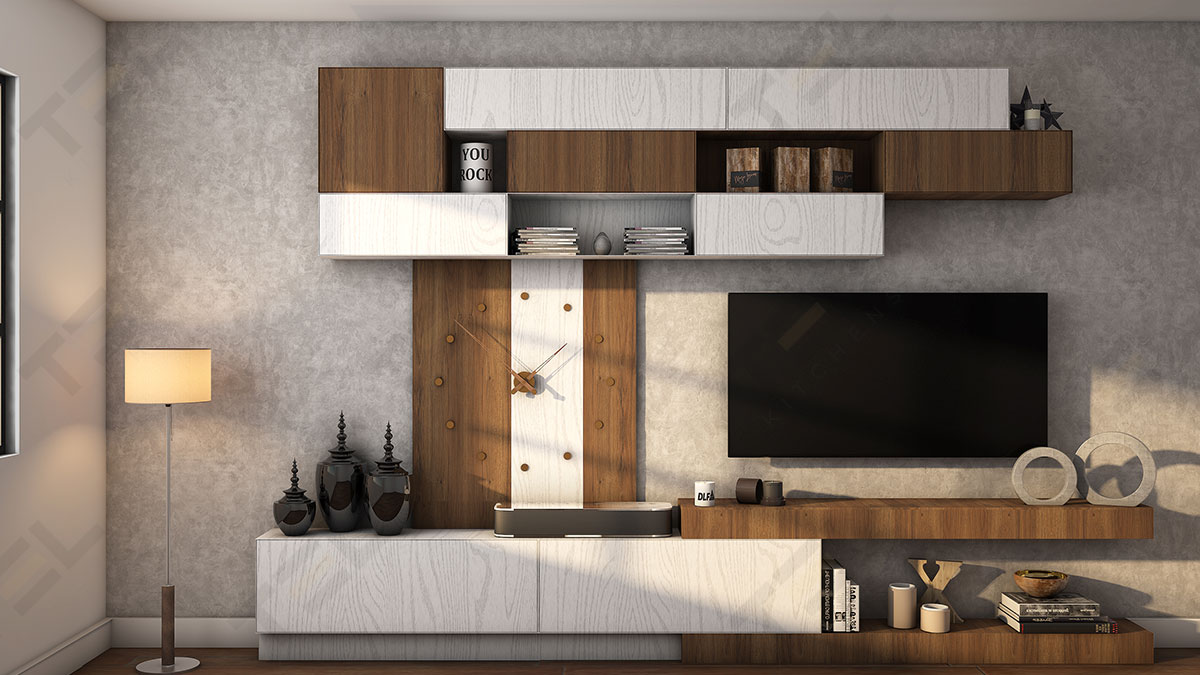 A showstopper media unit design indeed! This beautifully crafted TV unit with a combination of pristine white matched with oakwood is an entirely central attraction of the entire space.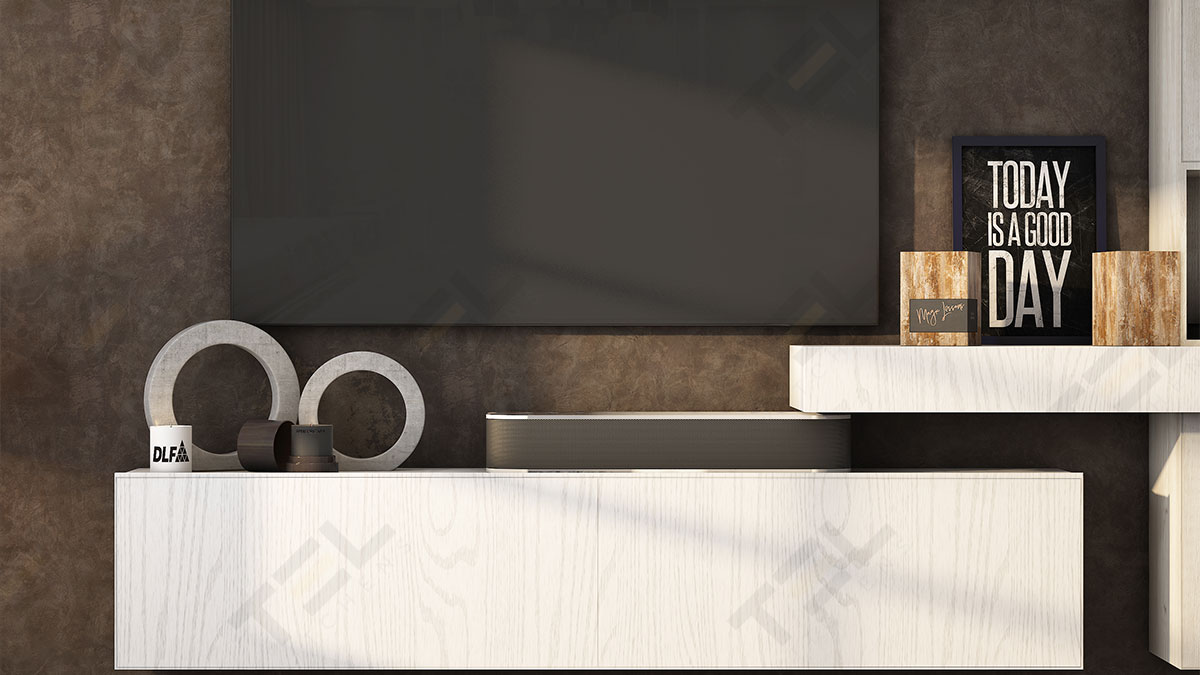 A minimalist TV unit model with a textured background in brown and open shelving in textured white with handleless cabinets.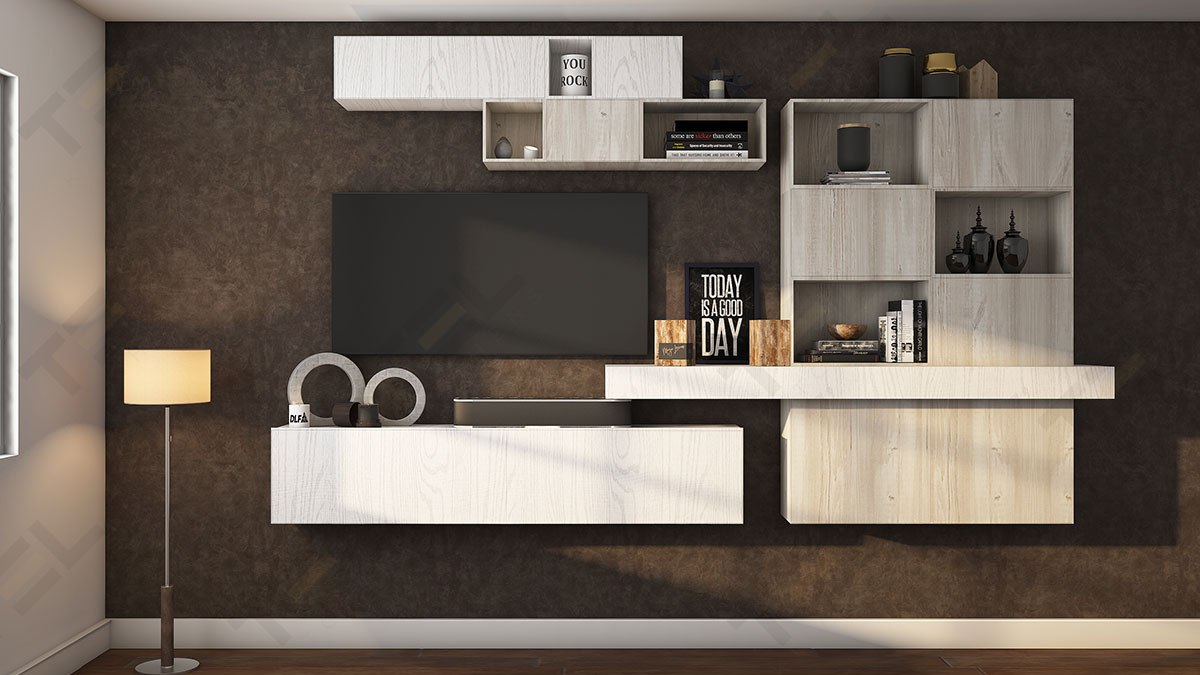 Here comes another showstopper with diversified shelving options in timeless white and a textured rustic brown background.
Bottom Line!
The modern built in tv wall unit designs mark a huge impact on the entire living room's appearance. So it actually needs to be as unique as you!
Make your personal space aesthetically appealing with stunning personalised designs today!
Explore the endless possibilities of tv unit design for hall with TEL Kitchens experts.
Get in touch @ +91 99144 34349 or write to us @ sayhello@telkitchens.in.