Granite stones in the kitchen or home spaces are the pretty additions that deliver gorgeous aesthetics.
Granite is the most common kitchen slab stone with all the good qualities.
So, does it mean that Granite adheres to good qualities only?
Well, with a piece of complete information on the kitchen granite stone, here's a comprehensive guide for you!
Granite stone
Granite stone is an igneous rock comprised of compressed grains of quartz, silica, mica, and feldspar.
It's basically a medium or coarse-grained intrusive igneous rock rich in feldspar and quartz.
Granite stone has a dense speckled appearance that is available in a diversified colour range.
Being available in a pre-polished state, the granite stone can be cut into any size as per the requirements.
Granite stone has remained a popular choice since the 1980s. When it comes to choosing a countertop material, Granite is an often-chosen material.
Types of Granite uses!
Granite stone is often used to craft ample everyday objects like worktops, floor tiles, wall tiles, curbing, paving stones, building veneer, and stair treads.
Granite is used in ample daily activities, and its characteristics make it perfect for everyday use.
Granite Countertops
The kitchen countertops are the centrepiece of any kitchen space, so they need to be the best in every term, including functionality, durability, and appearance.
And when it comes to attaining beauty with elegance, Granite never loses the race.
Along with the kitchen slab worktops, if you have an island setup, granite stone never lacks in enhancing the beauty of the kitchen space.
Add elegance to the kitchen space with pretty granite stone in diversified colour ranges, patterns, and finishes.
What makes Granite stone stand out?
Granite is much harder and more durable than most natural stones.
It's a heat-resistant stone that withstands hot cookware well.
It's more resistant to cracks and chips.
It's highly resistant to stains.
These are durable and robust choices.
Each granite kitchen platform stone is one of a kind.
It's easy to clean and maintain.
It is resistant to chips, cuts, and scratches.
You can have a diverse choice in terms of patterns, colours, and types.
Imperfections in the granite stone add value to the unique look.
Cons of choosing Granite stone for Kitchen
It needs to be sealed to fight heat, scratches, and staining.
It may have imperfections as it is a natural stone.
It needs to be installed and treated by professionals only.
Perks of choosing Granite Kitchen Worktops!
Granite is a durable and tough stone.
Granite is a rock-hard stone that is just second to the robust diamond in terms of the natural material harness. When installed appropriately, it can last longer.
The maintenance of Granite is easy.
The granite countertops must be sealed properly, and when it is done precisely, it makes maintenance easy and quick.
All you need is soap and water to clean the entire surface nicely.
Granite offers stunning beauty.
Well, Granite is a pretty stone, and probably that is why you are considering them, right?
For all the other qualities, the best thing that stands out along with the durability is a natural appeal and stunning beauty it delivers to space.
A great long-term investment
Investing in Granite is an excellent long-term investment. You can use the durable granite worktops for a longer time without worrying about their replacement.
Granite boosts the value of your kitchen.

Granite worktops enhance the value of the kitchen space while making it an attractive addition to the kitchen. The granite worktops really make a difference.
It complements the entire kitchen décor
Granite stone is an appealing yet luxurious material that effortlessly accentuates the space's aesthetics. However, you can always choose the one that looks like the best fit for your kitchen space.  
When choosing the stone, appliances, accessories or any other kitchen essential, the budget is a top constraint that needs attention.
Check out the best options in the various colours and patterns that do not even cost heavier on your pockets.
How to maintain granite stone?
The minor scratches on the granite stone can be filled with colour matching resins or epoxy.
It needs to be sealed once every two years.
How to make granite stone look fresh for years?
Clean your granite worktop regularly with a damp cloth while drying off the excess soap and water residue.
Treat your granite countertop with the same care as you do for a glass surface.
Never use abrasive cleaning products on the worktop.
To prevent scratching, avoid using abrasive objects on the countertop.
Spilling liquids like wine, oil, acidic juices, nail paint removers, paint removers, etc can harm the worktop.
Wipe off the worktop immediately if you spill drink or food that can lead to staining.

Which finish is perfect for the kitchen?
While choosing the kitchen countertops, you need to pay careful attention to the worktop finishes, which can lend a hand in accentuating the kitchen's look.
Granite countertops are available in three basic finishes. Let us dig into the different finishes concept to find the best finish for your kitchen.
Polished Granite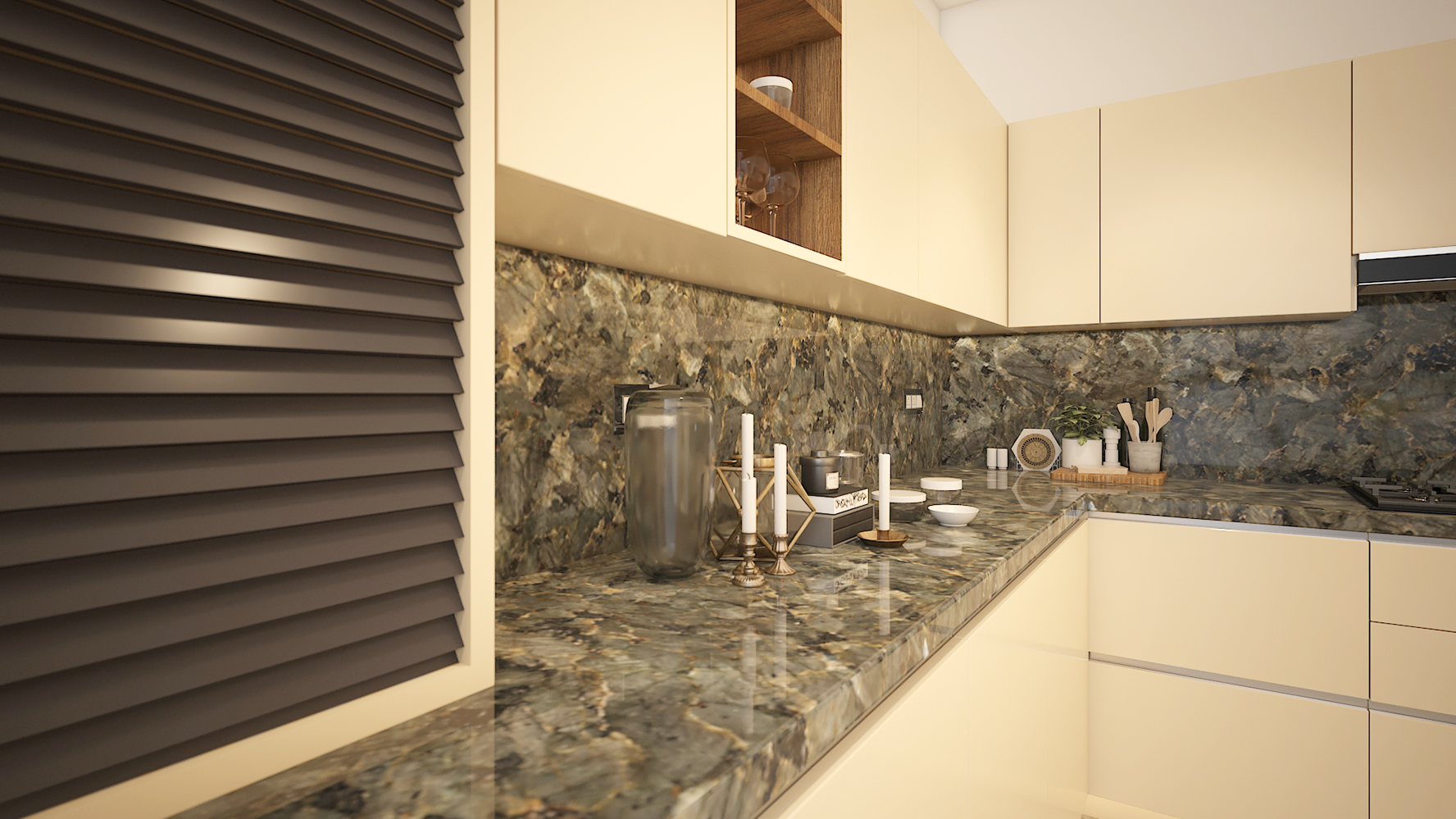 Polish granite is also known as mirror finished granite stone that is most commonly used in countertops. It has a sparkling appeal in its appearance that nicely highlights the crystals, colors, and grains.
The stone holds a high gloss polish that makes the stone's appearance richer and darker than the natural one.
To attain the desired granite polished look, the stone is polished and buffed to a higher level of shine.
Pros of polished granite finish
It has an enhanced radiance and reflective properties that add a brightening appearance to the kitchen.
The polished surface of granite is finished with sealants to make it non-porous, moisture repellent, and smooth.
It's a hygienic, easy to clean, and stain-resistant surface.
Cons of Polished granite finish
Polished granite finish tends to get damaged or corrode with harsh cleaners or household acids.
The highly reflective property of polished granite shows the flaws or scratches on the stone.
Pro-Tip for maintaining Polished Granite
Routine Maintenance must be done. This includes cleaning the worktop with soapy water and a sponge followed by a dry wipe.
Honed Granite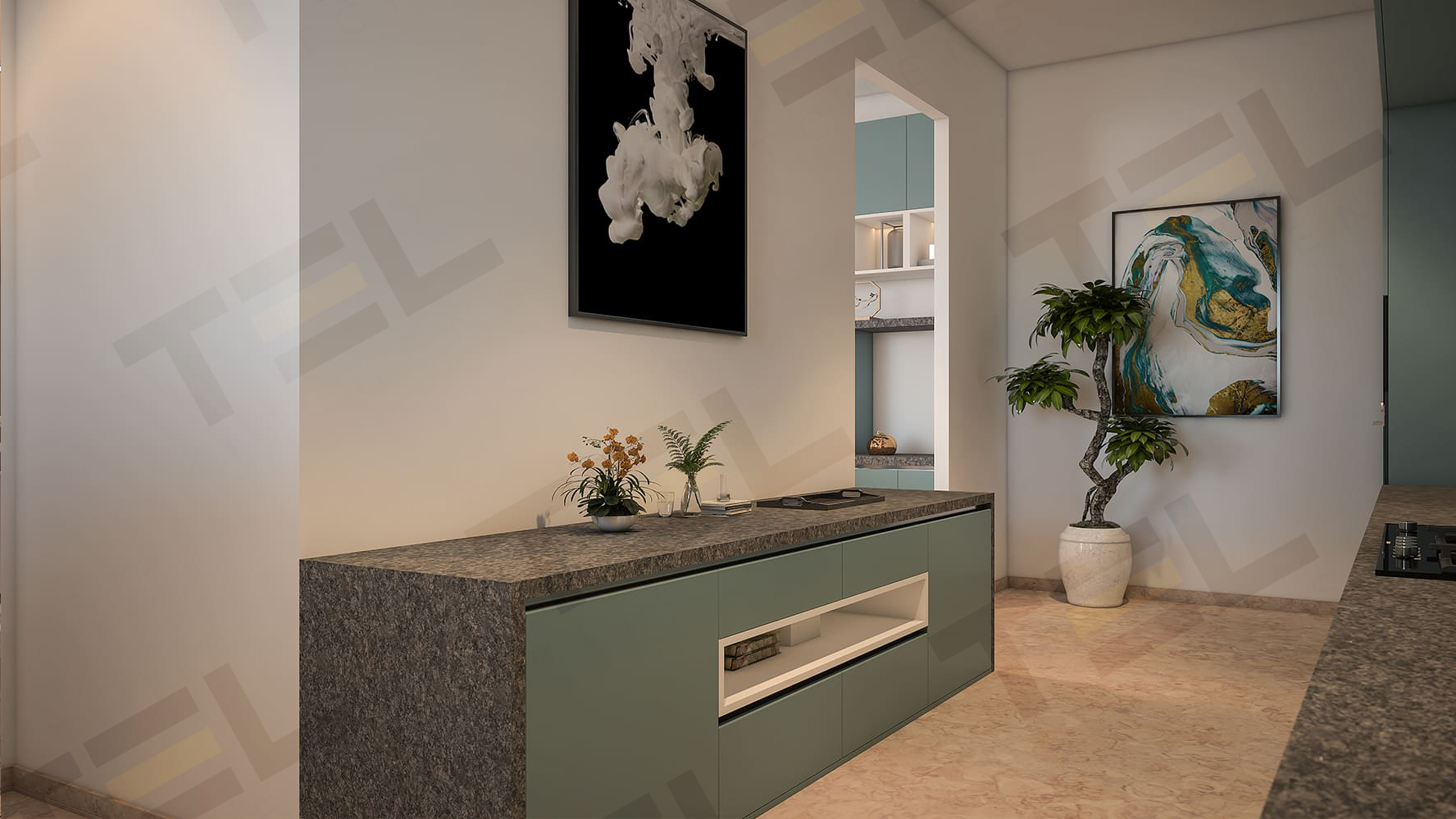 Honed granite finish, popularly known as the granite matte finish, has a non-reflective finish.
The honed granite countertop's subtle yet less shimmering look gives the kitchen a modern appeal.
People often prefer the matte finish over the glossiness, and to attain this subtle matte finish, the process ends before buffing.
Pros of Honed Granite finish
These are very good at concealing flaws and natural imperfections.
Honed granite finishes have a very smooth surface.
Cons of Honed Granite Finish
Its surface is unpolished, and this is what makes it slightly porous. Therefore, it is essential to seal the surface in order to prevent the worktop from absorbing stains.
It doesn't show the texture and colour of the stone as beautifully as the polished one.
Pro-Tip for maintaining the Honed Granite Finish
Use some penetrative sealants to protect the surface from stains.
Flamed Granite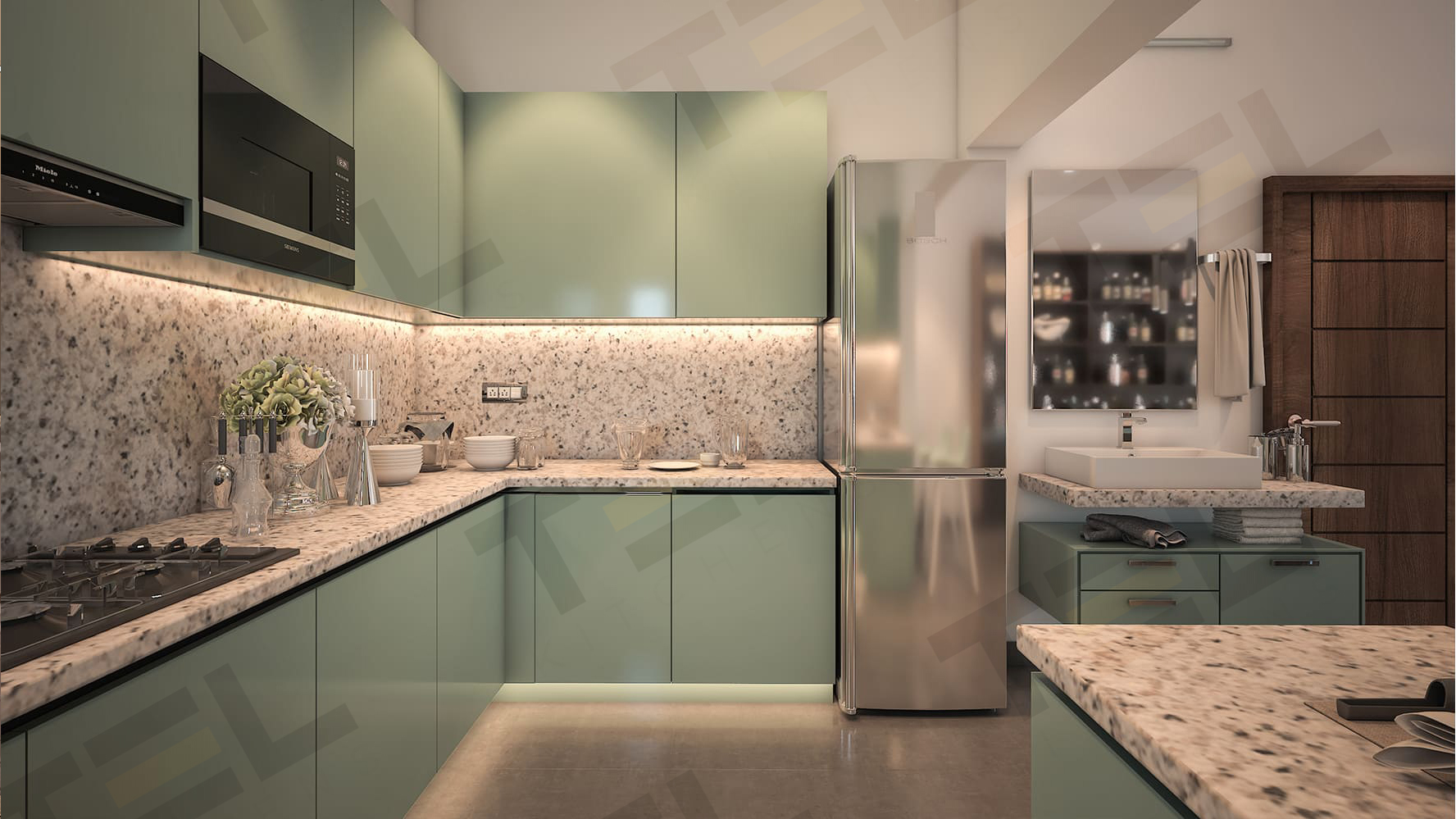 Flamed Granite, also known as rough finish granite, often brings an earthy vibe to the entire kitchen space.
These have a faded and rough look that replicates the appearance of natural stone.
This type is exposed to an intense flame, and this extremely high-temperature exposure causes its surface to burst while making it rough.
Pros of Flamed Granite Finish
The flamed finish granite brings in a rich texture to the kitchen.
This finish imparts a rustic yet natural look to the kitchen.
Cons of Flamed Granite Finish
The surface of a flamed granite is highly porous. So, you need to seal the stone to make it non-absorbent to fungus, moisture, or any stains.
The flamed granite's highly textured surface has deep pores that can trap the dust easily while making the cleaning difficult.
Pro-Tip for maintaining the Flamed Granite Finish
To clean the stone appropriately, spray a cleaning mixture comprising one-fourth cup of isopropyl alcohol with three drops of mild detergent and a litre of warm water. 
Is granite stone expensive?
Granite is not a very expensive stone. However, granite is often sold by the square foot and the cost of a granite stone depends upon several factors including the countertop size, space, and the texture you choose.
Essential to note!
Tel Kitchens crafts the countertops in the luxurious range of natural stones but this service comes along with complete kitchen designing and manufacturing services.
Colour of Granite Stone!
The granite stone originally doesn't come in a variety of colours but the Grante's chemical composition generally endows with the various colours including grey, black, white, pink, red, and several other dark colours.
However, granite colours depend on the origin of rock and the participating granular element.
So, which granite colour is best for the kitchen?
When it is about choosing the granite stone for the kitchen space, black granite and white granite win the race. This is because:
Black is an elegant addition in the kitchen that makes it the most chosen colour.
But do not think that it is limited to the plain black colour only. As the black comes in varied combinations including textured black, plain black, and many others.
White is a timeless choice that can never go wrong. And when it is about the white granite worktop addition in the kitchen space, white colour only adds an aesthetically pleasing environment.
However, you gotta make sure about its appropriate cleaning and maintenance to keep it looking new for years. 
Top trends in Granite worktop 2022
Neutral tones
Inspired by the minimalist and sleek modular kitchen designs, the neutral tones in everything remain popular.
The warmer tones of brown, copper accents, subtle gold, or any other neutral colour deliver a classic look while pairing well with any kitchen style or design.
Matte Finish
Matte finish granite provides the kitchen surfaces with a low sheen. Primarily it gives the matte finish to the surfaces with polished Granite and stereotypical glossiness.
The matte finish offers a natural look to the surface while keeping the look softer. However, the colour enhancers can be added to the matte finish granite stone for increased depth and richness.
The matte finish looks different on every granite stone but consistently delivers a clean and smooth look while bringing out the natural patterns.
Patterns and Veins
There is a considerable move towards the granite patterns and veining when it comes to choosing the trending countertops.
Most granite worktops have natural forming patterns that make a kitchen appearance appealing.
At the same time, the veining can either be dramatic or subtle, making the hardware colour pop when combined with the right hues.
Bottom Line!
Pretty granite worktops create a dramatic visual appeal to the kitchen space.
However, the key to having it appropriately installed is with the help of professional advice.
TEL Kitchens is the premium name in providing the kitchen services with just a click.
Being a foremost name in the kitchen designing and manufacturing services, TEL Kitchens deliver the best value to your home with its high-end kitchen designs.
Book a free consultation and get access to the high-end granite worktops matching your kitchen style, choice, and requirements.
Connect straight away by calling us @ 9914434349 or email us @ sayhello@telkitchens.in