Countertops are the real workhorses of any kitchen. Quartz kitchen countertops or marble kitchen countertops or any other, finding the best could be a daunting task. Keep reading to find the best one for your kitchen.
Looking for countertops that fit your budget, style and durability constraints?
From high-end and premium Caesarstone to pocket-friendly and engineered Quartz, the market is flooded with a plethora of countertop stones.
What to buy? It's confusing. Isn't it?
It's critical to make the right choice as it's the kitchen countertop that adds to aesthetics as well as withstands the elements of everyday use- oil spills, cutting, chopping, heat and much more.
Continuously evolving kitchen countertops ideas
Kitchen countertops are the workhorses of any kitchen that needs to be tough, practical and resilient while maintaining the aesthetics as well as dynamics of every family.
The kitchen worktop materials have been rapidly and continuously evolving over the past decade, giving us kitchen countertops ideas for all budgets.
Technology today has given us some extremely tough and durable materials that completely supersede the original stone and are virtually indestructible. The granite kitchen countertops are a perfect example of the same.
The changes in the kitchen design and layouts have revolutionized the market completely leading to a quench in kitchen surfaces that not only splash luxury but also endows adaptability as well as practicality.
How do you know which stone is best for your kitchen countertop?
A kitchen surface or countertop is like the icing on the cake and is more like crafting your personal signature style.
Quartz, laminate, solid wood, granite, composite stone and marble kitchen countertops are some of the most popular ones amongst the best kitchen countertop.
But each one has its own advantages.  It is indeed very important to look into the factors involved before zero-in on your purchase decision.
In a quest to find the best kitchen worktop start by asking a few questions to yourself.
How often do you prepare the food?
Do you directly place the hot pan on the worktop? Need a heat-resistant worktop?
Are you good at cleaning or wiping the spills immediately? Want a worktop with little upkeeping?
Are you on a budget?
Is your kitchen a family place? Frequent get-togethers and home-partying?
Any preferred colours and textures for kitchen surfaces?
Do you need a long undivided slab or joins/fixtures will work?
The answers to these questions ensure that you tailor the perfect kitchen surface as per your needs, requirements and style.
Investing in the best kitchen worktop
Style and practicality are two key aspects that everyone needs to incorporate in the kitchen worktop but sometimes become difficult to blend in one.
A hardwood or timber worktop may be durable and organic. But, if you are looking for something shiny, something that sparkles as well, Quartz could be a better option.
From expensive granites to affordable laminates, kitchen worktops are available at a variety of price points.
So, if you're on a budget Caesarstone, Corian, granite, etc may cause a dent in your pocket as these are made-to-measure worktops.
If you still want to get the look and feel of these stones on a budget, the best way out is to look for similar look-alikes such as pre-cut laminates.
These worktops are not only durable but offer a stunning appeal to the kitchen that too without a hefty price tag.
Wooden worktops are affordable and look awesome but need consistent upkeeping and maintenance.
High gloss materials will make your guests feel envy but on the same hand, the worktop may highlight grubby marks as well.
Let's have a look at some of the best ones.
Best Kitchen Worktop Materials
1. Add a touch of luxury with Granite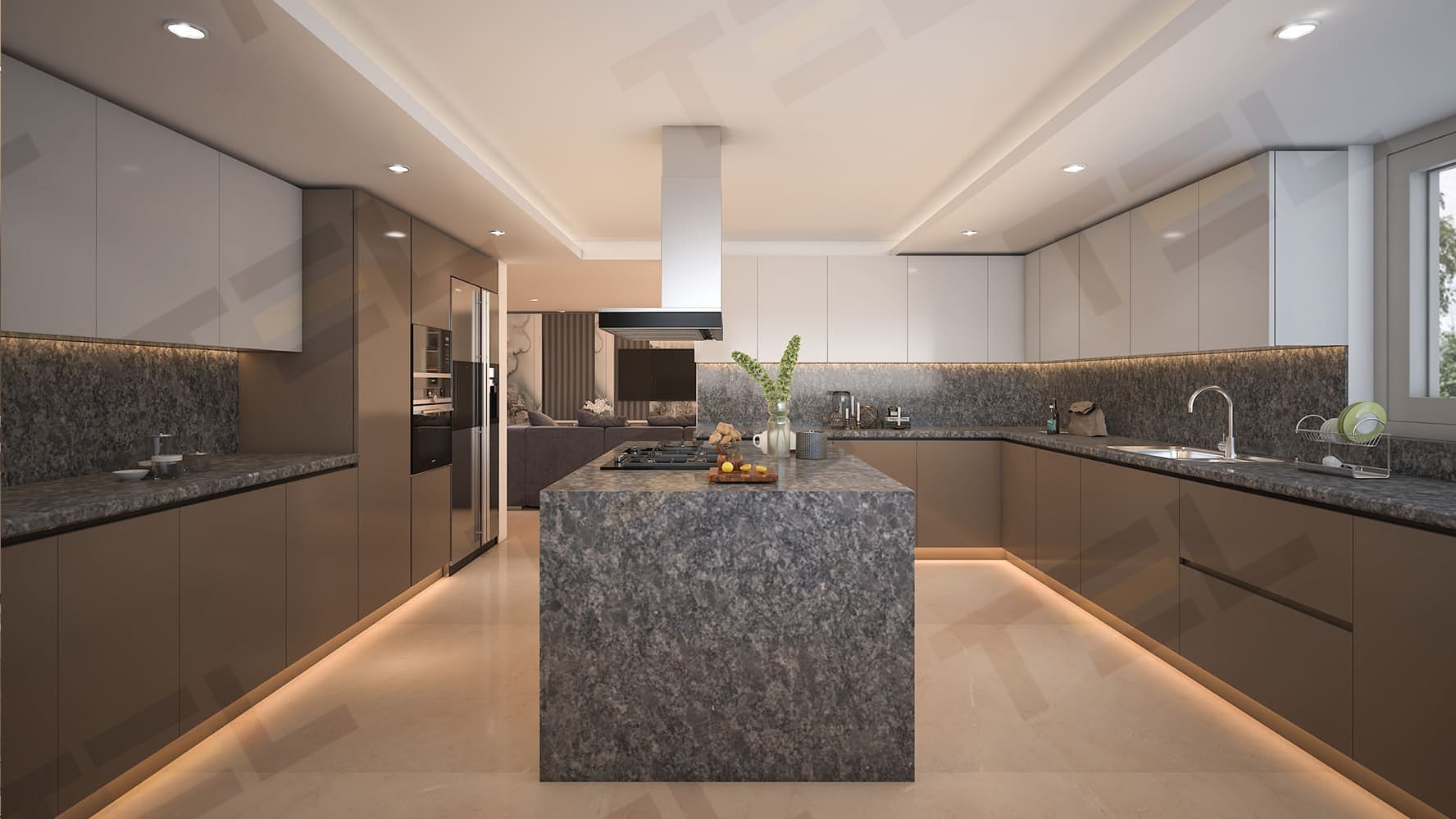 Granite is one of the most loved natural stones popularly known for its amazing veining and colours that are unique for each slab.
Though marbles are equally beautiful and luxurious, people prefer granite over marbles as marbles are more expensive and rare.
Granite kitchen countertops offer a timeless appeal to the kitchen and are perfect for both modular as well as classic kitchens.
Salient Features:
Apart from kitchen worktops, granite can also be used around the sink, next to the oven or hob.
From polished finish to honed matt, kitchen granite countertops gives a contemporary feel to the space.
Granite is resistant to scratches, it's hard and thermally insulated i.e. heat resistant and can easily withstand high temperatures.
Granites are heavy and require careful handling while maneuvering.
Granite kitchen surfaces may require some kind of initial treatment or sealing but that lasts as long as for 10 years.
They require very low maintenance. Just a wipe with a damp cloth will do the cleaning.
2. Laminates- The budget-friendly worktops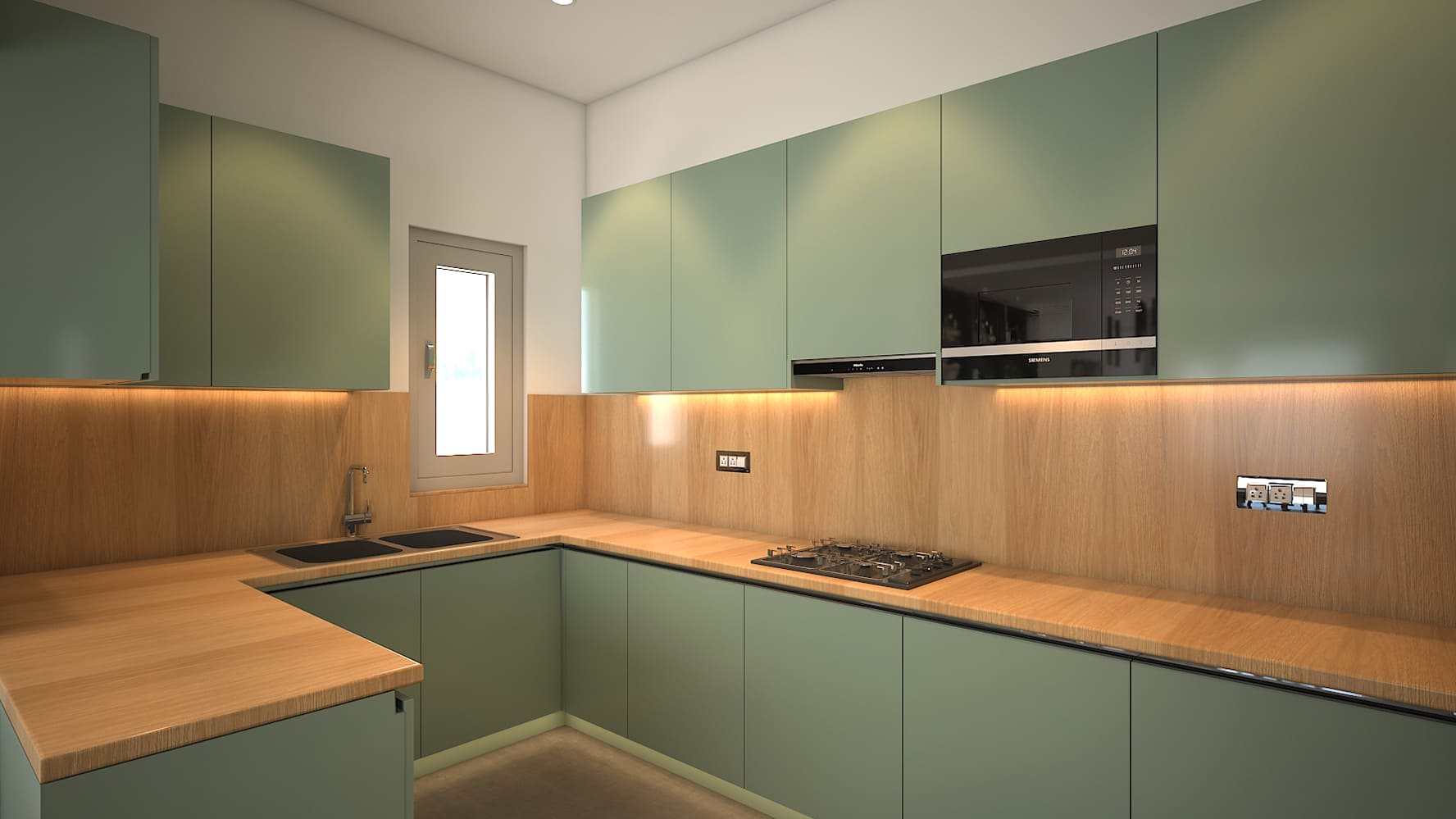 Looking for an affordable option that not only fits in your budget but also offers a stunning look to your kitchen? Laminates are an ideal pick for this.
These easy-to-maintain laminates come in a wide range of colours and designs.
Multiple layers of impregnated papers are fused together under high temperature and pressure and are bonded to a substrate to form the laminates.
The laminates can easily mimic other high-end and best worktop materials such as wood kitchen countertops, slate and granite.
Salient Features:
These kitchen worktops are moisture, impact and scratch-resistant.
You can easily DIY rather than taking a help from a professional.
They are easy to handle as they don't need any initial treatment.
The laminates are stain and chemical-resistant but may not withstand high temperatures.
If you are a cooking enthusiast and want to use this surface for chopping and cutting, it's better to avoid laminates or you can use a chopping board instead.
3. Concerned about hygiene? Switch to European Quartz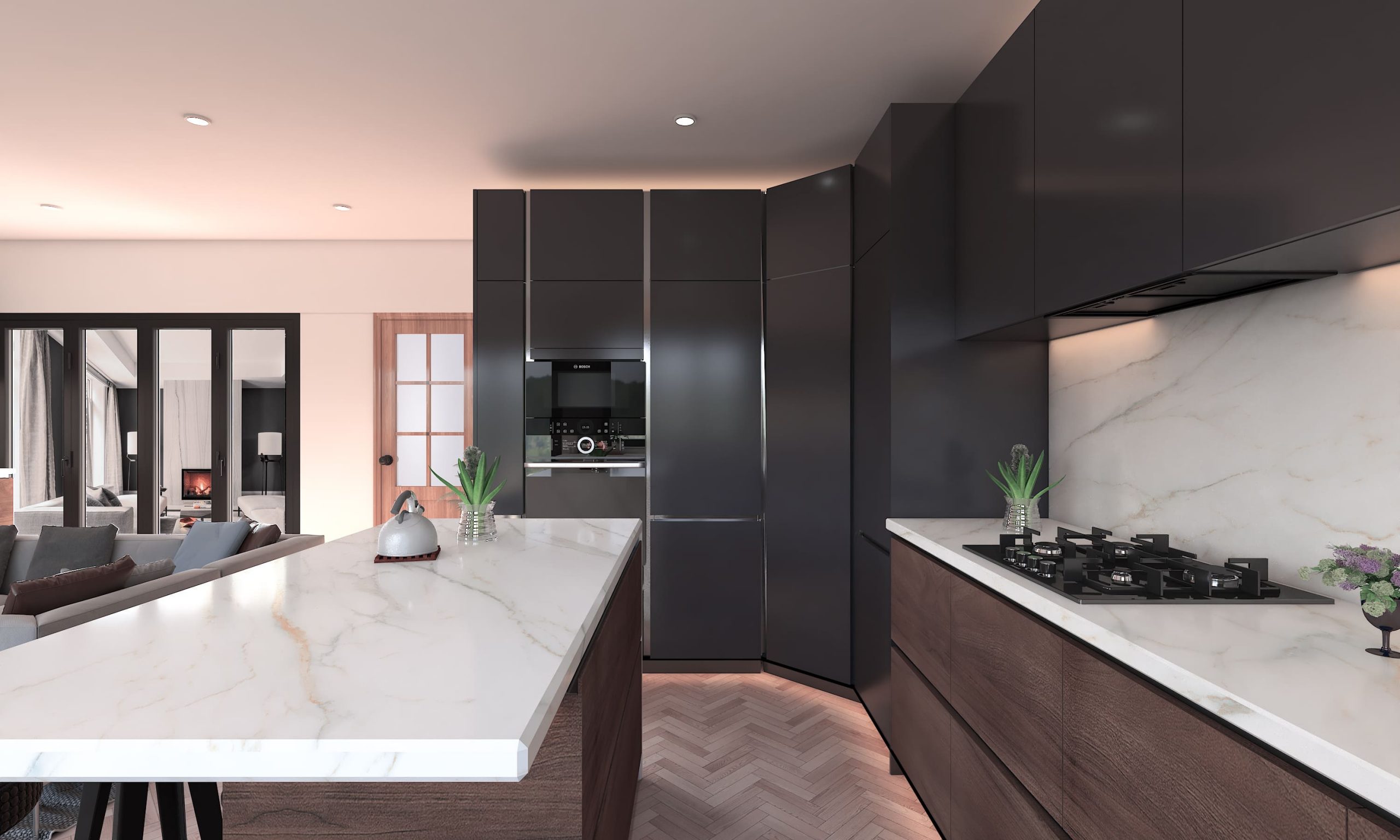 Add a touch of sophistication and elegance to your kitchen with the light-capturing crystals European quartz kitchen countertops.
European Quartz is non-porous and non-absorbent. Unlike, other kitchen surfaces that absorb a small amount of raw food and can be a breeding ground for harmful bacteria, quartz is completely food safe.
The best part is all about the extraordinary hardness that prevents it from chipping. This ensures that no micro fragments can ever get into your meals.
Salient Features:
These kitchen worktops are moisture, impact and scratch-resistant.
It's completely hygienic and anti-bacterial which makes it a popular choice for families.
Quartz kitchen surfaces are easy to clean and are hardwearing as well.
Choose from a wide range of colours.
Exploring the internet for white kitchen countertops?  Explore the range of colours with European Quartz.
4. Get the real freedom of Expression with Corian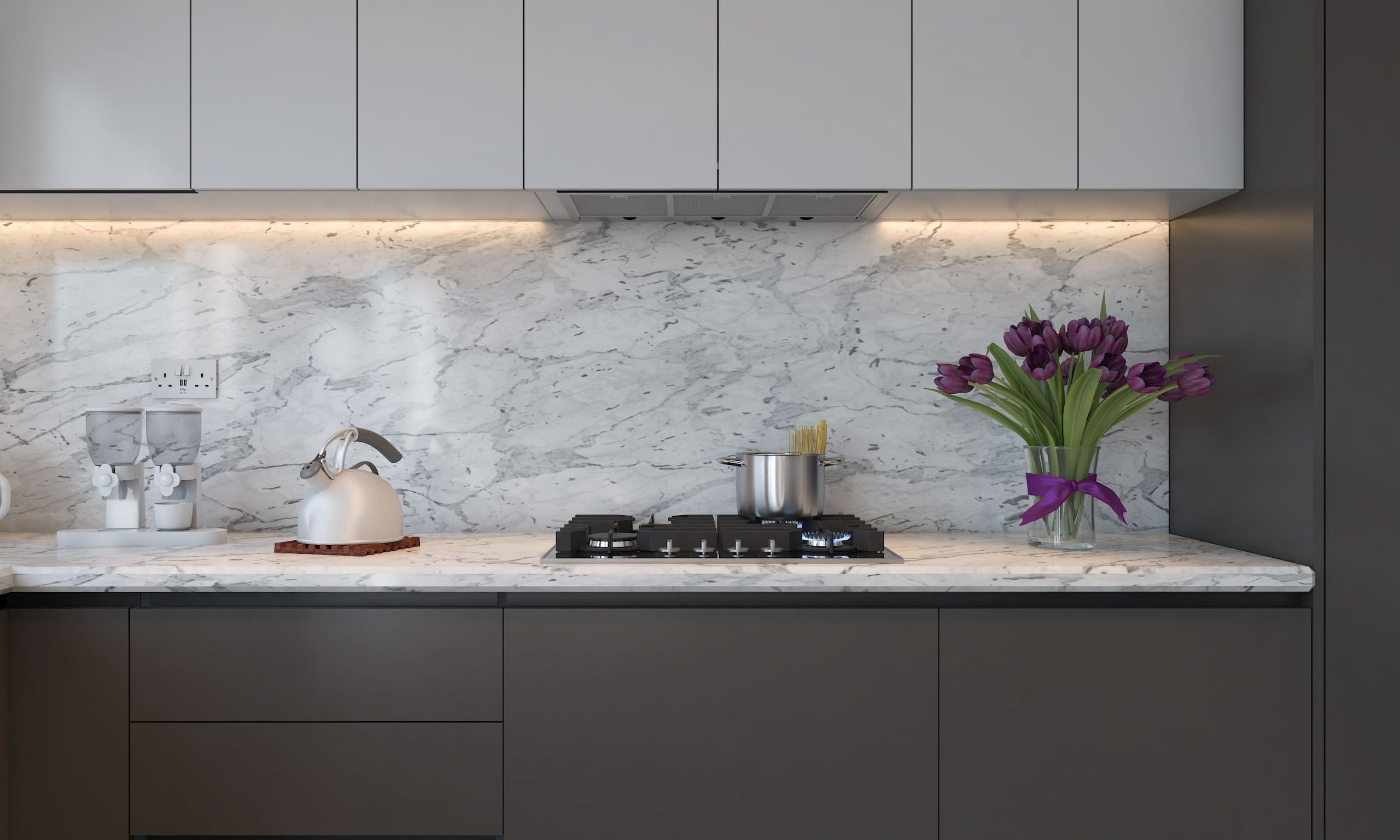 Corian stone is made by blending acrylic resins and minerals that offer valuable functionality with enduring beauty.
This solid surface worktop is warm to the touch and comes with a natural luster. Apart from worktops, they can be used in splashbacks and moulded sinks as well.
Be it modular or classic, Corian is suitable for all types of kitchens.
Choose from a bright range of colors or simply go for kitchen white countertops for a sophisticated and premium look.
 Salient Features
Easy to clean and it is NSF/ANSI 51 certified ensures that the surface is antibacterial, mould and mildew free.
Corian is nonporous which makes it stain resistant as well as the stains cannot penetrate in between.
Imparts a sleek appearance just like a one-piece single solid surface.
Though expensive, this worktop material holds a reputation for excellence and can be transformed into any shape.
Perfect for wet areas and low maintenance.
Heat resistant up to 250°
5. Satisfy your love for baking with marble kitchen countertops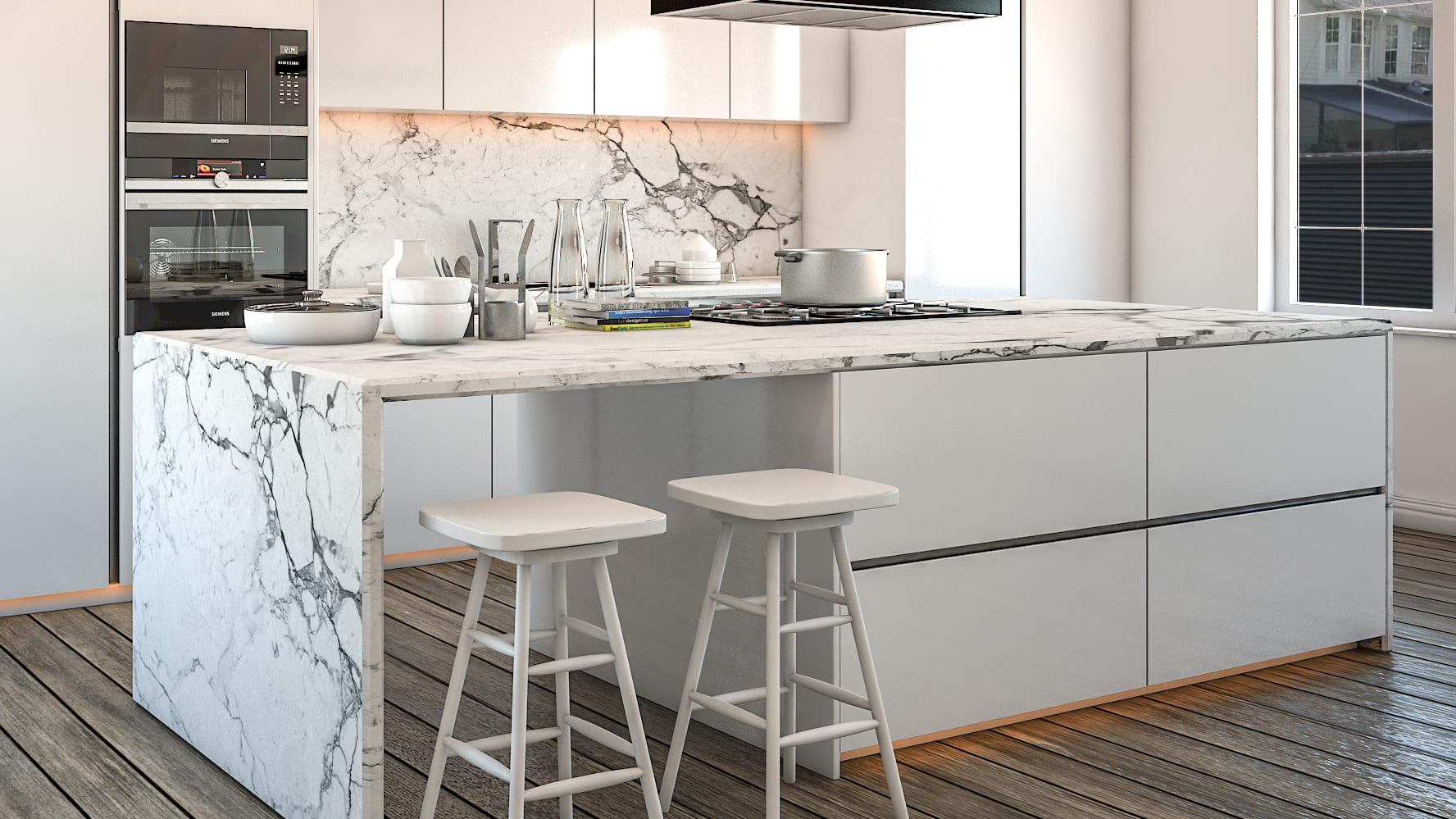 Want to add true elegance to your home kitchen?
Enjoy the real sense of naturalness with marble countertops kitchen.
Though these are available in a variety of colours and patterns, it's the white kitchen countertops that are more popular when it comes to marble.
These worktops are cool-to-touch which makes them a perfect choice for bakers.
The cool surface serves as an ideal surface for rolling out pastries.
Salient Features:
Adds luxury and elegance to your kitchen.
Due to its cold surface, marble is ideal for bakers and other professionals that don't need to deal with temperatures.
Marble kitchen surfaces can be book-matched offering a seamless visualization from horizontal to vertical.
It is cost-effective but highly susceptible to scratches and staining. This makes it unsuitable for busy kitchens.
The stains can be removed using poultice and can easily be re-polished in situ.
They may require frequent sealing treatment.
The Bottom Line
Don't underestimate the impact that a worktop has on overall kitchen space. Give it due consideration.
Take your time and explore through the best kitchen countertops ideas.
Investing in the right kitchen worktop not only reinvigorates a dull kitchen but also adds value to the home as well.
So, now you are well acquainted of the best kitchen worktop materials, you can make a wise decision that what is the best kitchen worktop for you.
Still confused? Don't worry.
Reach out to our professionals for the right guidance for your kitchen worktop needs considering your budget, requirements and lifestyle!