You often think of kitchen designs with many pretty colours, designs, and styles as combinations creating magnificent looks.
But while kitchen cabinets are the essential elements of the kitchen decors deciding on their style, colours, and doors is quite challenging to enhance the kitchen appearance while keeping it functional.
Are you looking for the answers to your queries concerning the kitchen cabinets? If yes, then you have come to the right place. Here's all you need to know about it.
What is a kitchen cabinet?
Kitchen cabinets are the built-in furniture in the kitchen spaces that are used for food storage, dishes, cooking equipment, and several other essentials.
When it comes to choosing a kitchen cabinet, the styles are majorly categorized into three broad categories. This includes:
Base kitchen cabinets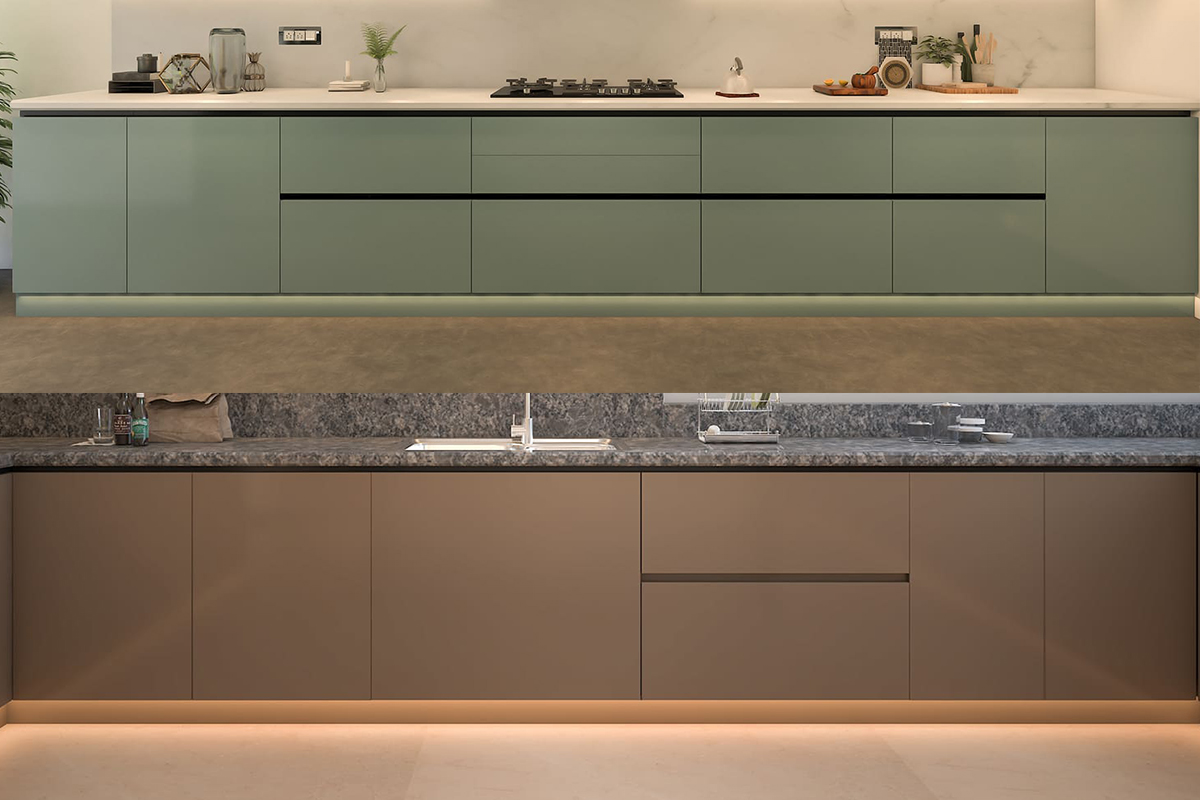 Base kitchen cabinets are directly positioned on the floor space. These generally support the worktop from below after it has been laid stop the kitchen cabinets.
You can also choose to set up the sink above the cabinets, but the main idea is to support a functional piece within the kitchen space.
These are versatile in nature, where you can think of ample options like pull-outs, lazy susans, shelved cabinets, and many more.
In fact, the base kitchen cabinets bring the actual functional piece to the kitchen space. Have you ever imagined a premium kitchen design without a cabinet? We bet you cannot even think of that.
The best part is that you can adjust everything into it, from crockery and cutlery to appliances, utensils, and a whole gamut of items.
Wall kitchen cabinets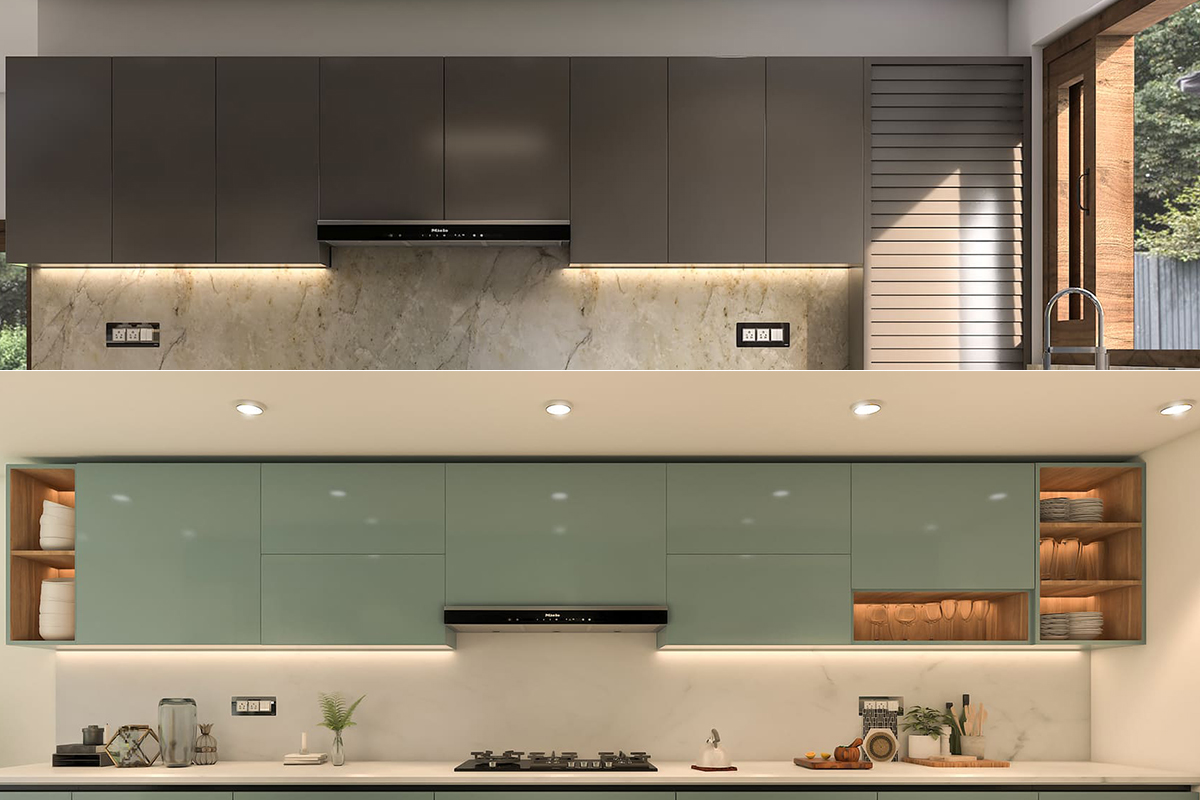 As the name suggests, wall kitchen cabinets are the ones that are mounted on the wall using screws. The emphasizing part of the wall kitchen cabinets is that they can actually be the most appealing and decorative part of modern kitchens.
The primary purpose is to store all your kitchen essentials in the space to keep your kitchen clutter-free.
Tall kitchen cabinets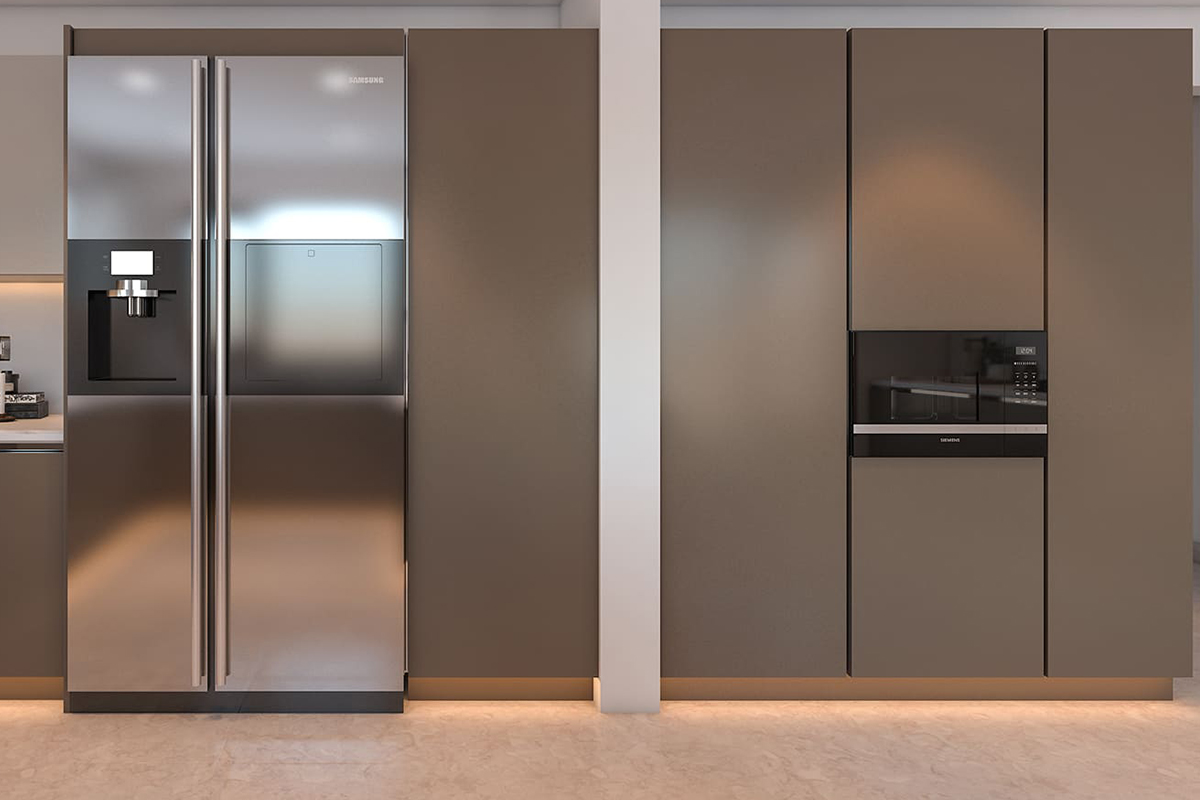 Tall kitchen cabinets are also known as pantry or utility cabinets that can extend from floor to ceiling. It can also be a free-standing piece that serves the purpose of offering ample storage space.
These huge functional pieces are so tall that you will never feel a shortage of space. These organize the unmanageable items as well and serve a primary role in keeping the kitchen space clean and more clutter-free.
With the use of smart technology, these types of kitchen cabinets can even accommodate the microwaves and ovens within the entire design while providing a seamless look. In short, you will get a great amount of storage within your kitchen, so you do not even have to worry about your kitchen space.
How to clean a modular kitchen cabinet?  
Modular kitchen cabinets are the ones that often catch everything, including the grunge, grime, and grease.
The batter and other food items also get spilled over it, and at that time, the entire space looks so messy and untidy that you regret performing your essential functions over there.
But if not there, then where will you perform these food preparations? Well, the clear answer to it is that you have to perform it all there only, but you must clean it appropriately so that it doesn't set there only!
Yes! You are just lacking some of the cleaning hacks that are essential to be familiar with. No worries, we will make you familiar with those as well.
Let us see how you can get rid of those spills.
You can use any commercial cleaner and wipe it off right away after performing the food preparations.
Pro tip!
You must perform the cleaning of the cabinets and kitchen worktops to keep shining like ever.
There is also a home remedy to remove the stains on your modular kitchen cabinets. To perform it, you must
Take a bottle spray
Fill it half with vinegar
Add water to half of the space in the bottle
Spray the mixture over the kitchen cabinet doors
Let it stay for 2 to 3 minutes
Then clean it with a soft and clean cloth.
Pro tip!
Using easy home cleaning with the kitchen essentials will keep your kitchen chemical-free. So, you can preserve this solution for your daily cleaning.
Which material is good for the kitchen cabinet? 
With the changing trends and advancements, kitchen cabinets are now available in a variety of materials that one can easily choose from as per their requirements and taste.
But with this wide range of materials, which one is the best fit for your kitchen and which one will satisfy your kitchen styling needs is pretty challenging to figure out.
This might seem a basic query, but still, it is crucial to answering!
You can also contact a professional and find the perfect fit for your kitchen to get clarity over it.
But before that, you must be familiar with the materials that you can choose from. Here is the complete information about it.
1. Plywood
Plywood is an engineered wood or manufactured cabinet material that is created by gluing layers and wood veneers into a single board. It is generally available in diversified thicknesses, stable, and colours.
Generally coated with plastic laminates, thermofoil, or wood veneers for providing the required smoother finish, better protection against moisture, and terminates.
Pros of choosing the plywood
It is less prone to damage by water or moisture
As it is bonded, it doesn't crack, warp or shrink
It is highly durable
It is much stronger as compared to the other engineered woods
It can better hold a heavyweight.
It is lighter than other engineered woods
It is a great option for wall cabinets.
Cons of plywood
Since it is much cheaper than solid wood, it is more expensive as compared to MDF or HDF.
Since the material is very dense, elaborating designs with plywood is pretty challenging.
To avoid rough edges, you must ensure that the cabinets are coated with veneer or laminates.
You must choose the plywood kitchen cabinets that are more prone to get wet. And when it comes to being exposed to the steams, instead of choosing the commercial plywood, go for some boiling water-resistant plywood.
Pro tip! 
You can pick this if the quality is your criteria.
2. High density and medium density fibreboard
The high-density fibreboard (HDF) and medium-density fibreboard (MDF) are both engineered woods generated when the fibres and small wood particles are compressed using heat and high pressure and then glued together by a resin.
HDF is basically a higher grade of the MDF and is denser and harder. The designers often recommend the MDF for the kitchen cabinet shutters and wardrobes.
Pros of choosing HDF and MDF
Both MDF and HDF have a very smooth surface
Both are sustainable options since these are made from the wood fragments of leftovers.
Cons of choosing HDF and MDF
These are heavier to work with as they are denser than plywood.
These are not water-resistant or moist.
They don't hold screws well as they are made of small particles and grains.
3. Natural wood
Natural woods are often considered when the basic taste is classic. Natural woods are the classic, timeless choice that keeps the kitchen space tradition with a touch of modernity.
It doesn't matter whether your kitchen follows a modern theme or a traditional one; these kitchen materials are the best fit for every type.
Pros of choosing Natural Wood
The grains and textures of the natural woods are pretty
The colours of these materials are deep
These are easy to maintain. Just wipe it off every day
It's a strong and durable choice
Cons of choosing Natural Wood
The terminates can stick to the natural wood, so the wood treatment in advance is essential.
Humidity and moisture can affect the material's core over time.
Since it is man-made, the choice is pretty expensive.
4. Particleboard
When the work is minimal in the kitchen, the particle board is an ideal choice.
It is made from waste wood and sawdust and which is why the common question concerned with it is the quality.
Pros of choosing Particleboard
It is not so expensive material
Available in pretty colour options
It is an eco-friendly option as it is made of the residue obtained in the other engineered woods while decreasing the landfill.
Cons of choosing Particleboard 
The quality of the material is often questioned since it is made from waste wood.
Material is not light, so it cannot hold more weight.
5. PVC
Another material for the kitchen cabinets is PVC. The material is not often used as it is not considered long-term use.
These are easy to maintain and clean. Presently the material is available in two types. This includes:
Hollow boards
Foams
Since the former is sturdier and heavier, the latter is economical and light.
Pros of choosing PVC
These are easy to fix
These are easy to maintain and clean.
These are available in a pretty array of colours.
Cons of choosing PVC
It is not a long-term solution
6. Stainless steel
Stainless steel is the latest material that is being chosen for modern kitchen cabinets. The material is slowly penetrating the market.
It is getting attention due to its antimicrobial and anti-fungal properties. These are durable, water-resistant, and easy to clean materials.
Pros of choosing Stainless Steel
It has anti-fungal and microbial properties
It is water-resistant
It is durable and easy to clean.
It offers a unique look.
Cons of choosing Stainless Steel
These are available in a limited range of colours
These might require polishing when the shiny coat oxidizes
This may show fingerprints and smudges
Their drawers and doors and noisier than other materials
These have the tendency to scratch and dent.
7. Laminates
As the wood material is prone to infestation and damage, laminates are often preferred.
These are basically the thin sheets sandwiched together with a plastic resin layer, an overlay of a tough plastic film, and paper with a printed layer of various designs and patterns.
To install the laminates, composite products like particleboard, MDF, and plywood are used as the substrates. And a decorative film is pasted on these boards.
Pros of choosing Laminates
These are a durable choice
As the printed layer comes on a paper backing, the desired look of almost all the materials can be achieved with the laminates.
Its skin doesn't scratch, fade away or wear off easily.
It doesn't require repeated polishing.
These are moisture resistant.
Cleaning the laminate's surface is simpler as these are coated with a thin transparent plastic layer.
Cons of choosing Laminates
If the laminates are not installed properly, the edges tend to peel off
These are non-renewable material
8. Wood Veneers
Wood veneers are the solid wood sheets that are pasted over the composite substrates. These sheets are further stained and polished to attain the desired texture and colours.
Wood veneers reflect the refined grains and natural wood's beauty.
Pros of choosing Wood Veneers
Wood veneers are economical and sustainable
It can make a potentially hard-edged kitchen appearance softer
It can be treated to attain semi-gloss, matte, and high gloss finishes
Cons of choosing Wood Veneers
These tend to discolour when exposed to natural light
These require polishing after some time
You may see the stains due to even water
These are not scratch-resistant.
The most common and frequently used kitchen cabinet material is wood!
How to choose a kitchen cabinet colour?
When it comes to choosing the kitchen cabinets, along with style, the colour of the kitchen cabinets is one of the essential elements that call for attention. The colour you choose for your cabinets colour can actually set the entire mood and tone of the kitchen.
And while choosing the cabinet doors, there are several essential factors that you must check on. This includes:
You must choose the kitchen cabinet colours based on the size of the kitchen space. The kitchen cabinets can make or break the appearance of the kitchen.
In short, if you have a smaller kitchen space, it is best to go for the bright colours and dark cabinets for the large and well-lit spaces.
Consider the kitchen style.
The kitchen styles can also help you choose the right kitchen cabinet colours. For instance, the traditional kitchen styles generally demand some classic colours like white or cream, and in the case of the modern kitchen styles, the colour palettes expand drastically.
So, you gotta choose the colour based on the kitchen styles.
Take a look at the colour of the kitchen walls.
If you are planning to add a style statement in the kitchen, you must choose the colour that enhances the appearance of the entire kitchen space and complements the colour of the walls.
The kitchen cabinet colours must match the kitchen wall colours to get that aesthetic appeal in the kitchen space. Choose a cabinetry colour that actually complements the entire design, colour theme, and space.
Consider the mood you want to create

Choose the cabinet colour that can help you create a specific mood in the kitchen. For instance, if we consider the common colours like light blue or white cabinets, it creates a relaxed and calm mood in the kitchen, while if you consider the black one, it will help you create a dramatic and sophisticated mood.
You must check out the colour wheel that can help get clarity over it, or you can also contact an expert to help you decide.
Are you ready to choose a colour theme for your kitchen space? We hope the considerations as mentioned above helped you choose the right one for the kitchen space.
Pro Tip! 
You can add a pop of colour in the kitchen cabinet colours, as it will set the mood to a happening one while making your cooking experience super amazing.
How much does a kitchen cabinet cost? 
The cost of designing kitchen cabinets and their installation varies based on several factors. This completely depends upon the size, requirements, materials, and other constraints to transform the normal kitchen design to spectacular.
You can contact TEL Kitchens to get a quote for your kitchen cabinet crafting.
Which is the best plywood for a kitchen cabinet?
When it comes to choosing the plywood for the kitchen spaces, it is essential to decide which type of plywood will be the perfect fit for your kitchen cabinets.
Just the name "PLYWOOD" doesn't help you decide the type of plywood that will be satisfactory for your kitchen space. You need to be familiar with the types from which you can choose the best fit for your kitchen. The types of plywoods include:
Boiling waterproof plywood, i.e. BWP grade plywood is known to be a completely water-resistant material. This type of board can withstand prolonged water exposure, and it undoubtedly becomes an obvious choice while looking for plywood for the kitchen.
Correspondingly, the Marine Grade plywood is also one of the prime choices that are often being used in the outdoor and indoor spaces/ it is popular due to its superior performance in damp conditions.
Commercial plywood, also known as MR grade plywood, is moisture-resistant grade plywood that is not really waterproof but utilizes a waterproof glue that makes it function well in damp and wet conditions.
It doesn't allow the board to delaminate and, therefore, be used in the kitchen spaces.
Firewall plywood is the fire-resistant non-leachable plywood that saves you and your belongings in case of any fire accidents.
Due to the lesser flammability and lower burning rate, the firewall plywood provides security and safety by delaying the fire to spread.
It is often used for exterior and interior applications like kitchens, hospitals, and other locations.
You gotta choose the best one based on your preference, and when it comes to choosing the best one, undoubtedly, the water-resistant plywood wins the race.
Bottom Line!
The kitchen cabinets are the one essential element in the kitchen space that plays a crucial role in keeping the kitchen clutter-free and clean. The appearance of the kitchen cabinets can actually make or break the look of the entire kitchen space. So, it needs to be carefully planned and designed.
TEL Kitchens is the name you can count on if you are looking for kitchen interiors that have an ultra-modern kitchen design, spacious and smartly organized while adding the space's aesthetic.
So, no looking further! The brand you can trust upon!
Explore the entire kitchen cabinets range here.
Got a query? Call us @ 9914434349 or email us @ sayhello@telkitchens.in