"A good worktop will never let your guard down"
A worktop is the primary portion of every kitchen and thus it is famously known as the centre of kitchen activities from cutting food to preparing and serving. Worktops act as the workhorse of a kitchen by carrying all the responsibilities over it.
It is a surface that we first reach on entering the kitchen every morning and the last thing when we leave the kitchen. Best kitchen worktops are not easy to choose from and are always considered to be a daunting task.
A worktop that fills up the gap between skipping the countertop cleaning and preparing food is the best kind of a worktop.
In case, you are dealing with regular cleansing of worktops and are still facing the hygienic or messy issue left behind the worktops then you must think of updating your kitchen countertops.
Try something inexpensive but effective material because there is no sense in buying cheap and invulnerable materials for worktops. Either you do it properly or you do not do it.
Everything you need to know about the best kitchen worktops
For making an ideal choice for your kitchen worktop, we will help you. You may be wondering what material can make a difference. But trust me; it is all about quality and the type of material when we indulge in choosing kitchen worktops.
In the further guide, we will explain the different types of worktop materials from which you can observe and identify your needs. Depending on the set of your requirements and conditions, choose the best material with the help of our blog.
1. Granite Worktop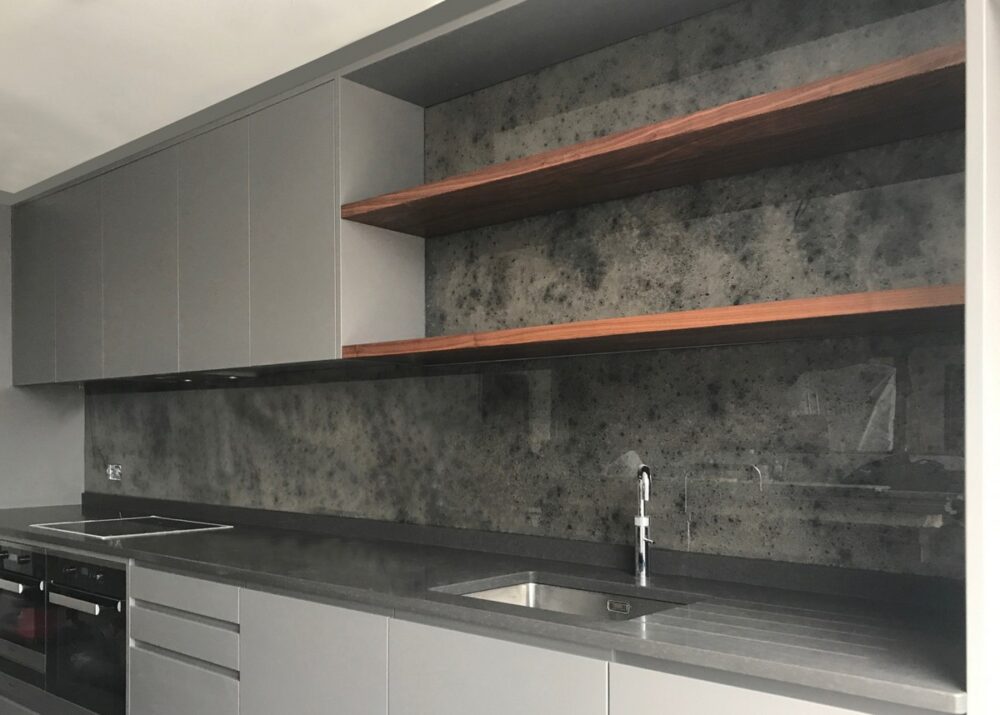 Granite is best known for using construction materials for its durability and beauty. As it is produced from nature for the thousands of years' compression and flaming of volcanoes thus it has strong capabilities of tolerating pressure, scratches, and heat.
Regardless of how beautiful the man-made materials are, nature gifted elements always stand out for themselves.
1. Granite has a high class and expensive looks
It is marvellous for using as kitchen worktops because it fulfils all the essential requirements demanded by an ideal countertop. It can make a place look luxurious, stylish, and valuable with its Classic and expensive appearance.
2. Achieve a Less is more beauty with Granite worktops
Since Granite is a natural stone, it is having limited colours, but the manufacturers modify it in the desirable shades. Naturally, it comes up in a few but elegant shades so you still can make a flawless choice.
3. Reasonable cost prices and trusted services
Granite has a reasonable range of cost prices. Even if you feel like the dealer shows extra prices, research first then choose a genuine company. Specialities, finishing and being rarely founded element results into its expensive cost. Follow the advice of a trusted and authentic industry.
4. Granite is highly reliable and versatile to common conditions
We have already mentioned its strength against heat, scratches and pressure which indicates that Granite has a long life span and can withstand water and spill of any kind of oils. Thus, Granite can be an absolute fit for a kitchen worktop.
5. Smooth finish and easy to clean
All the qualities of Granite make it great for installing near sink, oven and for island worktops. Polish, as well as matt finishes, works well for the modern appearance of the countertop and it only asks for a little attention for its maintenance. Wiping off the countertops after using a mild detergent is more than enough for keeping it in its best condition.
2. Quartz Worktop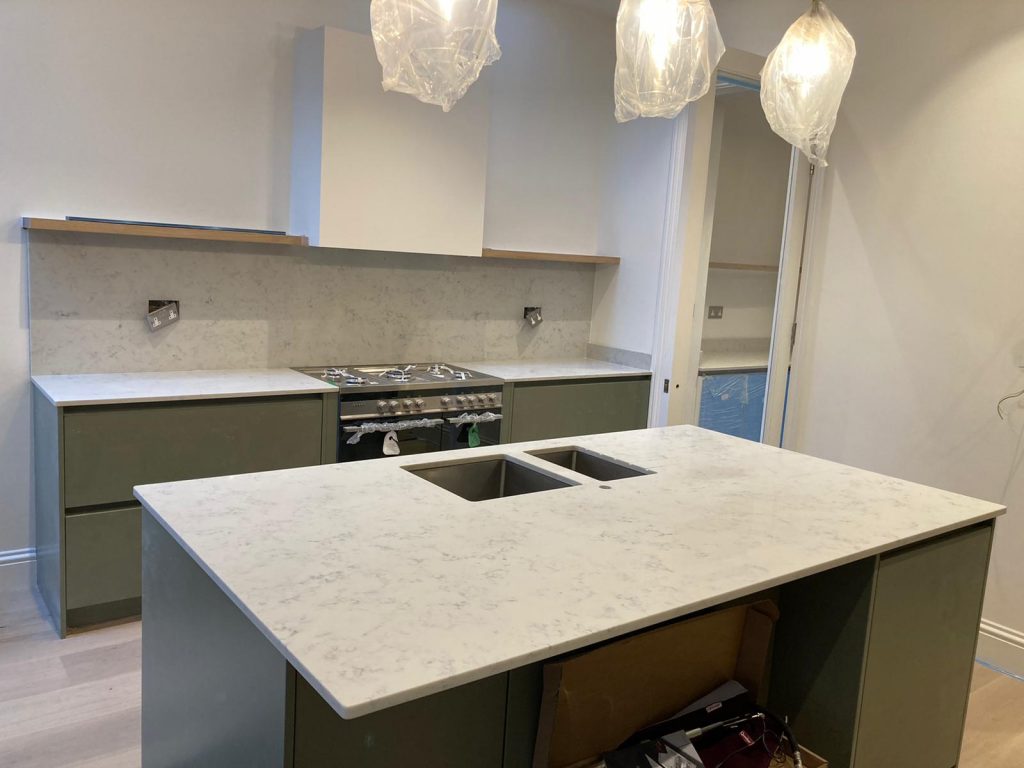 The next ruling material among the resilient world of worktops is Quartz. While Granite is loved by people who want traditional, functional and a little touch of contemporary looks. Quartz steals attention from individuals, who prefer modern and fashionable kitchens at once.
1. Durable and Resistant
Quartz is commonly known as an engineering stone made by high-end technologies. Both Granite and Quartz stay head-to-head in the times of selecting the best one. It has durability as stronger as a natural stone, resistant to scratches and water/ oil drops.
2. Quartz can be moulded accordingly
It can be moulded according to the needs of a kitchen worktop which is the best quality I found in it. Also, you can choose from a variety of colours unlike granite it does not limit itself in the range of different shades.
3. Seamless finished of Quartz worktops
Modern Kitchens often take quartz as the priority because it provides a seamless and effortless finish to the entire worktop. You will enjoy cooking over a worktop made up of quartz. The only thing about quartz is that it is somehow not prone to high temperatures. If you take a proper account while working with heated utensils, quartz will be work more than fine for your kitchen.
4. Highly non-porous and functional
It is non-porous and does not require any type of extra finish or sealing over the surface. A simple damp rag and a cleanser are all you need to keep it fresh, functional, and clean as a crystal.
3. Marble Worktop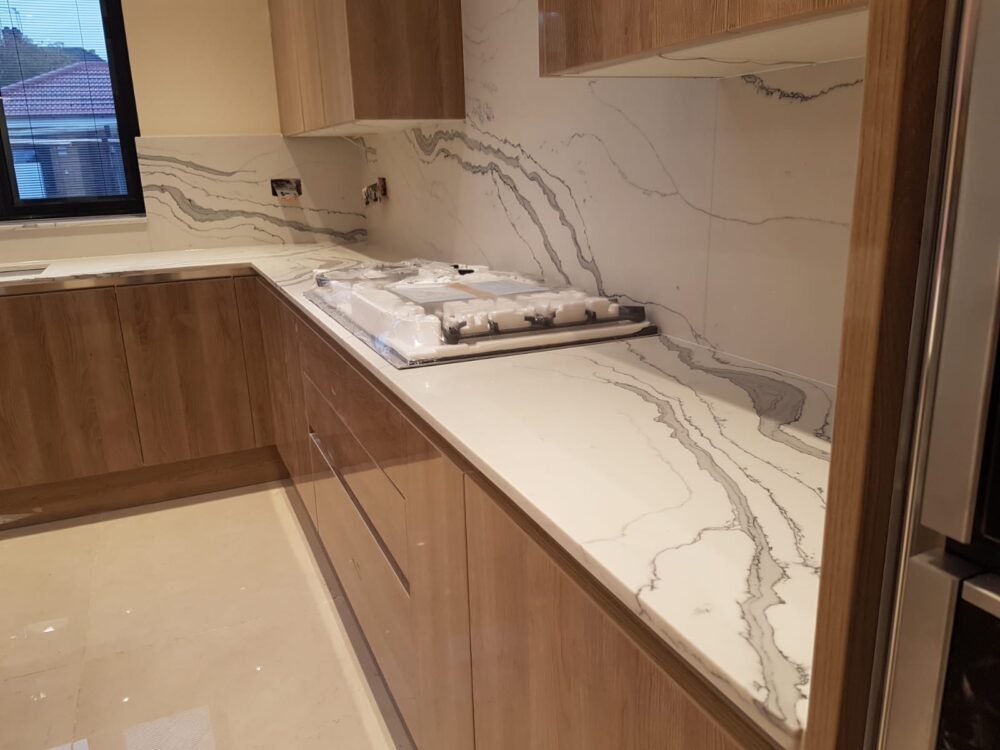 Marble has a very solid historic background as it had been used in monuments, sculptures, and statues. This entire admiring journey of marble made it an honourable element for kitchens and homes' fitting. Likewise, to Granite, it is also a natural stone and a crystalline form of limestone.
1. Royal and cool appearance of Marbles
To bring out the uniform, luxurious, fresh looks to your kitchen simply pick up marble as your first choice. It must be on the radar if you want to have a dreamy and royal kitchen. Marble incredibly deals with high temperatures, stains, humidity, dense and pressures of heavy items. It helps in keeping the place cool.
2. Marble worktops are expensive but high-functional
For some reasons including its seldom availability and high functionality, it can be costly but the price fades to nothing when the material leaves an extraordinary result on a consumer. Yet, it is not often seen in many but luxurious kitchens. The colours are limited in range as nature gifted element is better if protected from extra modifications.
Marble is an exceptionally beautiful natural stone but once come under scratches, it becomes difficult to handle and maintain the situation. Moreover, it is considering as more temperament material than that of Granite. The porous surface needs to be sealed to make it prone to liquids.
4. Laminate Worktop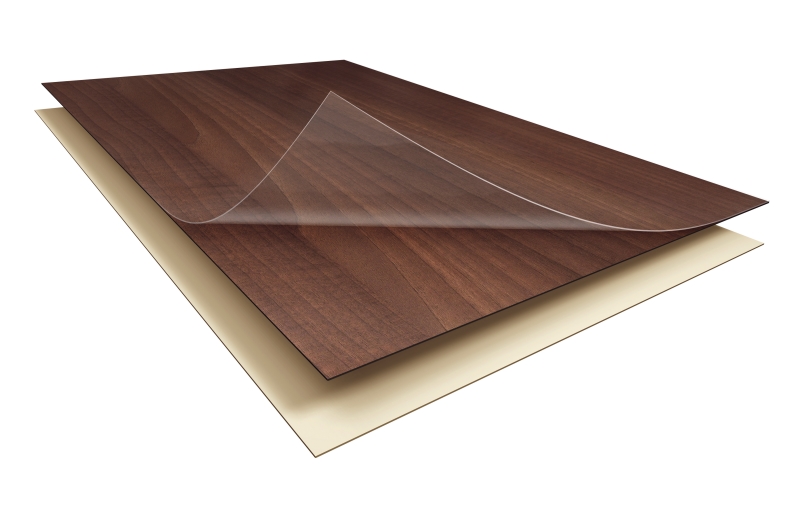 Made by high-density particleboard or chipboard sometimes known as MDF materials, laminate worktops are then coated with plastic synthetic surfaces. They provide an absolute firming finish and might have the appearance of wood, stone, and other manmade materials.
1. Affordable and has a range of colours
Laminate worktops are best for people who look for an affordable and admiring option. You will see that several options are available when it comes to choosing colour shades for a laminate worktop. Also, it can be easily fitted by DIY methods. Thus, reducing installation as well as pricing cost benefits at the same time.
2. A laminate worktop has several designs and is easy to clean
Various designs, patterns including retro as well as fashion trends are available for all kitchens. Worktops made of laminate finishes can be maintained easily if you clean them daily otherwise the top surface has risks of worn out.
3. Damages are hard to recover
The protection level of laminate worktops is somehow unimpressive as they fall under the average cost and material quality, so the scratches, stains and damages are easily visible.
5. Porcelain Worktop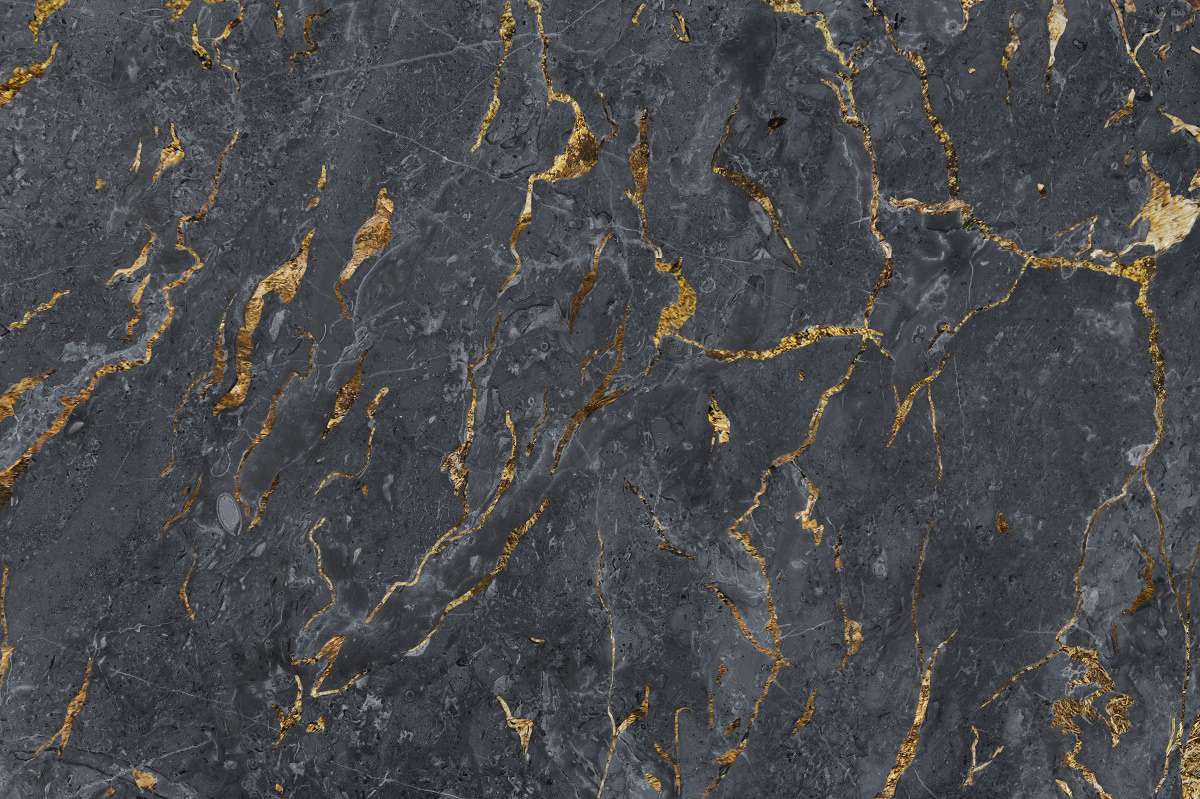 You must have seen porcelain on the other essentials of your home such as the sink and shelves. The popularity is on the top for prior years to use a porcelain material as a kitchen worktop. We are happy to present to you all our best services that help you and your generations in making the optimal interior.
1. Porcelain enriches with high-quality materials
Porcelain is not less than a worthy choice for a kitchen countertop. It is made up of a very valuable and quality clay enrich with silica, feldspar, and other mineral oxides. All these impressive additions have made porcelain a durable and versatile material.
2. Resistance to heat, radiations, and scratches
Since it has been produced from pigments, many colour combinations are frequently seen in the service of porcelain companies. Besides, it is prone to cracks and scratches. These are resistant to high-temperature and UV rays.
6. Glass Worktop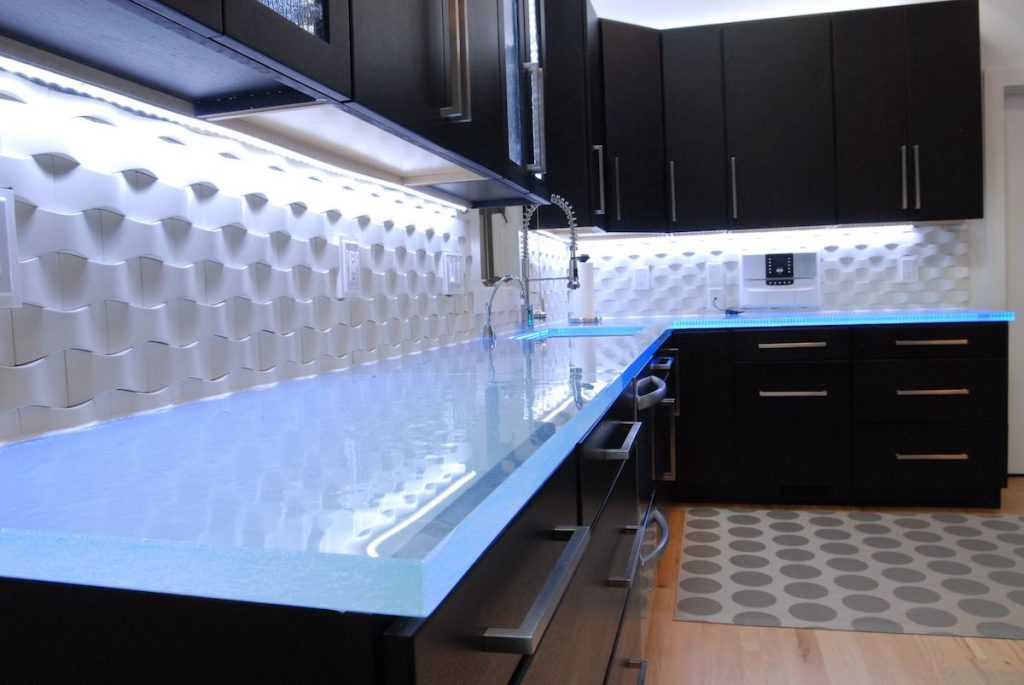 Glass made worktops are durable and bless the entire place with a high-class appearance. The best thing about glass worktops is that they are eco-friendly because most of the materials are used by recycling procedures. Why would anyone neglect luxurious as well as nature-friendly material at the same time?
1. Glass is highly durable, modern, and hygienic
It helps in maintaining a modern design, sleek, tough, stylish, and enduring. What else? They have a superb range of jaw-dropping patterns and colours. The hygiene level offered by a glass worktop is not less than fabulous. You can use simple soap water and a cleaning spray for wiping off the mess.
2. Demands sincere care to maintain the lifespan
With these features, a transparent and opaque glass can stay for a longer time but if excess weight is placed it can be cracked. Harsh and excessive chemical products can ruin the smooth outlook. Typically, glass worktops are heavier than the rest of the materials. Therefore, proper care in maintaining and fitting needs to be done.
3. Glass worktops are available in many colours
Talking about the colours' range, Glasse countertops can be customized as per your wish. Colours would not fade away easily once they are used on the material.
7. Stainless Steel Worktop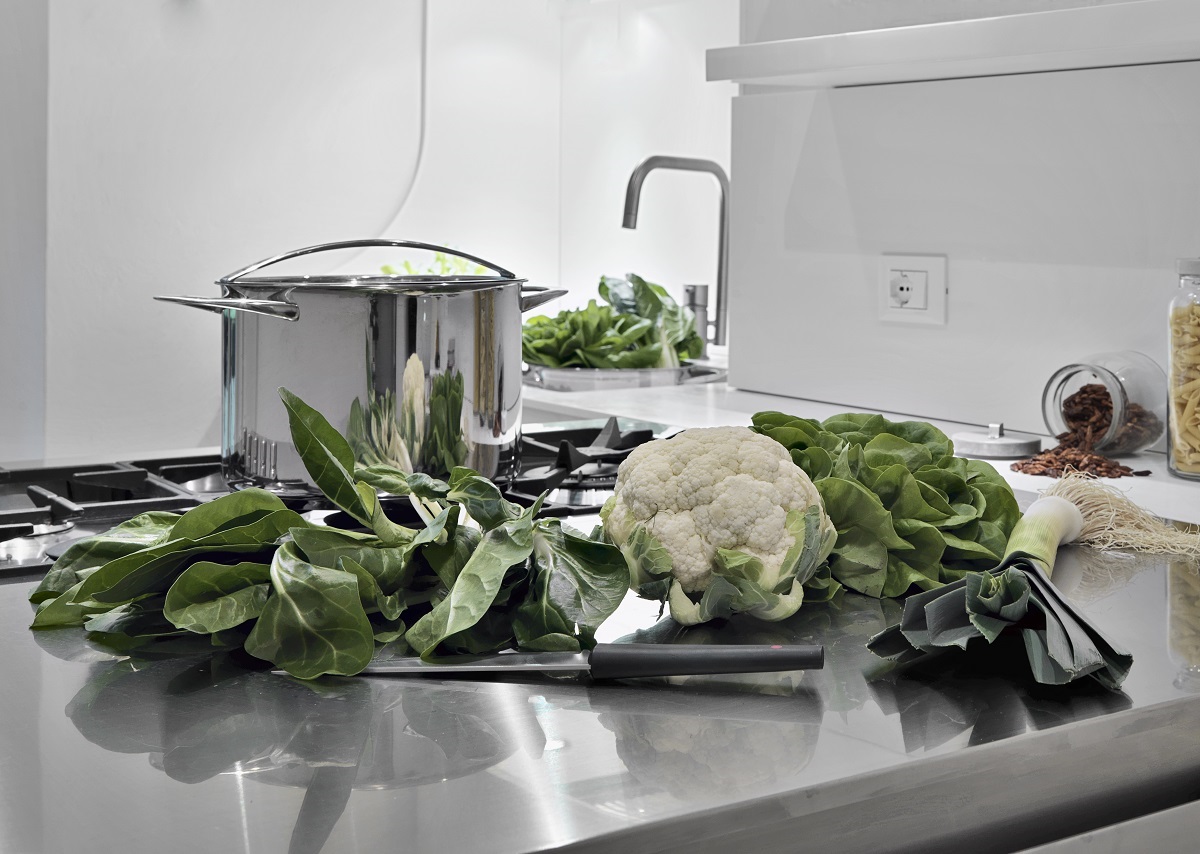 The reason why you should choose stainless steel is they are light weighted and has a low-cost price. With the rise of kitchen design trends, stainless steel is becoming popular day by day especially among common cities and homes of the country. It leaves a huge impact even on a small surface or a kitchen.
1. Incredibly hygiene and prone to bacteria
Working on countertops and maintaining hygiene is a top priority nowadays. Stainless steel provides you with both advantages at a time. It has commendable anti-bacterial properties and heat-prone qualities. The finish given by a stainless-steel countertop is uniform, smooth, and eye-catching.
2. Stainless steel gives a fresh finish
Without any doubt, you can either choose a glossy or matte finish for making a kitchen look cool and inviting. It is incredibly stronger and water-resistant. I mean there is nothing for point fingers at the image of a worktop like stainless steel.
Bottom Line
Each thing has its speciality; the same proves to be true in the case of materials of worktops. You can choose your cup of tea. Since we all have different tastes according to which we made our choices. The choices we make result in our lifestyle.
Thus, you can decide which material will be an ideal package for you. The material must be the first choice that brings you enjoyment and butterflies at the same time.
TEL Kitchens nourish consumers with their custom made and high standard services that are delivered within the decided period. Here, you will find a variety of kitchen designs ideas according to your taste and needs. Like a breeze of fresh air your soul with satisfying and smooth at the end when you will see the unexceptional results.