A kitchen layout has a great impact on the overall functionality of the kitchen space.
So, indeed it is vital to get it right.
But yea out of so many kitchen layouts, which one will be perfect for your kitchen space?
Is it a U-shaped kitchen design or L-shaped or a galley kitchen or any other?
Well, complicated indeed!
However, if you have a large cooking space and you are confused about getting a functional layout for it, here's the complete piece of the perfect solution for you!
The U-shaped Kitchens!
Yes, U-shaped Kitchens are excellent solutions for large spaces. But what exactly is this kitchen layout?
Let's dig into the concept to get a piece of complete information about it.
What is a U-shaped modular kitchen design?
A U-shaped kitchen design is an outstanding option for the larger kitchen space.
A U-shaped modular kitchen layout is well known for its prominent features, functionality, and extra storage capability it offers.
This layout utilises three adjoining walls that offer ample space in the form of cabinets, kitchen countertops, and the cleaning area. U-shaped kitchen designs tend to function well by permitting a generous space between these areas.
Along with being an efficient kitchen layout for the larger cooking spaces, U-shaped kitchen layouts bring several advantages to you. This includes:
The efficient use of a large space.
A U-shaped modular kitchen design comes in diversified storage options.
It allows multiple people to work simultaneously.
You will get plenty of counter space in a U-shaped kitchen layout.
This layout will bring in the availability of several surfaces for storing and working.
How does TEL Kitchens achieve an efficient U-shaped kitchen layout?
A U-shaped kitchen layout generally occupies 2 corners and 3 adjoining walls.
While providing ample storage space for all the essential elements and appliances, the U-shaped kitchen layout must ensure that you have an ordered and comfortable workflow within the space where the floor area permits a broader range of movement.
However, to ensure that you will get a completely functional U-shaped kitchen design, TEL Kitchens begin with a complete analysis of the space to deliver high-end functional solutions.
The TEL Kitchens experts give a free consultation by visiting your space, understanding the requirements, crafting the solutions based on your choices and requirements in the form of architectural visualisations, and attaining the kitchen ergonomics by dividing the kitchen space into 5 separate zones, each zone ensuring to deliver its functional requirements.
Can I have an island setup with a U-shaped modular kitchen?
Fortunately, yes! Including an island setup with a modular kitchen design U-shape is a perfect idea to utilise the large kitchen space appropriately.
Tips for a U-shaped Kitchen!
You can make a pretty arrangement of a central dining table in your U-shaped kitchen space to make use of most of its space.
When it's about bringing the pretty change in the kitchen design, a pop of colour never lacks in maintaining beauty. You can add depth with the pretty paint colours.
A hanging pendant lighting above the central dining table or kitchen island in the middle of the kitchen will help define the seating area.
Keep your small kitchen well lighted, and airy with a colour palette of some soft or neutral shades.
Add some low drama to your cooking space by creating a focal point with some large piece of art or some statement pendant lighting.
Add some floating or open shelves to the walls instead of kitchen cabinets.
Mix up the light and dark kitchen cabinetry, combination of matte or glossy finishes, or mixed metals.
U-shaped kitchens can feel cluttered with ample cabinets and appliances; however, you can minimise the visual clutter with a monochromatic fusion including an all-white palette and dark wood accents for the flooring.
Diminish the visual clutter with floor-to-ceiling built-in kitchen cabinets that maximise the vertical spaces.
Consider adding seating on two sides of the island to make efficient use of the large space and kitchen island.
Practical Suggestions by TEL!
TEL Kitchens professionals follow the best approaches to ensure the best
U-shaped kitchen layout.
The U-shaped kitchen layout can go completely wrong if not designed appropriately. However, here are some practical suggestions by TEL Kitchens experts while counting on the U-shaped layout for your kitchen.
Spaces must be essentially considered well as it is true that the U-shaped kitchens work well in large spaces.
So, you must do a careful study of dimensions to get the rewarding outcome of your U-shaped kitchen.
Adequate lighting plays an essential role in giving a completely functional kitchen design. So, you must ensure that you have a U-shaped kitchen design with adequate lighting that aids the appropriate cleaning, cooking, and food preparation.
A round dining table can be a practical yet optimum solution for small kitchens as it simplifies the movements around it.
Do you know that with a few tricks, you can visually expand the spaces? Yes! Since the U-shaped kitchen is an enclosed area, using the shelves, upper cabinets, open cupboards, and utensil racks can enhance the space.
Trending Kitchen Designs by TEL!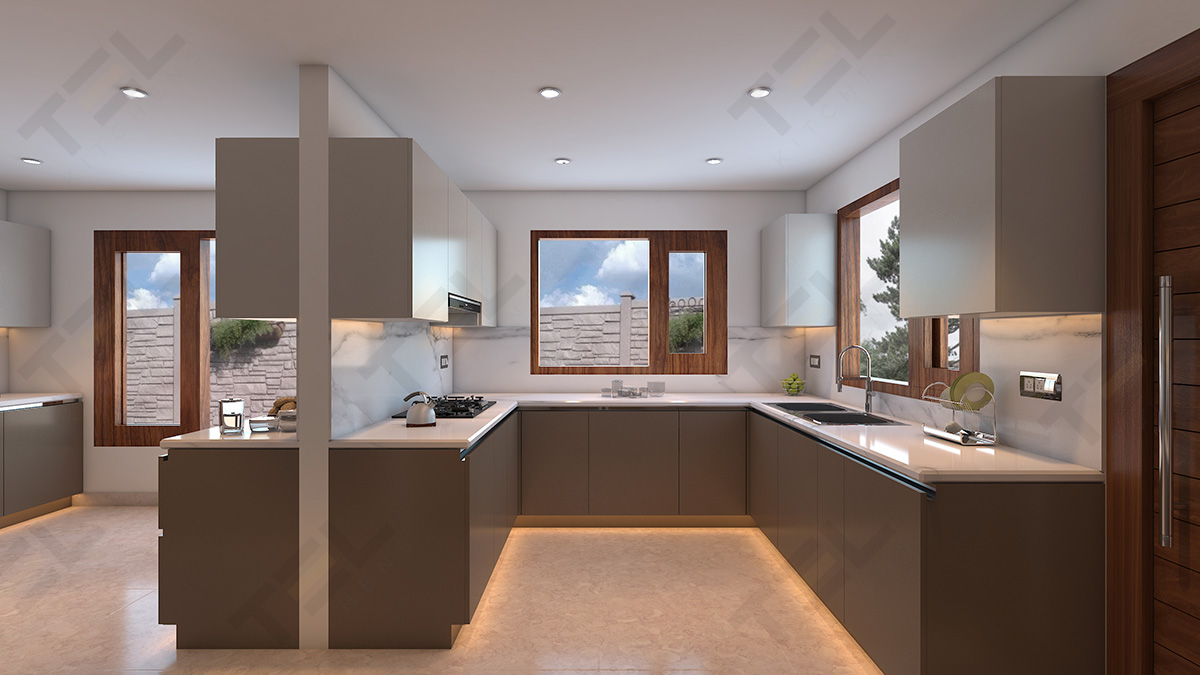 A U-Shaped kitchen design in pristine white glossy marble worktop.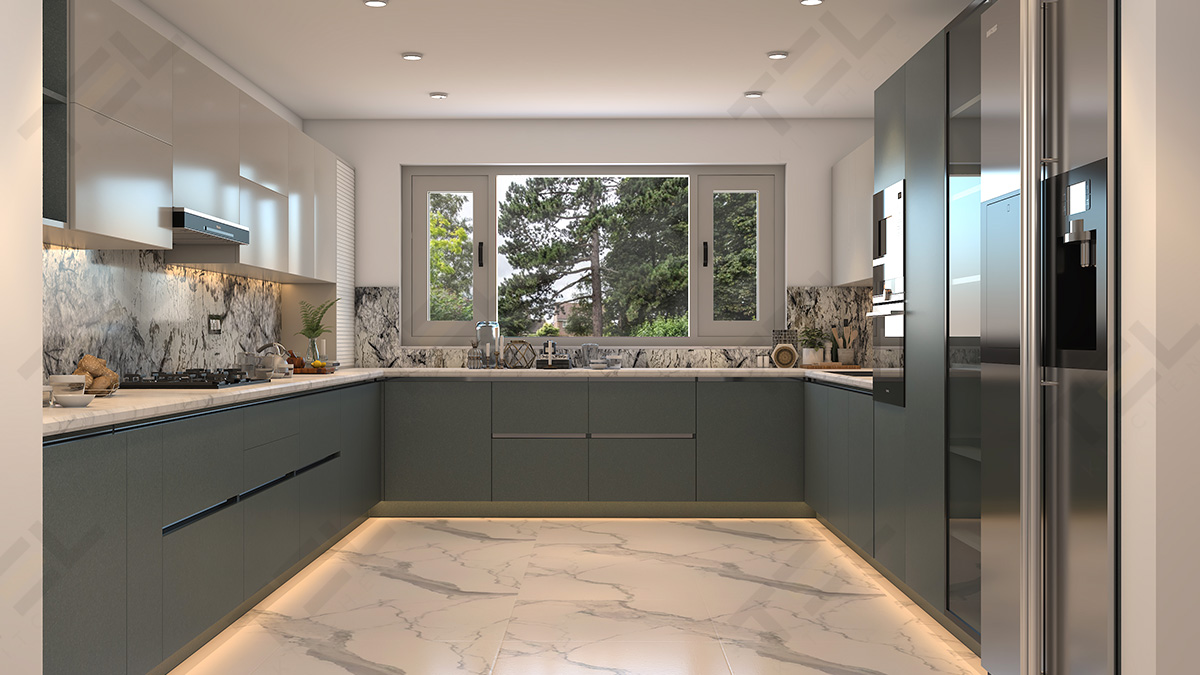 An integrated U-shaped kitchen design with glossy off-white cabinets.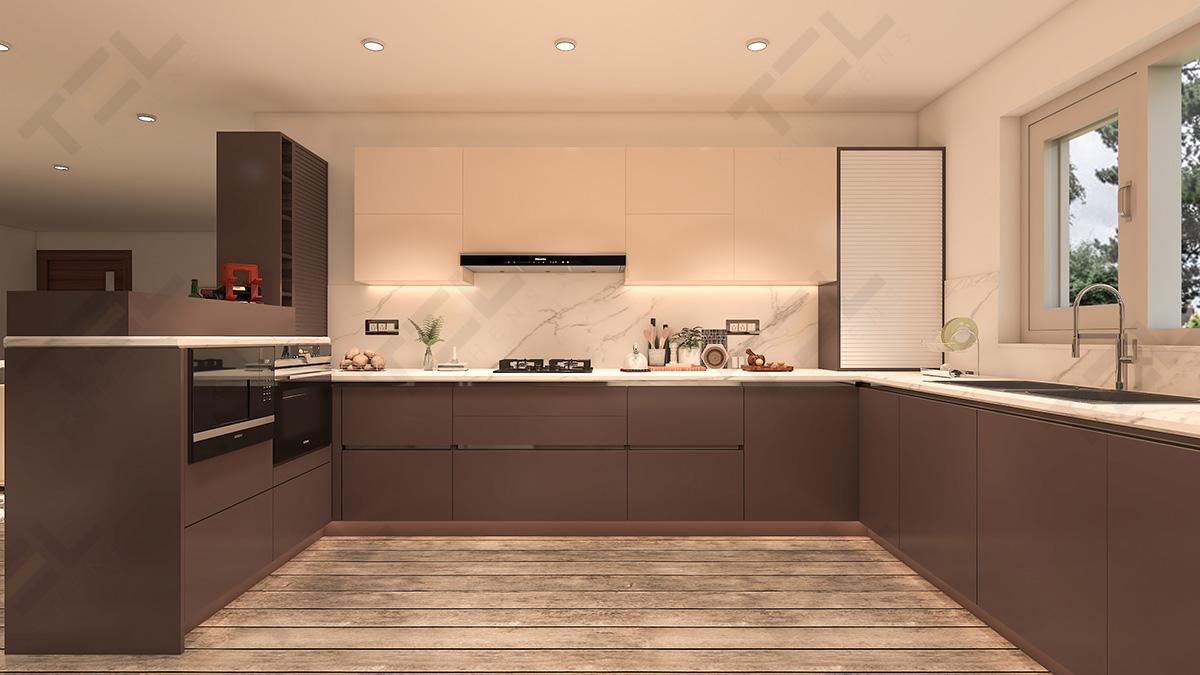 A handleless U-shaped kitchen design in a combinational pop of colours.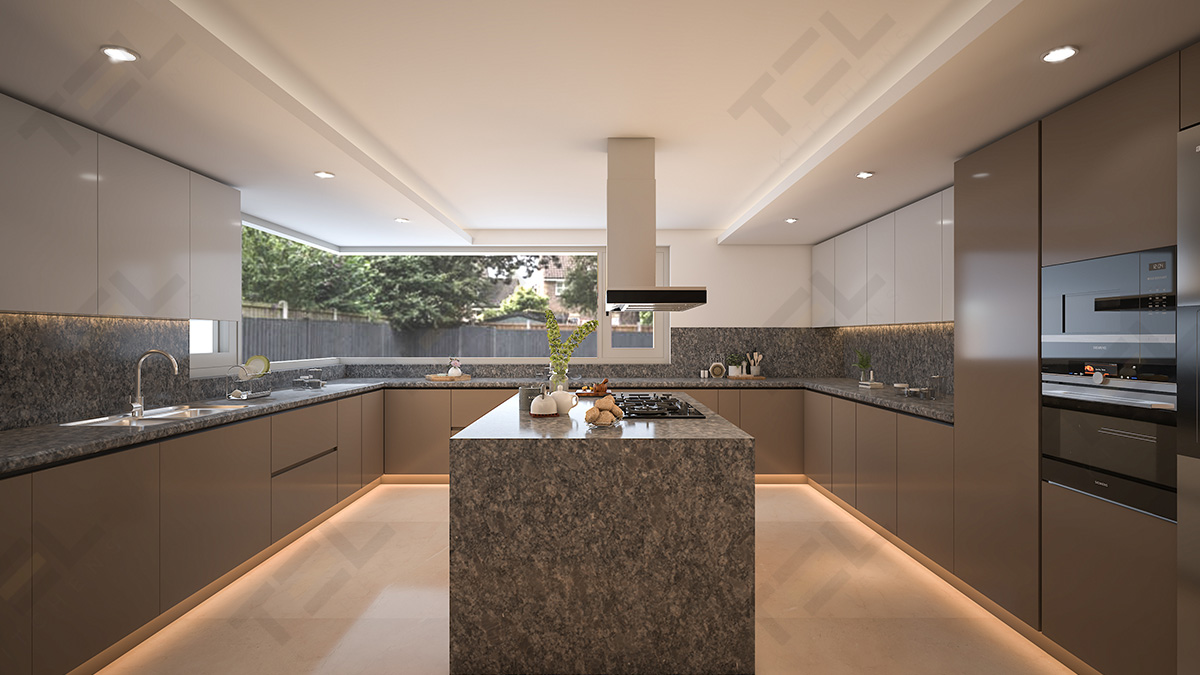 Luxurious U-shaped kitchen design with an island set up in the centre.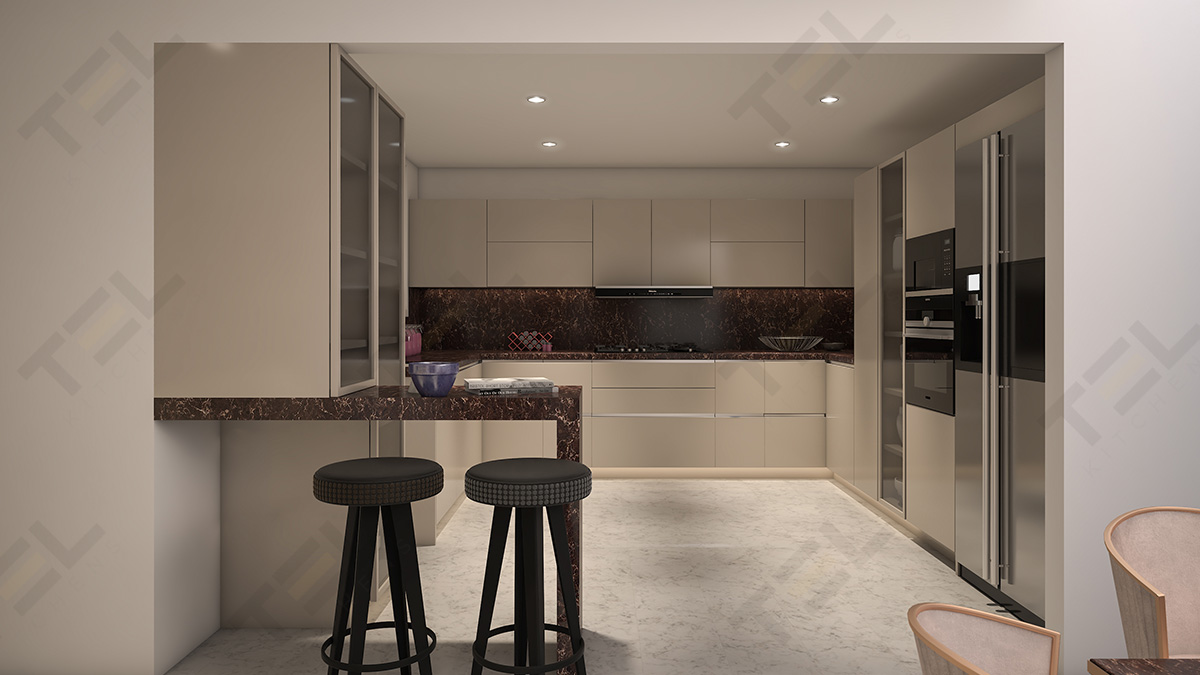 A subtle U-shaped Kitchen design attains all the aesthetics with a textured granite worktop.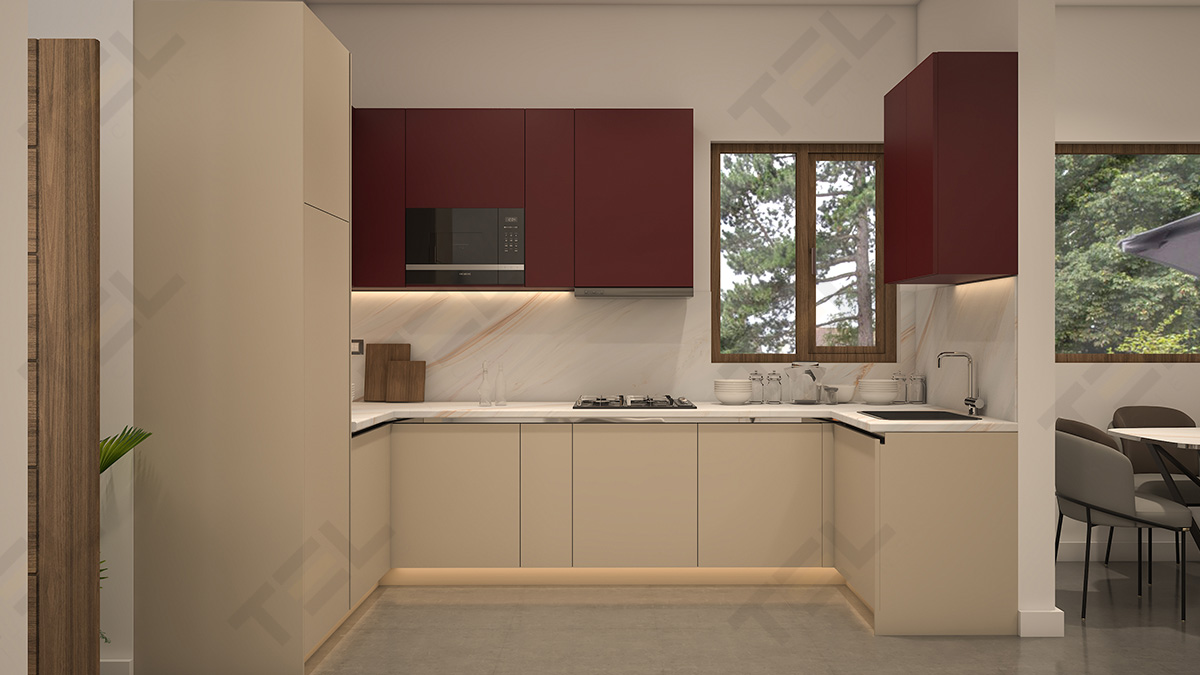 A U-shaped kitchen layout with textured marble and a pop of maroon.
A U-shaped kitchen layout with island setup and handless kitchen cabinets in glossy olive.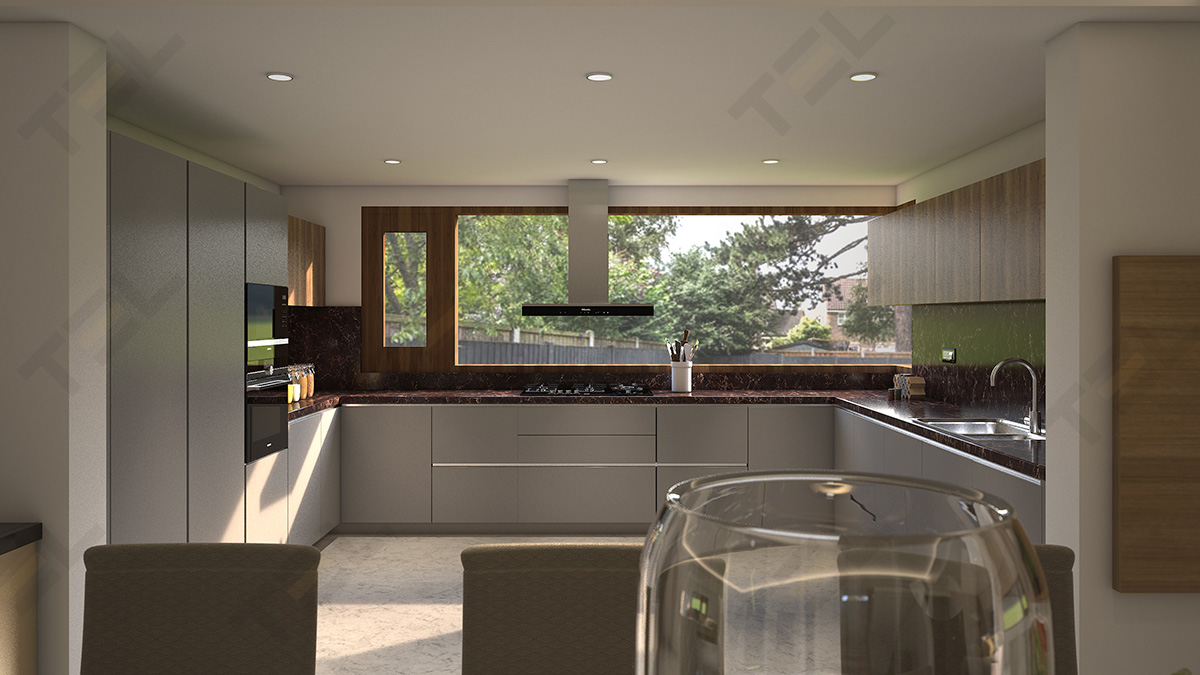 A U-shaped kitchen design with tall cabinets.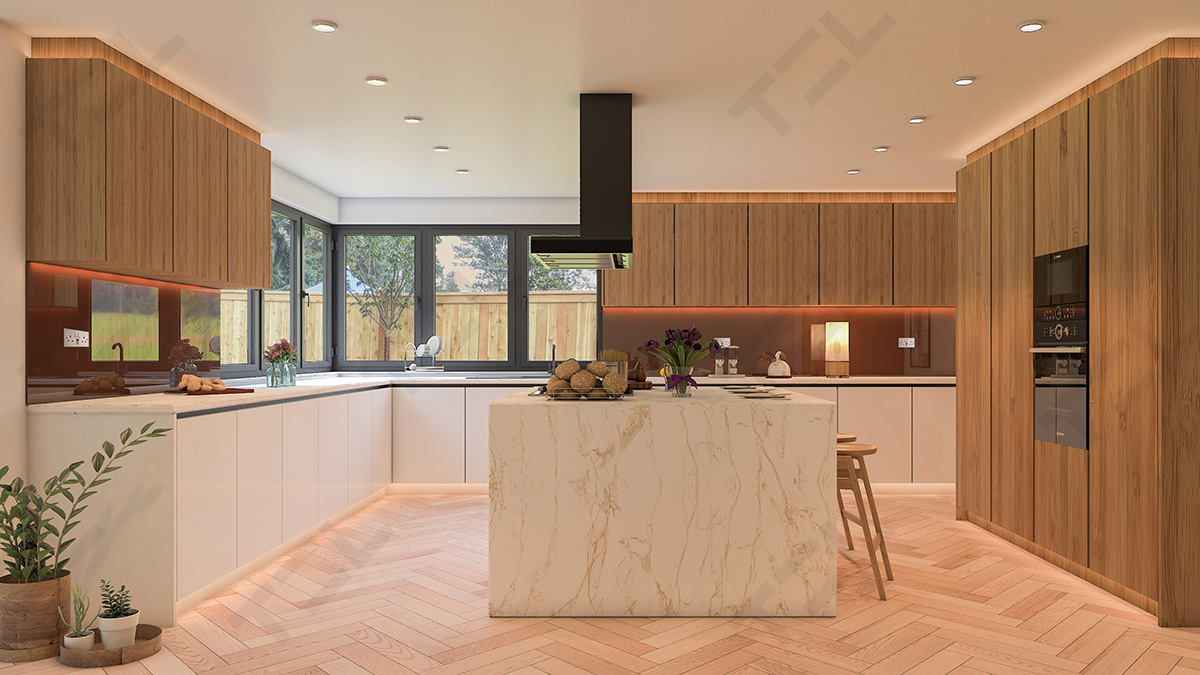 Bring in the warmth with a classy wooden U-shaped kitchen design.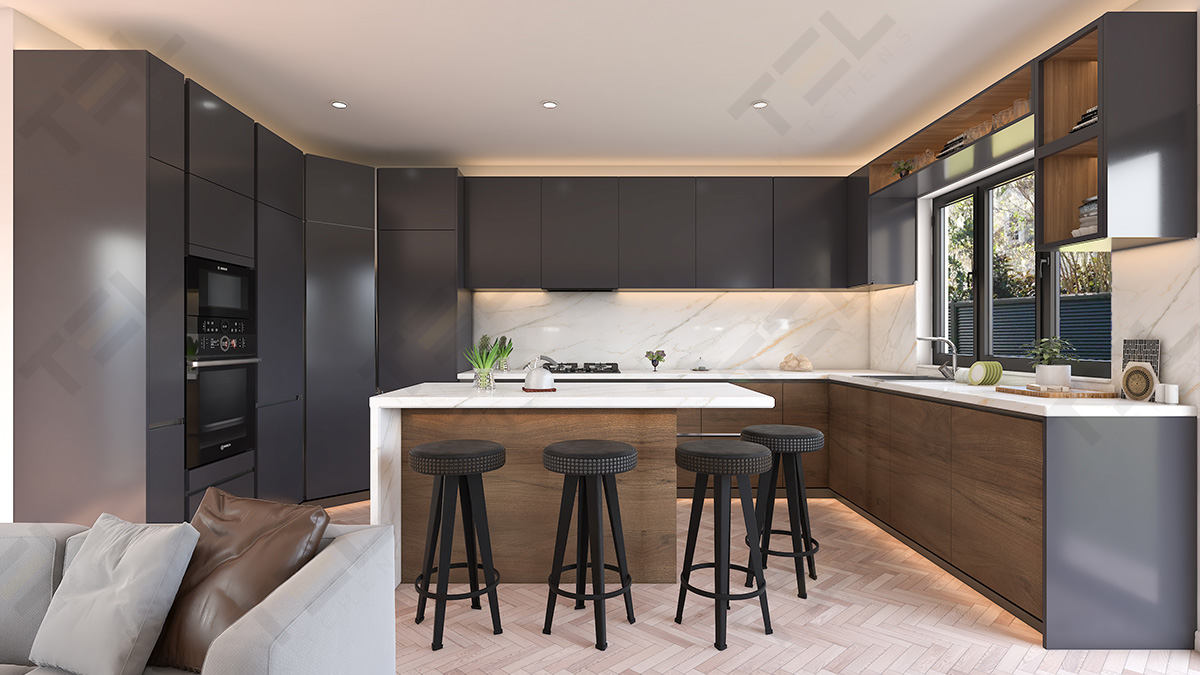 A U-shaped kitchen design with black gloss tall cabinets and elegant marble worktops.
Pro-Tip by TEL!
With the larger amount of space required by the U-shaped kitchens, a wide range of sophisticated layouts you can choose. Confused?
Here are a few pro-tips by TEL for you!
You can use tall kitchen cabinets with appliances including two working areas.
Tall cabinets with appliances with a table or snack counter.
U-shaped kitchen with a central island.
U-shaped kitchen with three separate working areas out of which one is used as a divider between the living and kitchen area.
U-shaped kitchen with a separate wall of tall kitchen cabinets and three working areas.
Bottom Line!
Are you considering a U-shaped kitchen layout for your cooking space?
Well, this can be an excellent choice for your home but only if crafted with a vision of creating a completely functional piece.
However, when planning a U-shaped kitchen layout, the kitchen designers create a finished look and then proceed with creating the kitchen design to deliver a layout that functions well and fits the overall kitchen theme.
But to ensure that your kitchen designs cater to all of the requirements, TEL Kitchens experts are here for you!
TEL Kitchens- A prominent name in the kitchen designing and manufacturing field!
TEL Kitchens experts have brought it all to your fingertips! Got something to discuss?
Call us @ +91 99144 34349 or email us @ sayhello@telkitchens.in