Whether you have a smaller space or a huge one,
modular kitchens
can work wonders for you! Are you planning to bring that modular touch to your kitchen? Here's all you need to know!
Table of Contents
Introduction/ What is Modular Kitchen Design?
Elements of Modular Kitchen Design
Tips to get that modern touch in your kitchen
Trendiest Modular Kitchen designs by TEL Kitchens on the go!
Bottom Line
The kitchen is the buzzing hub of activities.
With the shrinking spaces and developing modernization, modular kitchen have become a necessity in almost all homes.
The colors, materials, and layout, everything plays a significant role in deciding the much-desired look and feel when it comes to modular kitchen design.  
What is a modular kitchen?
The term "modular kitchen" refers to the modern kitchen furniture that is constructed or crafted in units or modules.
Modular kitchens are extremely popular choices and are designed to allow for efficient space management and maximize utility, especially for smaller spaces.
The space you have in your kitchen plays a significant role in determining the modular kitchen type.
The common types of modular kitchens include:
Straight Kitchen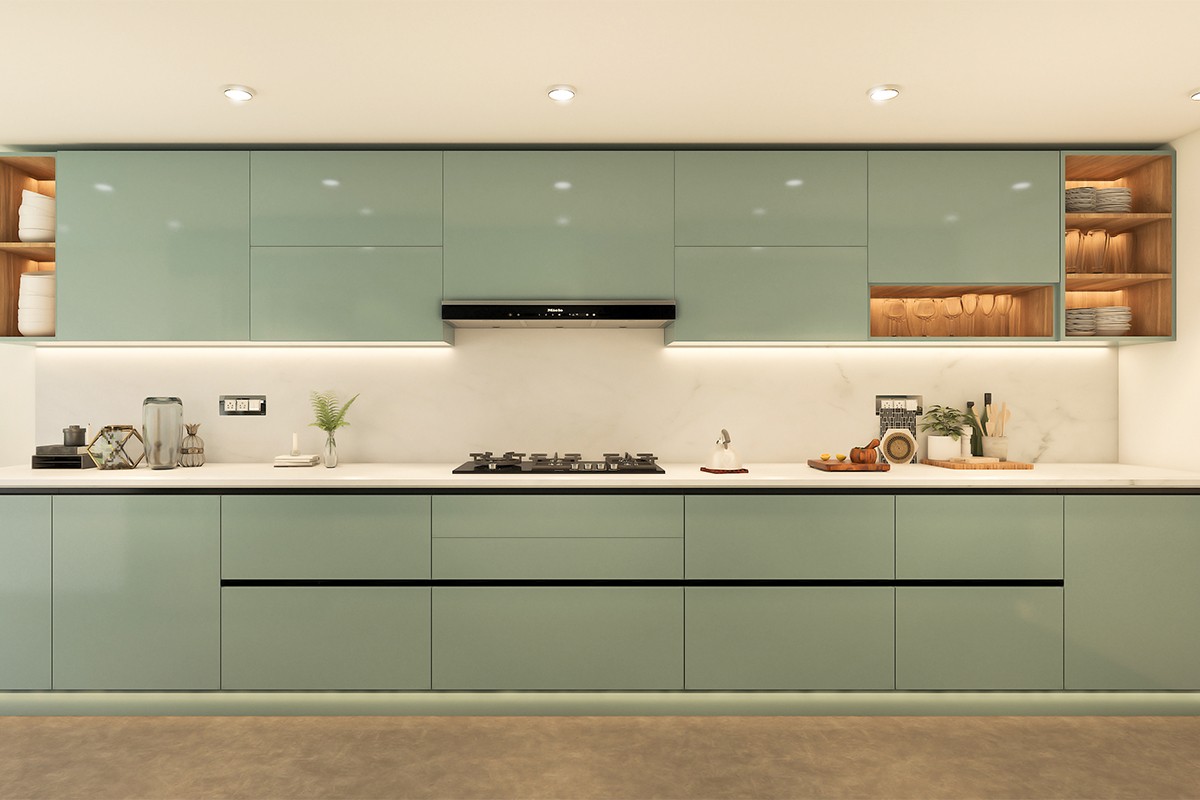 Straight kitchen designs are the simplest designs where the countertop is placed against one wall and a perfect choice for small spaces.
L-shaped Kitchen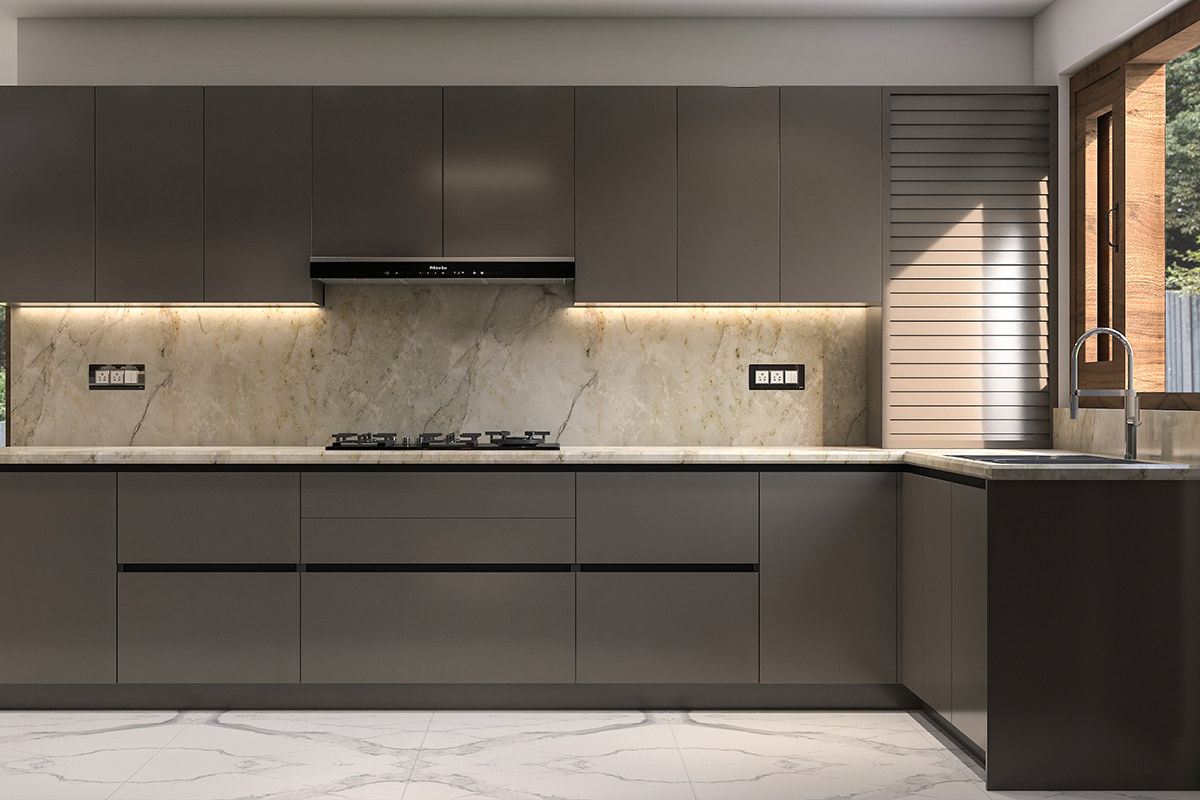 L-shaped kitchen designs are popular for utilizing the available space in the best possible manner and are ideal for medium-sized kitchens.
Island kitchen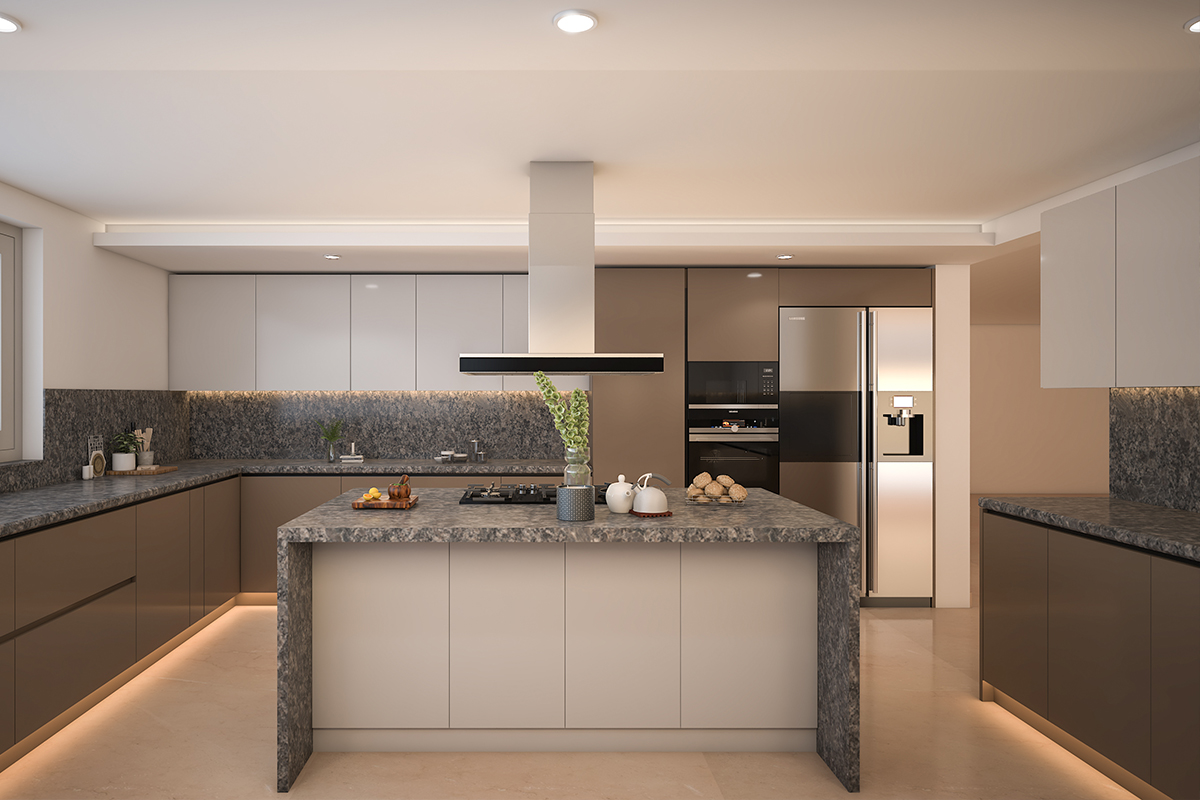 Island kitchens are the best choice for adding that aesthetically pleasing look to the entire cooking space. The island counter can also get transformed into a breakfast counter when required.
U shaped Kitchen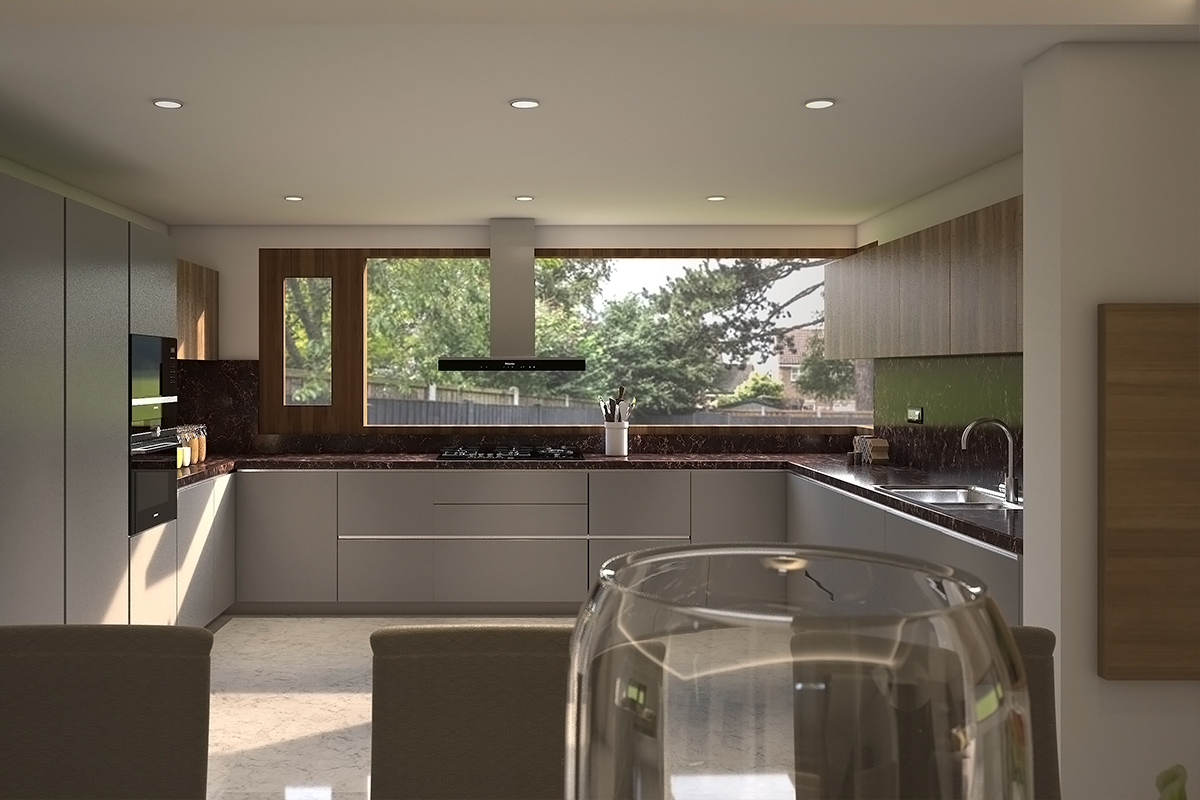 A U-shaped kitchen is a good choice for the medium and large-sized kitchen where the countertop hugs the wall on three sides.
Elements of a modular kitchen
If this is the first time you are planning to get a modular kitchen design for your space, be ready to be bombarded with all the jargon that may go over your mind while planning.
Kitchen Countertops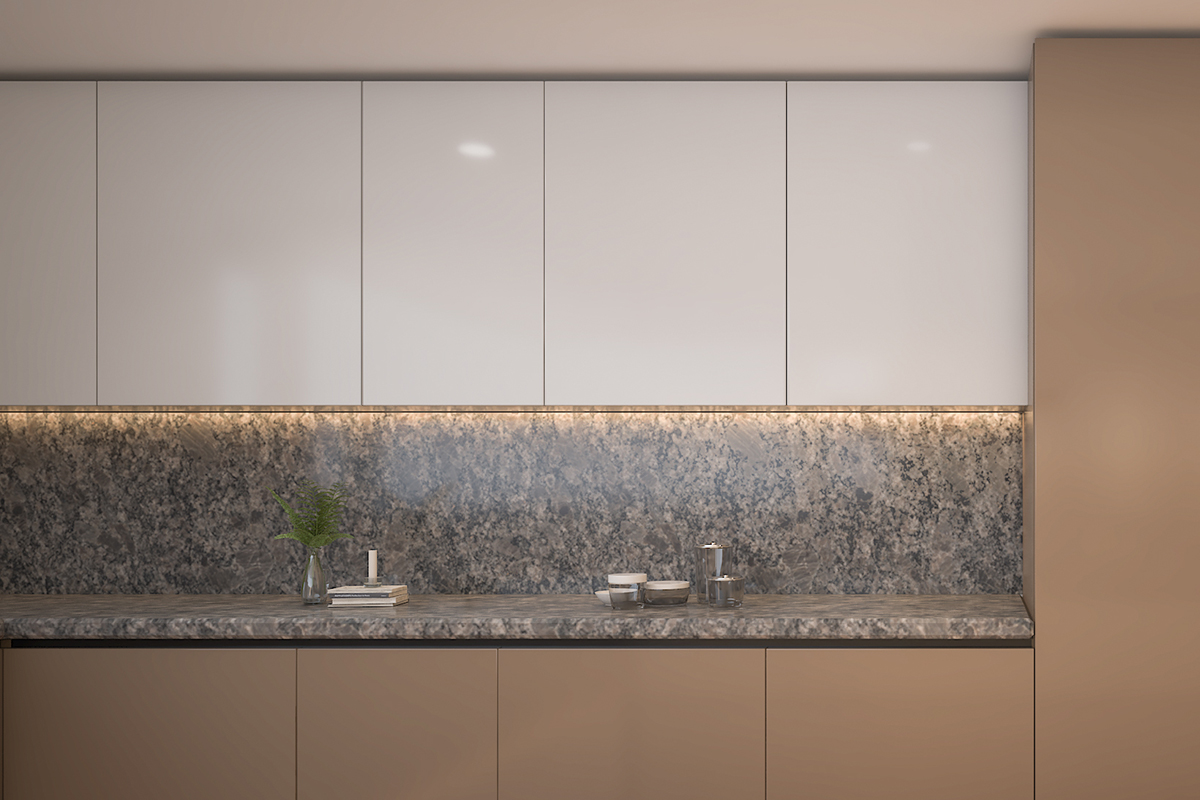 Countertops are generally available in a variety of options, including colors and materials. Marble and granite are some of the popular picks that one can choose from.  
Kitchen backsplash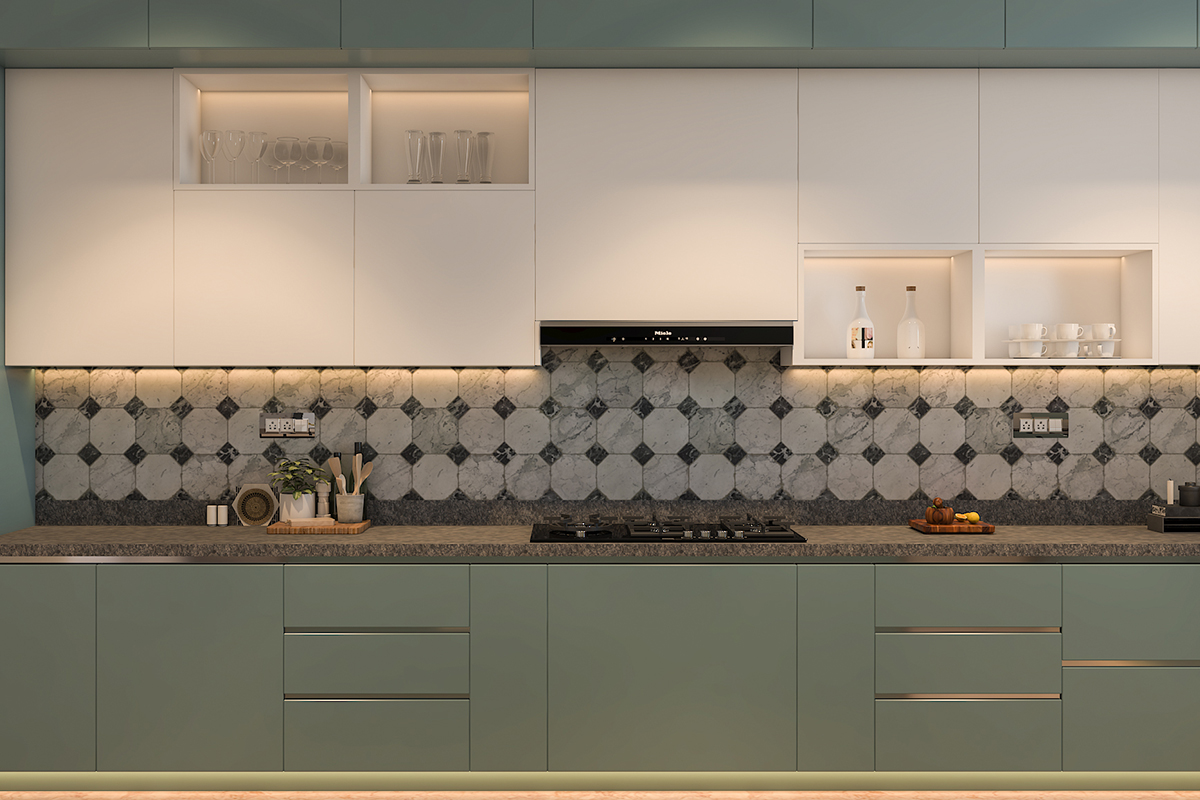 Backsplashes are another addition to the kitchen space that brings fresh pattern and color to the cooking space.
Instead of just using plain tiles or wallpapers, you can choose ample patterned ceramic or porcelain tiles that will look cool with every kitchen design.  
The kitchen wall colors are another magic element that can transform the entire look of your kitchen in a blink.
Instead of just whitewashing or some other alternative, you must pick a bright color that actually adds personality to your kitchen space.
Go for some neutral shades or some colors of your choice that can complement the entire kitchen design.  
Kitchen floorings are the other essential element of a modular kitchen design that can change the outlook of your entire kitchen space.
You can choose an inexpensive option like vinyl or some expensive options like marbles, whatever matches your taste and budget.  
Storage spaces are the essential elements of a kitchen space. While planning for the storage of your kitchen space, consider all the appliances and utensils you own.
So, don't forget to ensure that you have enough space to accommodate all the kitchen essentials you already have and the ones you are planning to buy.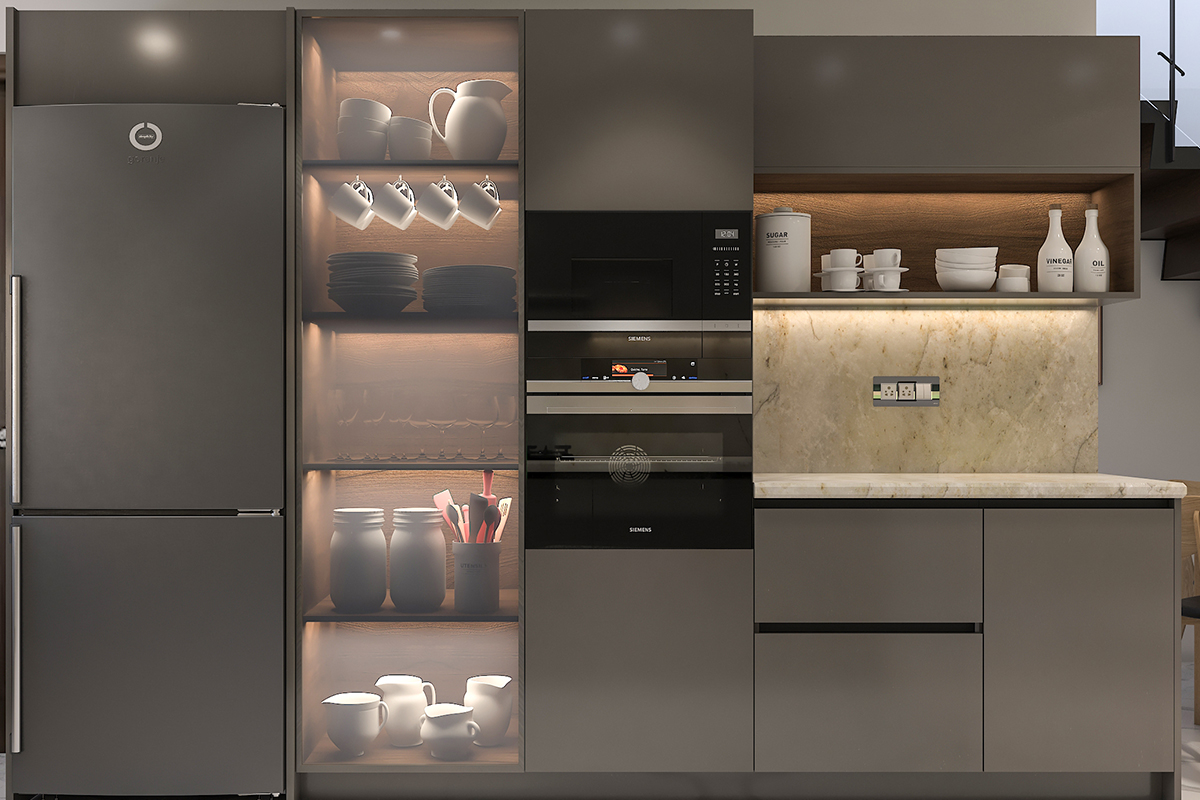 Nothing can beat the natural lighting through the windows to lighten up the cooking space.
Along with the natural lighting, ensure to have great lighting that can give you enough lights for the evenings and nights to keep it all shining.
People often prefer keeping the trash in a plain view that can be easily accessible and easy to clean. But keeping the garbage stuff in the open is indeed not for you!
Instead of keeping the bins in the open, you can go for the built-in bins that are generally constructed behind a cabinet door that is usually under the sink to keep everything easily accessible and clutter-free.
Tips to get that modern touch in your kitchen
Understand the elements
A modular kitchen has cabinets that are fitted together to create a fully- functional kitchen design. The cabinets are mainly made of several materials and hold all the accessories, providing effective space usage.
A few common elements of the modular kitchen includes
Wall cabinets for overhead storage
Floor cabinets
A countertop is made of different materials like marble, granite, laminate, or any other.
Functional shutters for cabinets
Functional hardware including hinges, knobs
Kitchen appliances like chimneys, stoves, ovens, etc.
Understand the requirements
Every kitchen's requirements are unique, and so does the design. You may need a customized design that perfectly fits your usage requirements, space, and budget.
Your kitchen can be U-shaped, L-shaped, or a customized layout that will very well dictate the modular kitchen style.
Finishes and materials for the kitchen
Your kitchen design consists of ample kitchen finishes and materials. You can quickly choose any from a broader range of materials and tastes.
This may includes
The laminates are generally durable, easy to maintain, and come in various styles and colors.
The wooden work where a thin wood sheet generally pasted on the surface.
Aluminum or steel is another durable option.
Polyvinyl chloride sheets are made of rigid composite plastic and are installed devoid of a substrate. These are not expensive but give a stylish look and protection against termites or moisture.
Trendiest Modular Kitchen designs by TEL Kitchens on the go!
Check out these modular kitchen images crafted with love by TEL Kitchens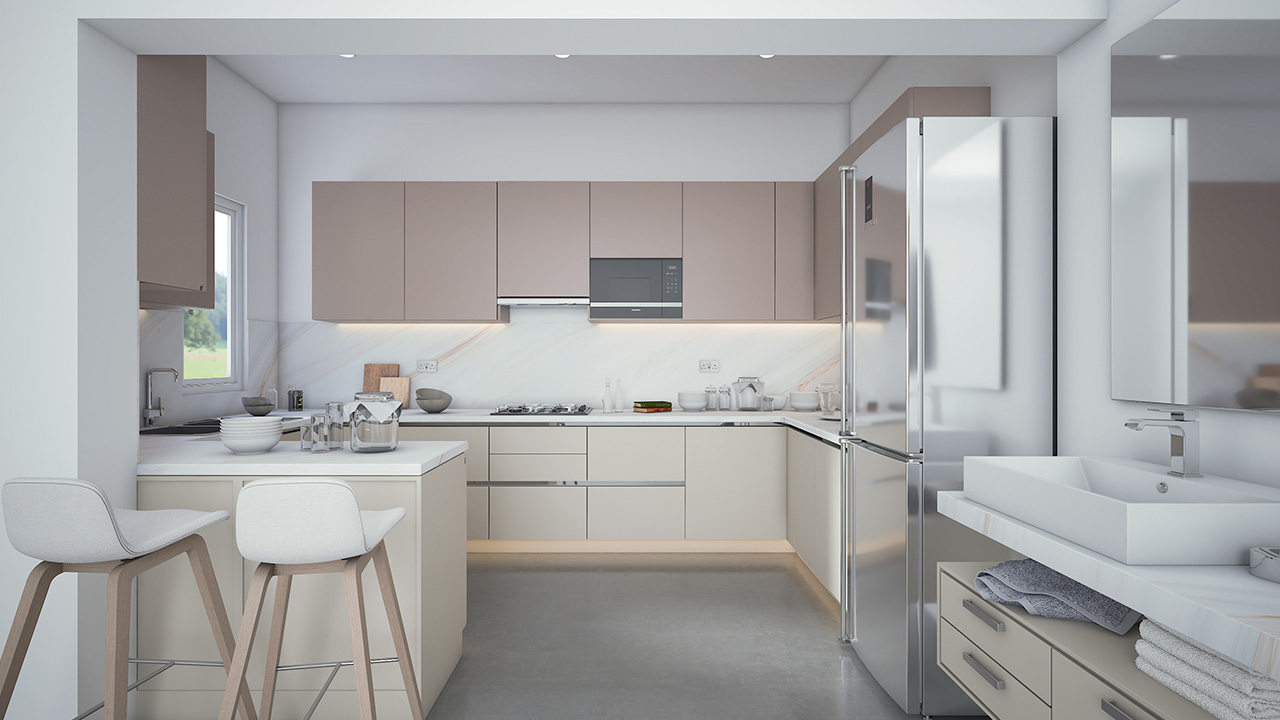 Modular Kitchen Design in pretty pastels
Who said pastels can't be beautiful? Look at this pretty pastel modular kitchen design. How beautifully everything is accommodated without creating any clutter.
The white textured marble countertops and backsplash matched with the pastel cabinets and built-in appliances accommodating the stuff clutter freely. So, no mess in the area!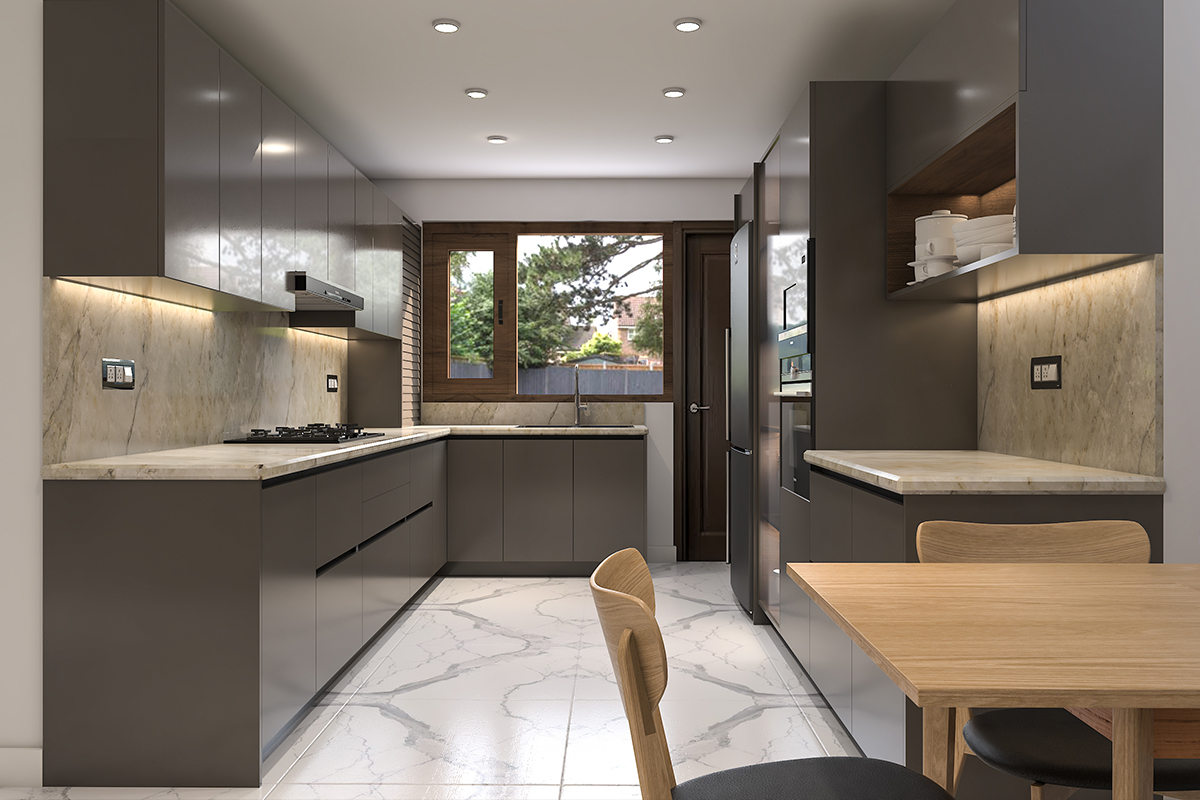 Kitchen with a fusion of pastels with a dark tone
Here comes another modular kitchen design in pretty pastel but this time matched with a fusion of dark-toned countertops and backsplash.
Flaunt your collectives in the open shelves pattern and access everything quickly with no mess. The built-in appliances give a clean look to the entire space, so the entire setup doesn't look messy at any time.
The combination of sliding drawers and cabinets gives enough storage space to accommodate all the kitchen stuff nicely.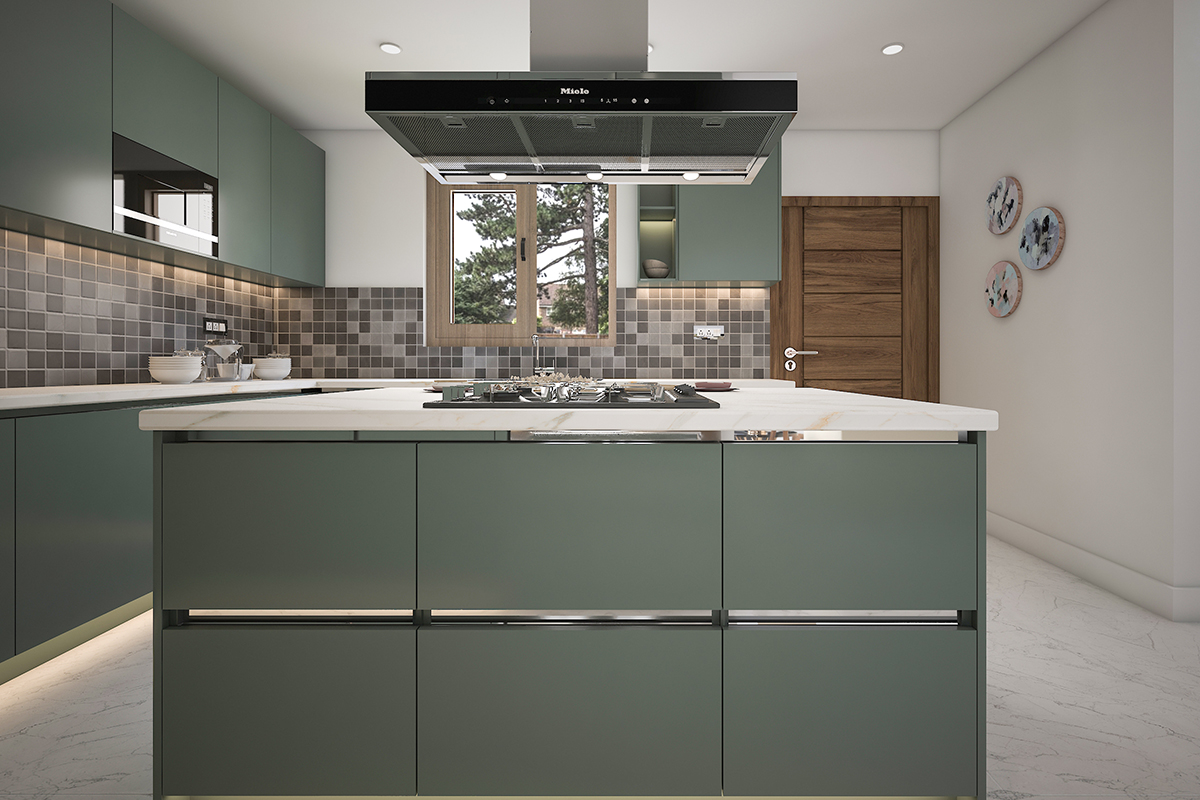 Island modular kitchen design
It's time to make some new memories again! Whether you prepare your meal or convert it to a dining table, the choice is all yours.
Island kitchen setups are the best when one has enough space to experiment with.
A monochromatic modular kitchen design with an island set up in the middle gives a neat look to the space. The window beside allows enough light to pass through the entire cooking space.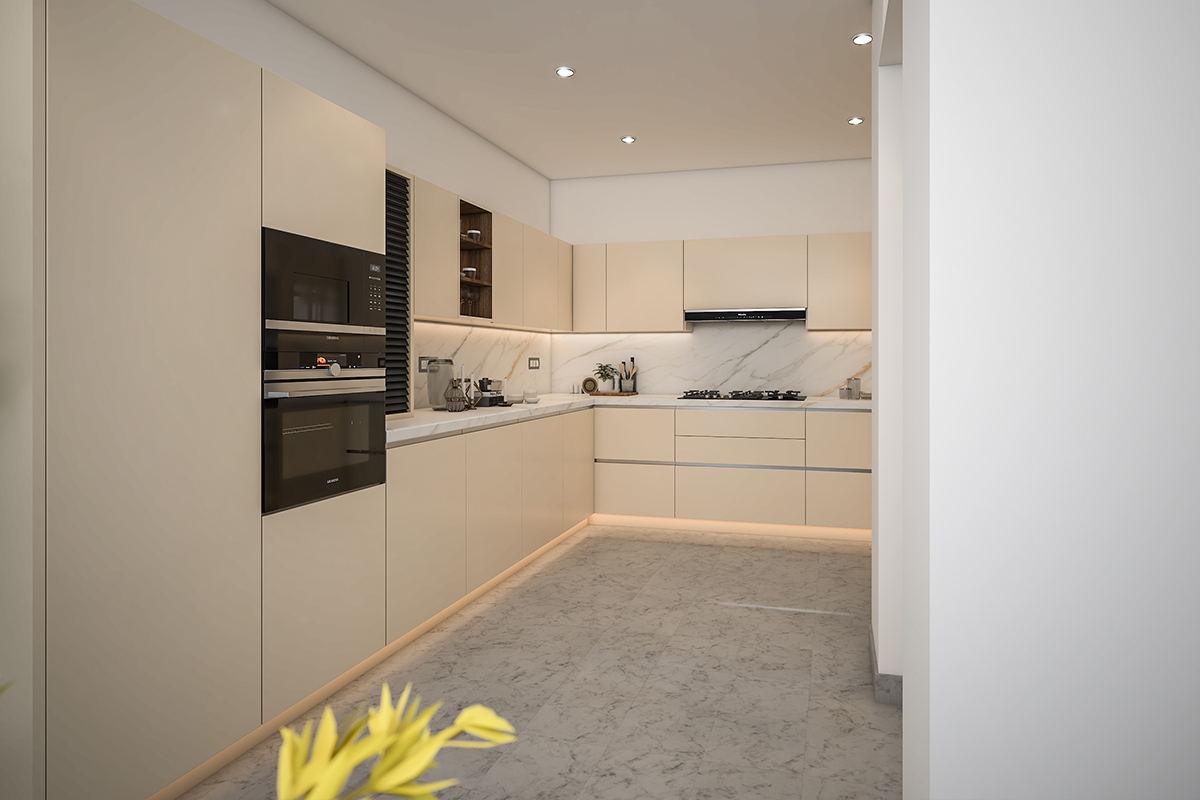 L-shaped modular kitchen design
How about this L-shaped modular kitchen design for the open space nearby the drawing area setup? Absolutely beautiful!
Do not miss out on anything with this pretty setup. Cook, eat and watch your favorite shows, altogether.
A perfect and comfy modular kitchen setup for those who don't have much time to devote to the shows or the ones that miss out on their favorites for cooking food for their family.
Cooking food while making memories can be possible with this pretty kitchen setup in cool grey.
Ways to keep your modular kitchen looking new for long!
Organize your cabinets
Keep your utensils without clutter your workspace
Keep a separate drawer for oddities
Use open shelves wisely
Use labeled or transparent jars for spices
Use dividers in the drawers
Keep cleaning
Perks of having a modular kitchen design at home
Easy to install
Can be customized according to requirements
Easy to maintain
Cuts down on clutter
Space saver
Endows with efficient storage
Has a sleek appearance
Fits the budget well
Bottom Line!
Higher efficiency combined with aesthetics is a hallmark of modular kitchen designs and our designers will help you get that much-desired appealing modern indian kitchen design that fits your space and budget.
TEL Kitchens is a foremost kitchen designer with experienced, certified, and friendly staff focused on understanding and accomplishing the client's requirements while delivering the outcome matching their style and taste.
We endow our customers with incomparable kitchen and home solutions while delighting every customer with 100% satisfaction guaranteed.
Get the kitchen customized, meeting your needs and taste with TEL Kitchens. Got a query?
Connect right away through +91 99144 34349 .