Getting the right kitchen layout for the kitchen spaces is one of the essential factors to ensure a completely functional and efficient kitchen area.
Whether you have an ample kitchen space or a smaller one, a clever kitchen layout can make a huge difference in getting the most use of the space.
There is a lot more need to be focused on in a kitchen than just placing the cabinetry and kitchen furniture. Even kitchen ergonomics also plays a huge role!
Therefore, the kitchen layouts must be selected to give a functional piece only. Out of all kitchen layouts, the L-shaped kitchen layout never lacks in matching the kitchen design of any style.
Let us get acquainted with a complete piece of information about L-shaped kitchen designs.
What is an L-shaped Kitchen?
The L-shaped kitchen layout is crafted with the help of two adjacent walls where the runs of kitchen cabinetry are often considered as its legs.
The L-shaped kitchen layout in the modular kitchen designs is one of the most efficient yet functional ones that offer smart, easy, and functional workspace while allowing the cabinets and appliances to be installed within the design.
Being the most efficient kitchen layout, an L-shaped kitchen layout also offers several advantages.
Advantages of L-shaped Kitchens
Great working triangle
Efficient for Open plan living
Perfect for corner spaces
Minimal through traffic
Efficient for medium and small kitchens
The cabinets and benchtops can be adjusted to the length
Disadvantages of L-shaped kitchens
These are not efficient for the large kitchen spaces as the appliances are too spread out.
It is not convenient for multiple cooks.
What makes an L-shaped kitchen functional?
A well-organised and easy kitchen design provides two work zones within the Kitchen.
L-shaped kitchens designs are more aligned with the golden triangle kitchen rule principles. The golden triangle rule refers to the distance between stove, fridge, and sink.
And when it is about the L-shaped kitchen layout, it perfectly fits the golden triangle rule.
The kitchen cabinets and countertops are positioned to match the user requirements and their job. However, for the frequent needs, the utensils can be stored at an easy reach while the appliance and sink are positioned for a pretty logical movement between the tasks.
How does TEL Kitchens organise an L-shaped kitchen?
While organising an L-shaped modular kitchen, TEL Kitchens exclusively follows the 5-zone kitchen design principle to make the most use of the space.
To provide a more efficient kitchen design, the TEL Kitchens experts divide a kitchen space into five different zones.
Consumable zone
Non-consumable zone
Cleaning zone
Preparation zone
Cooking zone
Each zone is designed efficiently to serve the functionality while keeping it deal with the chores of the space.
Ideal space for L-shaped Kitchen Design
The ideal space for an L-shaped Kitchen is the small or medium-sized kitchens following golden triangle rule principles for efficient functioning.
However, you can also choose this L-shaped kitchen layout in large kitchen spaces, but in that case, the kitchen layout is set up well with a kitchen island in the centre.
Choosing the perfect L-shaped kitchen design
Since the L-shaped modular kitchens are highly versatile and flexible, it is essential to choose the right L-shaped kitchen design based on particular requirements in terms of personal preferences, size, space, and budget.
However, several factors need to be carefully considered before making a final decision.
The L-shaped kitchen layout is perfect for all shapes and sizes, especially for small kitchen spaces.
Since the kitchen areas allow greater creativity in terms of several factors, including storage, the vertical space's appropriate utilisation ensures that the L-shape Kitchen will deliver high organisation and the adequate room even in the small areas.
Kitchens are essentially a one-time investment that can offer the functional aspects for the coming several years.
The kitchen layout has a greater significance of the cost based on the materials, furniture, and textures chosen.
Colours play an essential role in designing the L-shaped modular kitchen designs. Like most materials, textures, and finishes, L-shaped modular kitchens are also available in a diversified colour range.
With a broad spectrum of L-shaped modular kitchen designs in varied colours, choose the colour scheme that complements the entire design.
The greatest advantage of the modular kitchen designs is the wide range of options available in the different materials. The diversified materials and finishes can be chosen based on personal taste and the entire home's interiors.
Based on the Kitchen appliances
An essential benefit of L-shaped modular kitchens is the vast storage ideas it offers.
So based on the amount of kitchen storage required, the L-shaped kitchen designs can be customised according to the tastes and requirements.
The vast selections can be customised completely to enhance functionality and efficiency, including open shelving units, pull-out drawers, L-shaped kitchen trolley designs, under-the-counter cabinetry options.
Tips for Modern L-shaped Kitchens
It is essential to remember a few things before choosing the L-shaped Kitchen. However, a few essentials you must consider:
Ensure that the design allows your cooking space to stay connected to the rest of your house.
Adjust the length of your kitchen cabinets according to the space or requirements.
Keep things within easy reach to avoid a cluttered look.
Since the L-kitchen layout shows more floor area, select a bold design that definitely stands out.
Adequate lighting for both the functional and seating areas.
Storage space is vital to keep it all cluttered; choose the smarter storage spaces for keeping it all cluttered.
Pro-Tip!
You can also choose a pantry in the corner!
Kitchen Accessories and appliances perfect for an L-shaped Kitchens
The kitchen accessories and appliances are generally decided based on the space available and several other aspects.
However, when it comes to kitchen appliances selection, choosing the right appliances that can ease the work is the basic necessity. Creating a seamless, integrated look while embedding the kitchen appliances with the design is a matter of our expertise.
Since the appliance choices are based on its functional properties, kitchen accessories still offer ample choices to keep the kitchen space uncluttered, efficient and practical.
PS: Even the smaller kitchen spaces can be used efficiently with the right kitchen accessories.
The suggested kitchen accessories that can play a significant role in keeping it all uncluttered and functional include:
Cutlery Trays
Wicker basket
Below hob drawers
Open spice pull-out
Drawer systems
Lift up cabinets
Corner solutions
Tall kitchen cabinet units
Cutlery organisers
Open drawers
Dish Rack
D-shaped Carousel
S-shaped Carousel
Pull out bottle racks
The open waste disposal unit
Plate basket
GTPT
These all trending kitchen accessories can keep your L-shaped kitchen design functional while making the most use of the space.
What is the cost of an L-shaped kitchen design?
The cost of an efficient and functional L-shaped kitchen design ultimately depends upon several factors, including the size and space of the Kitchen, the number of drawers and the accessories range chosen.
However, you can get a quote from TEL Kitchens for your kitchen space.
Since even the L-shaped kitchen designs have ample options, choosing the right one for you is still challenging to figure out!
But not anymore!
Here are some gorgeous L-shaped kitchen layout designs for your Kitchen! Find your inspiration right here with TEL Kitchens.
Trending L-shaped Kitchen Ideas for you!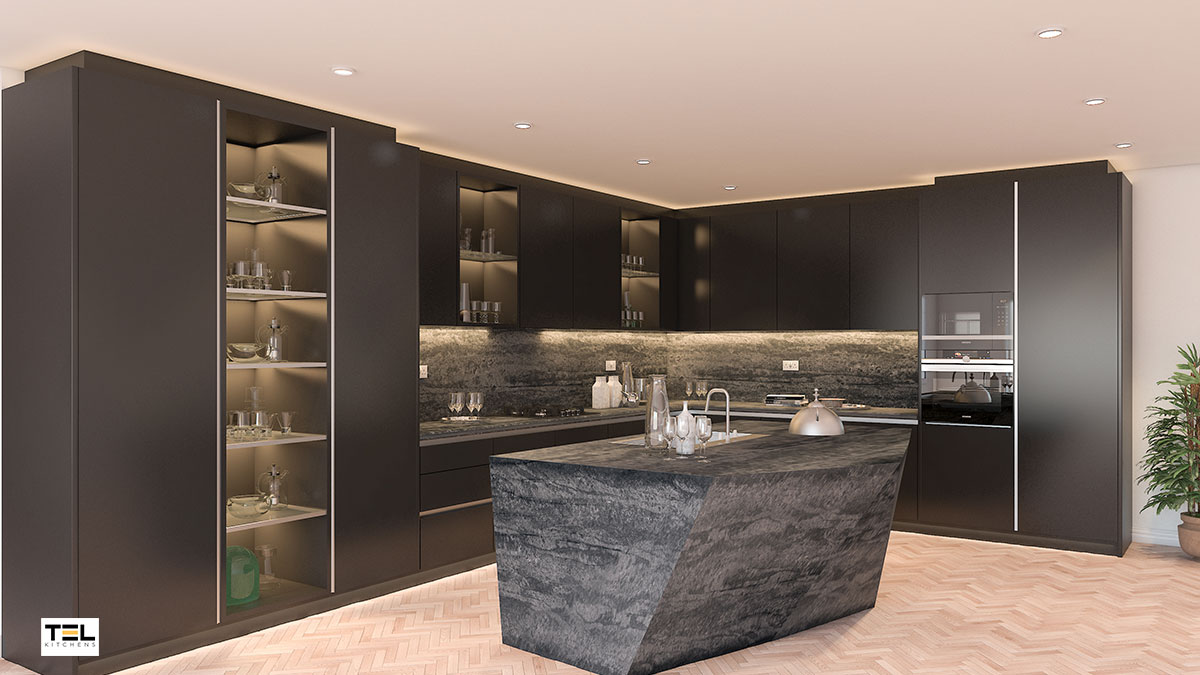 An L-shaped Kitchen with an island setup.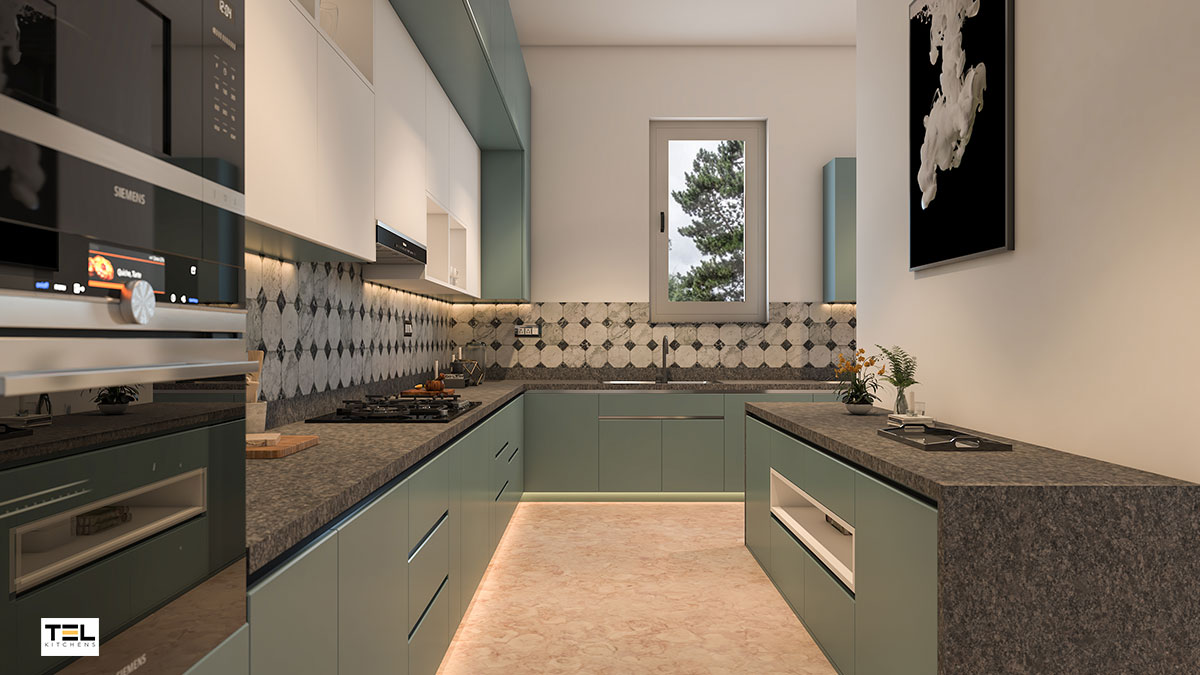 An integrated L-shaped Kitchen design with a colour pop of green and pristine white.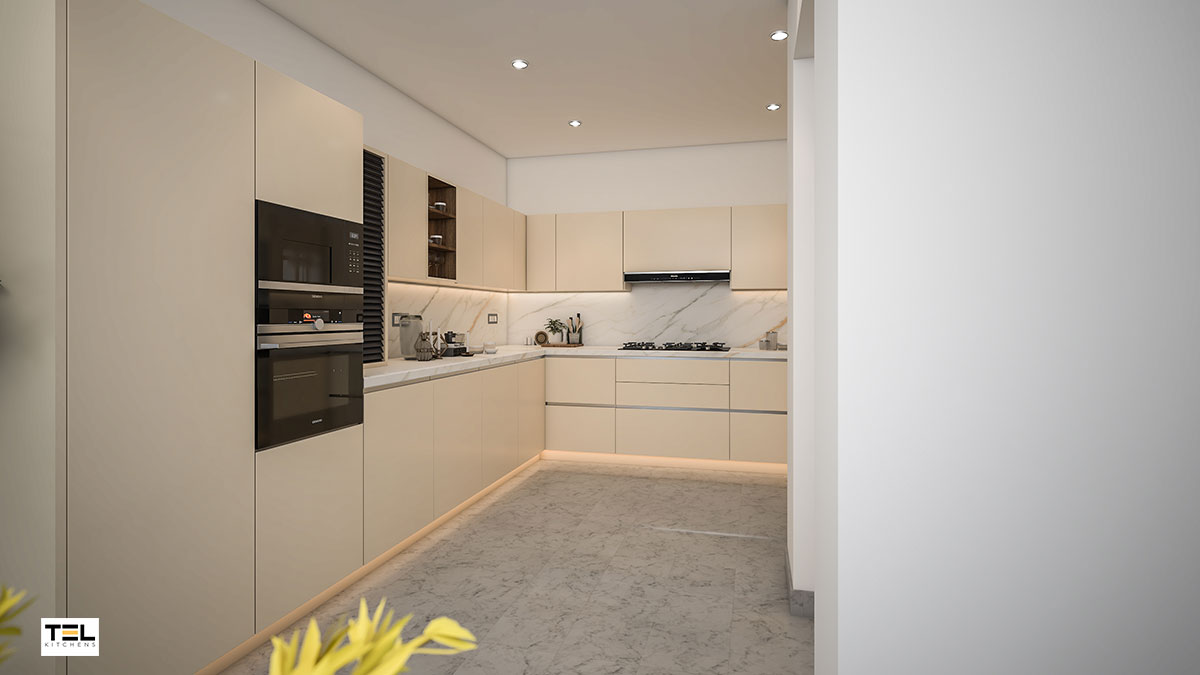 An L-shaped handleless kitchen design with textured marble kitchen worktop and splashback.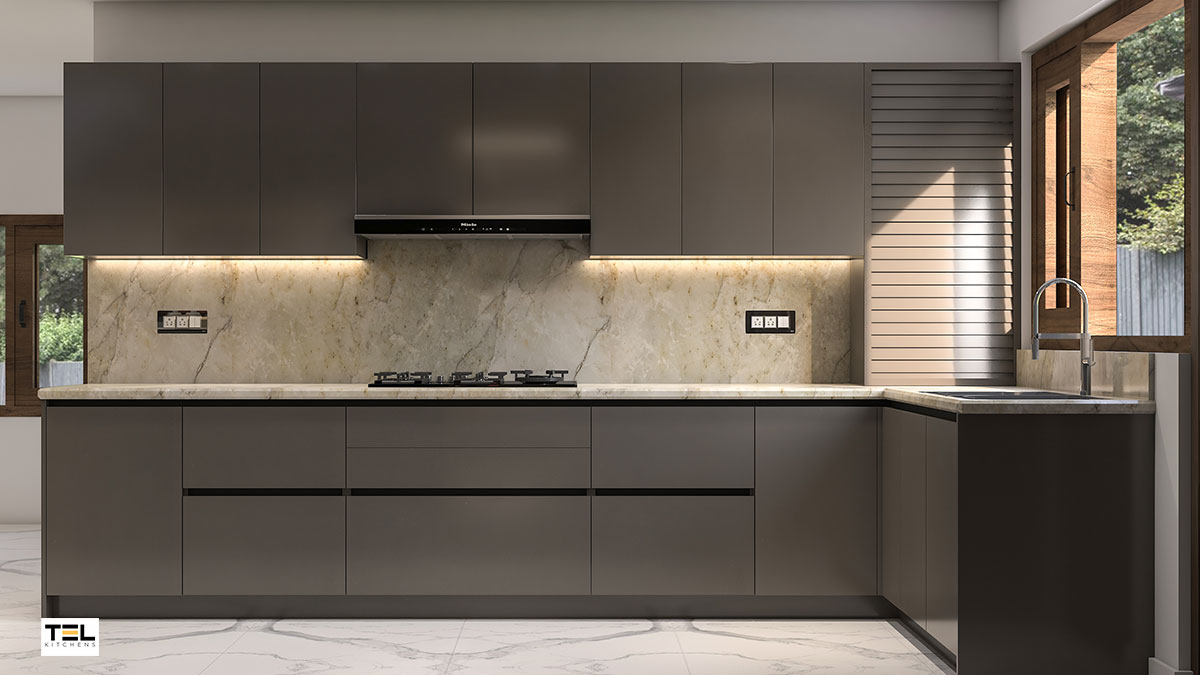 A handleless L-shaped modular kitchen design in glossy cool grey.
An L-shaped kitchen design in subtle off-white beauty.
An L-shaped kitchen design with an open shelving setup.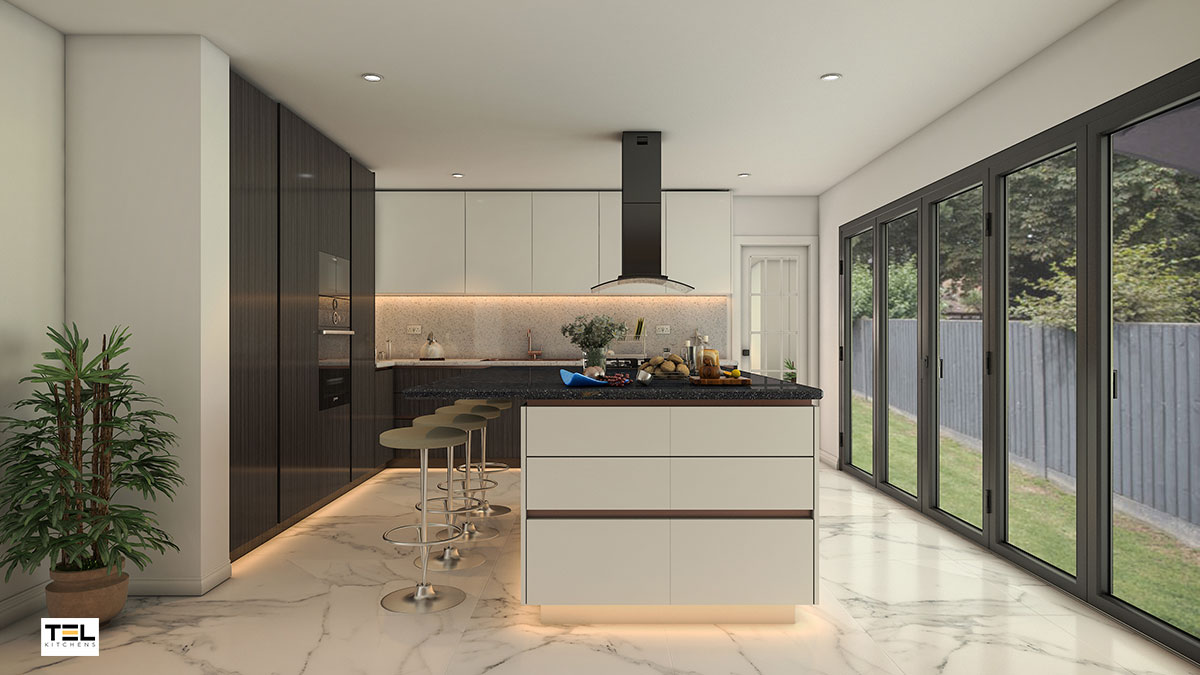 A perfectionist L-shaped kitchen design in a monochromatic fusion.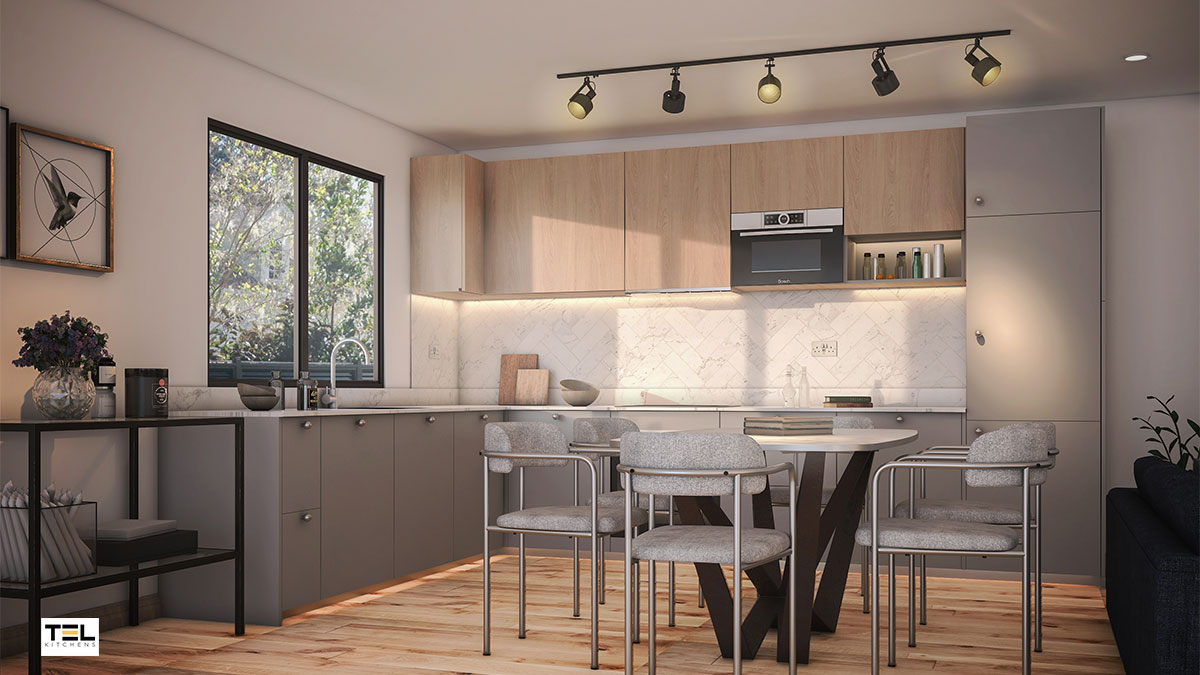 An L-shaped kitchen design with a warm wooden touch.
Bring in the warmth with this L-shaped kitchen design in warm wood.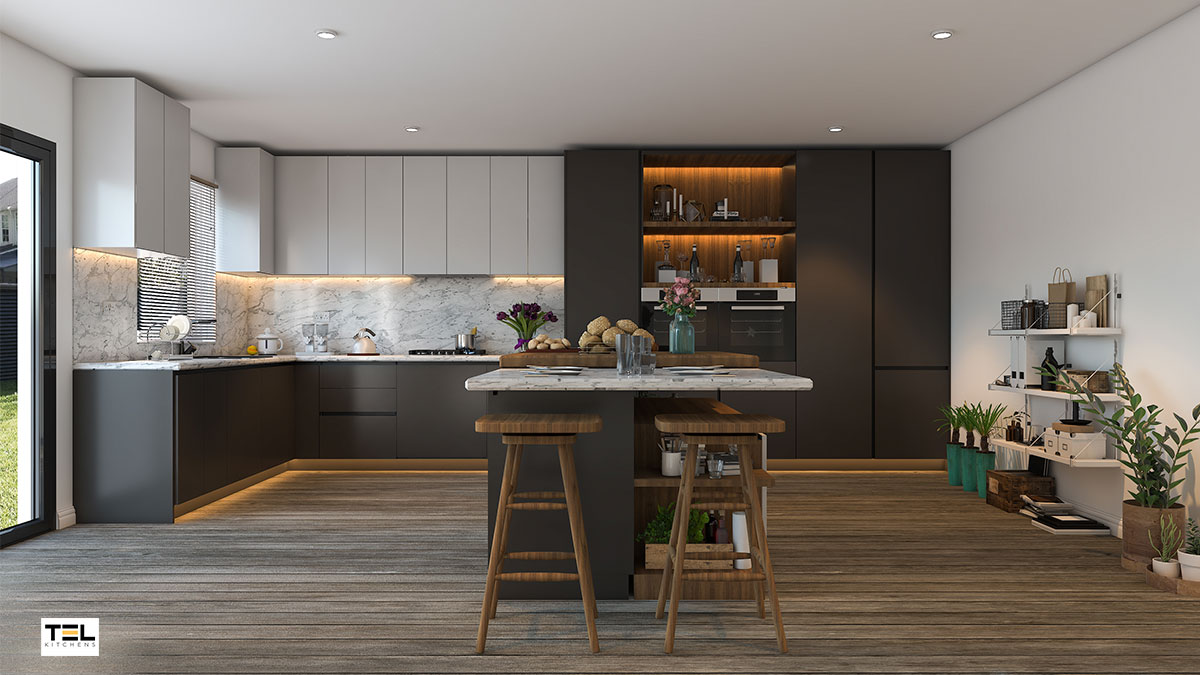 A luxurious L-shaped kitchen design in subtle monochromatic fusion.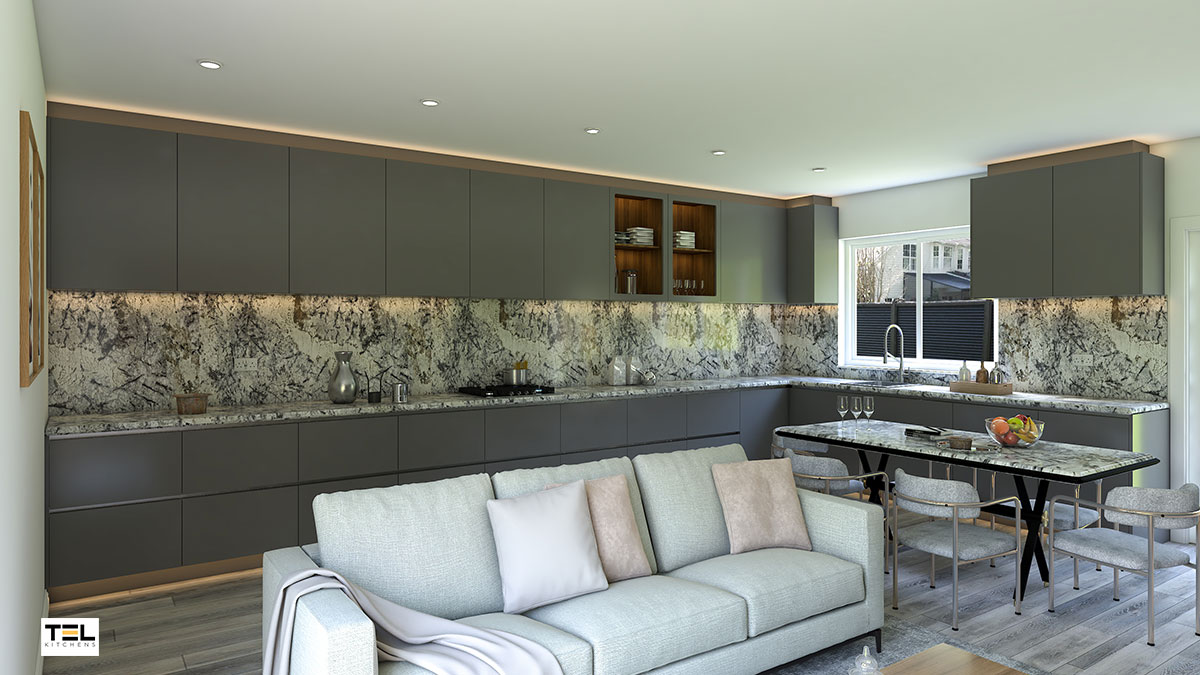 An open setup L-shaped kitchen design with a welcoming feature.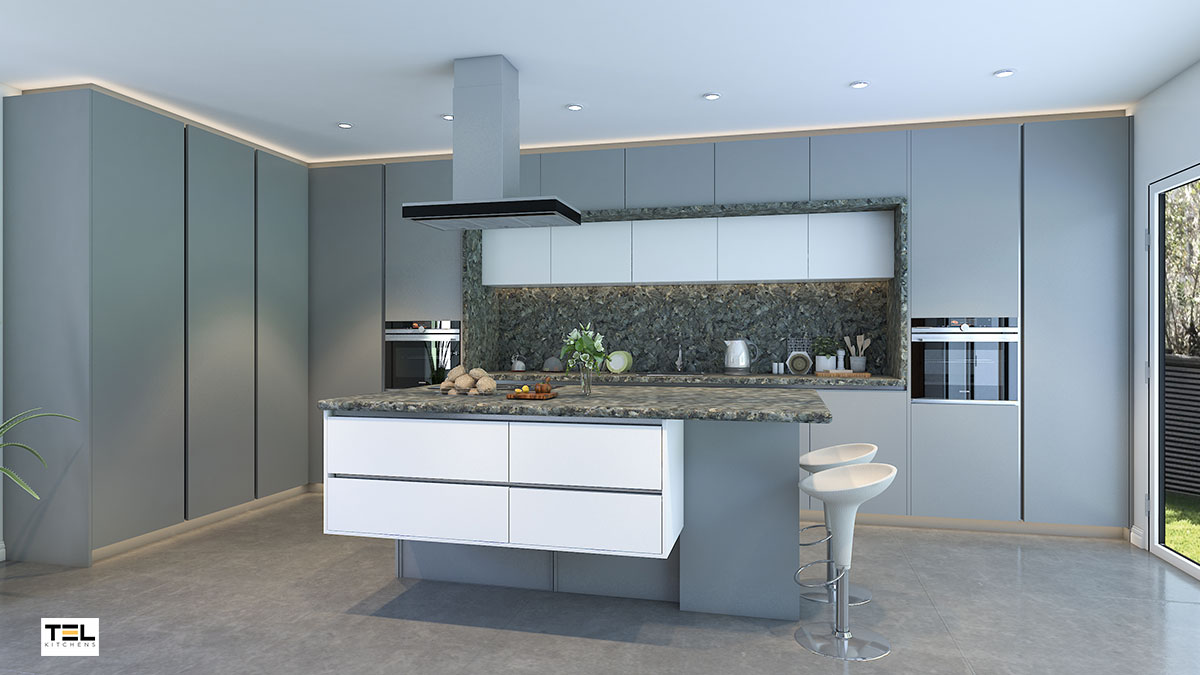 This L-shaped kitchen design with a collection of tall kitchen cabinets.
Bottom Line!
An L-shaped kitchen is the most common type of kitchen layout that works best for medium and small kitchen spaces. However, being an efficient kitchen layout still requires thoughtful planning to keep it uncluttered and well organised.
TEL Kitchens is the foremost name in the field of kitchen designing and manufacturing, ensuring that you will get what exactly you are looking for!
From complete planning to its execution, manufacturing and installation, TEL Kitchens takes care of it all.
Get a free consultation for your kitchen space with TEL Kitchens experts!
Call us @ 9914434349 or email us @ sayhello@telkitchens.in