Seeking a premium look for your kitchen space or looking for a functional piece for the small spaces?
A single-wall kitchen layout is a pretty answer for your kitchen space!
No matter the space of your kitchen. Whether you have a larger kitchen space, medium or smaller one, a single wall kitchen is an excellent choice for an open kitchen design.
One-wall kitchens are often similar to the traditional galley kitchen designs but not due to the space limitations of the smaller homes.
You will be amazed to know that single wall kitchen designs are increasingly becoming a popular choice.
Yes, you heard that right!
Let us dig into the essential information concerning the single wall kitchen design.
What is a Single wall kitchen layout?
A single wall kitchen layout refers to the kitchen design in which all the kitchen cabinets, worktops, and majority of functional services are arrayed perfectly along one wall only.
The straight line kitchen layout perfectly covers all the basics in a single stylish unit.
However, having the majority of the kitchen components along a single wall brings ample advantages. Let us get familiar with the benefits of a single-wall kitchen.
Perks of choosing a Single wall kitchen
One of the greatest advantages of choosing single-wall kitchen designs is its super space saver.
The work areas like the sink, worktop, and several other essentials leave plenty of space for the dining table.
A perfect fit for small areas
It's an ideal kitchen layout for smaller homes. So, if it is about getting your hands on the kitchen appliances, preparing area, or washing area, everything will be easily within your arm's reach.
A single line kitchen is a completely functional unit in the home space, giving an opportunity to have completely integrated appliances without compromising on anything.
A completely functional kitchen space with integrated appliances gives a more streamlined look.
A single wall kitchen is ideal to suit the long narrow spaces that cannot be efficiently used otherwise. It can easily stretch to the length of the designated area while creating a completely functional piece.
A single wall kitchen design delivers perfection while creating a sleek look to the entire space. So, no more adjustments with the bulky kitchen themes when one wall kitchen plan can provide the desired sleek look.
One of the significant advantages of choosing one wall kitchen design layout is that you will have plenty of additional storage space to keep the area uncluttered and organized.
The overhead kitchen cabinets and deep pull-out drawers are the perfect additions to create a completely functional piece.
A one wall kitchen layout keeps the workflow within the kitchen space smooth. Since all the working zones are close together, it perfectly delivers a highly practical solution within the kitchen space. 
Pro-tip by TEL Kitchens
Single wall kitchen layouts can be easily augmented with the kitchen islands!
One wall or single wall kitchen layouts are the trending premium choices that deliver a complete motionless kitchen design with integrated premium appliances.
However, you can always add another additional functional piece by including a kitchen island setup within the entire kitchen design. This will not only add functionality to the kitchen space but also enhance the workflow and workspace within the kitchen.
Trending single wall kitchen design ideas by TEL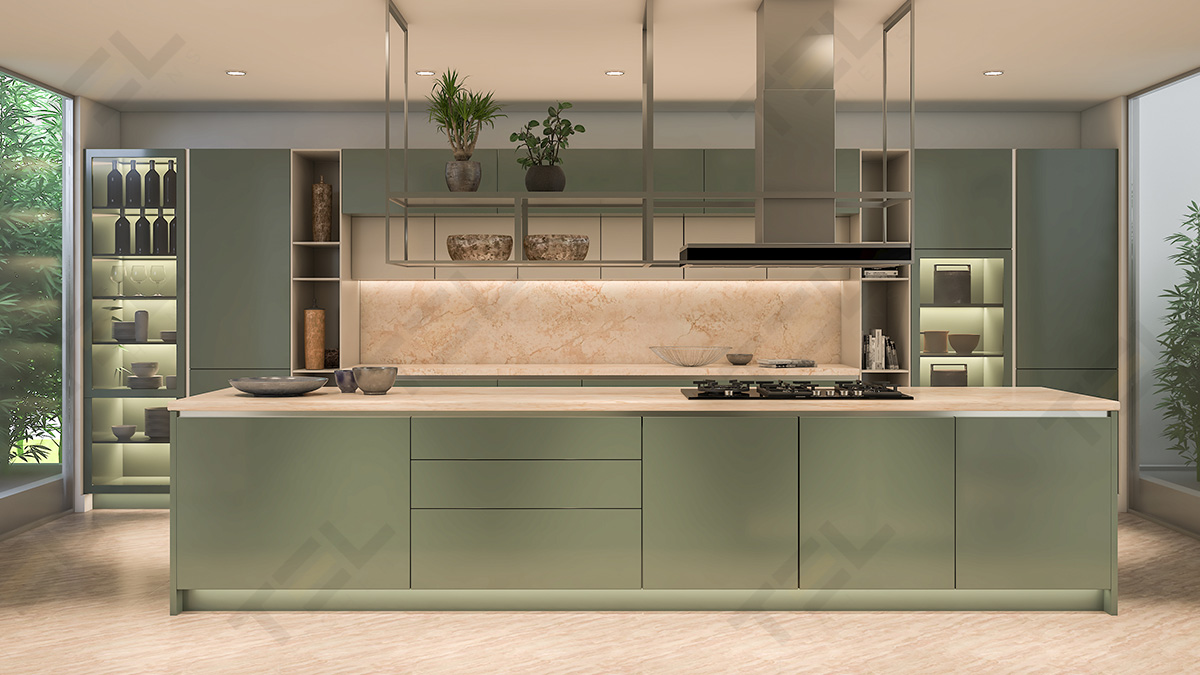 A high-end single wall kitchen design with combinational cabinet styles and island setup.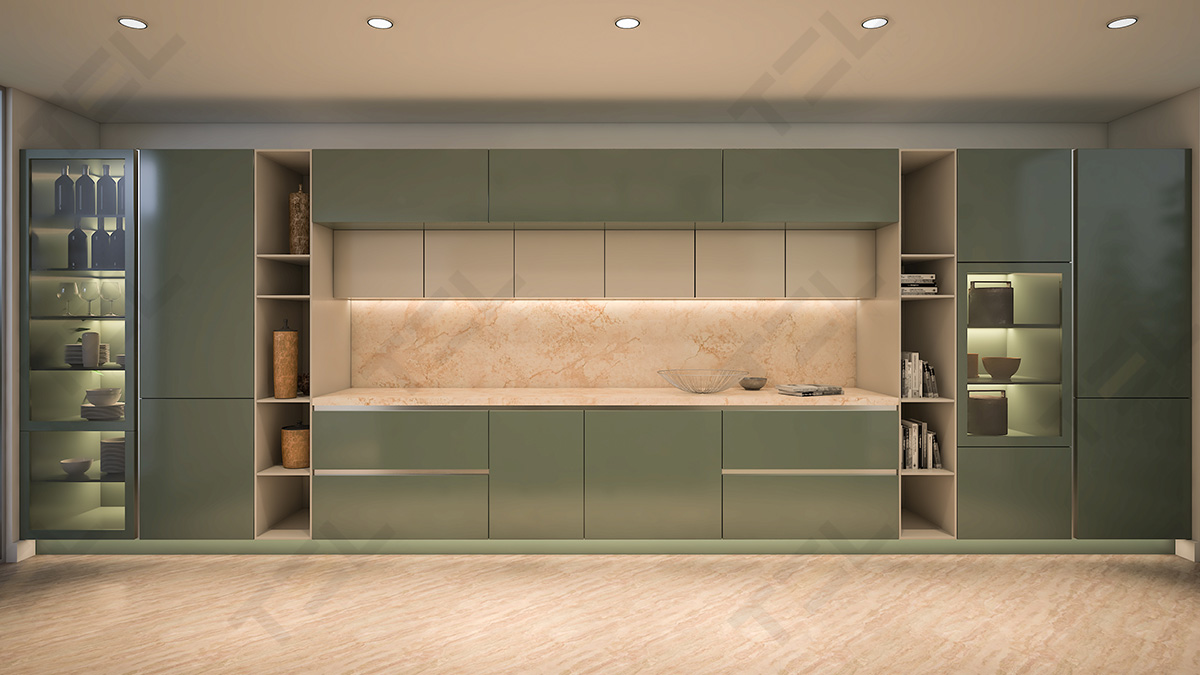 A one wall kitchen design with combinational kitchen shelving and a pop of colour.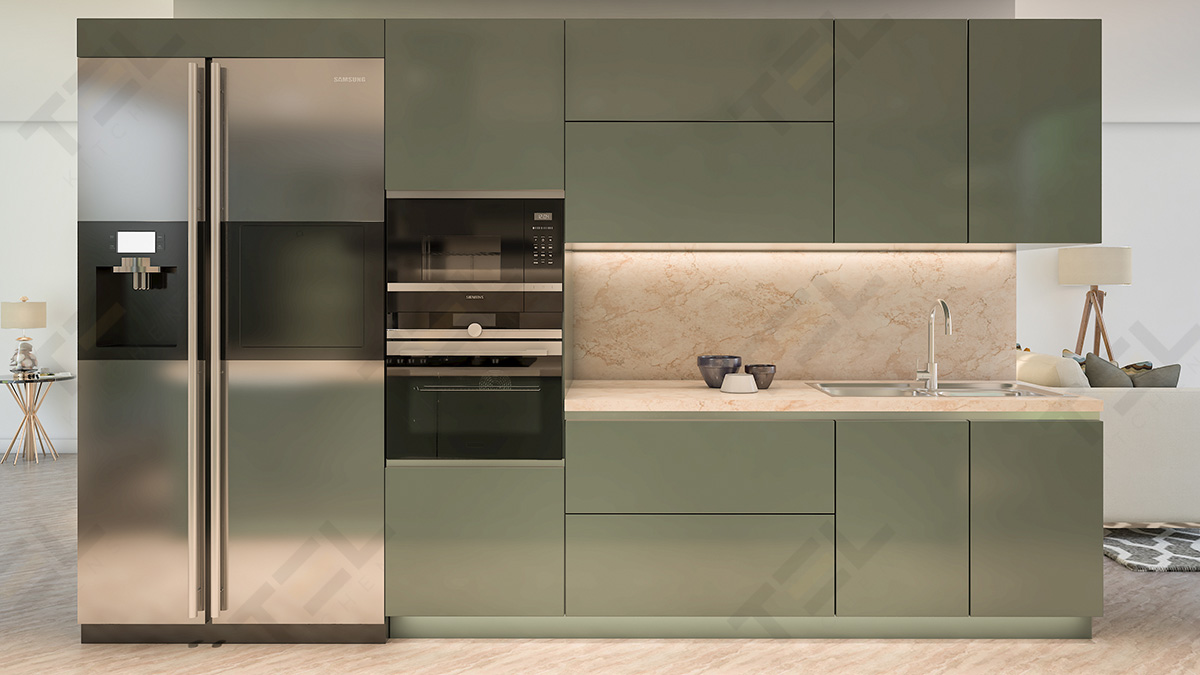 A wholly integrated single wall kitchen design with textured marble splashback.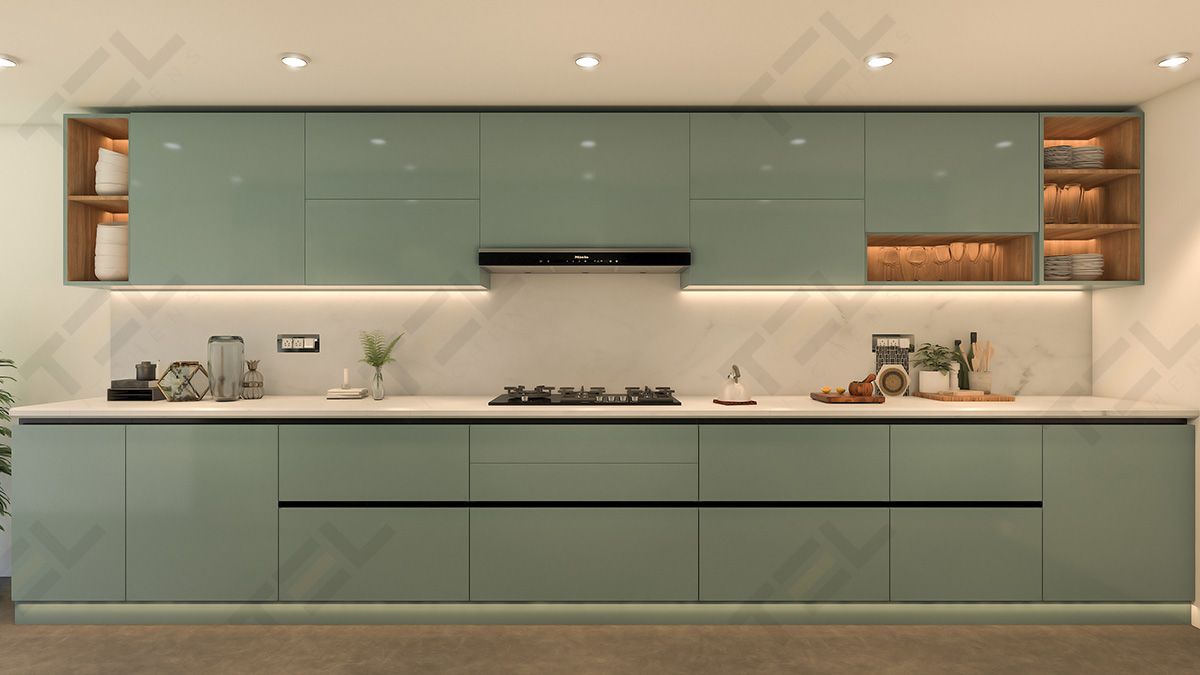 A handleless single wall kitchen design with glossy finish and elegant marble worktop and splashback in timeless beauty.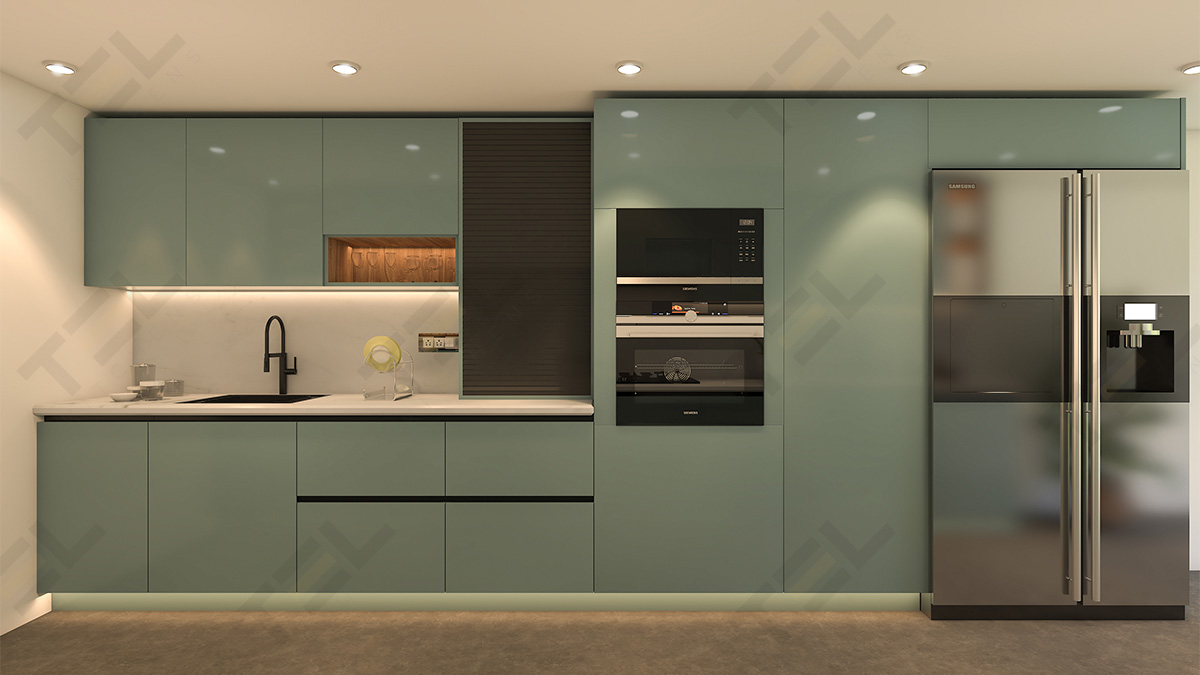 An integrated one wall kitchen design in pretty glossy olive colour.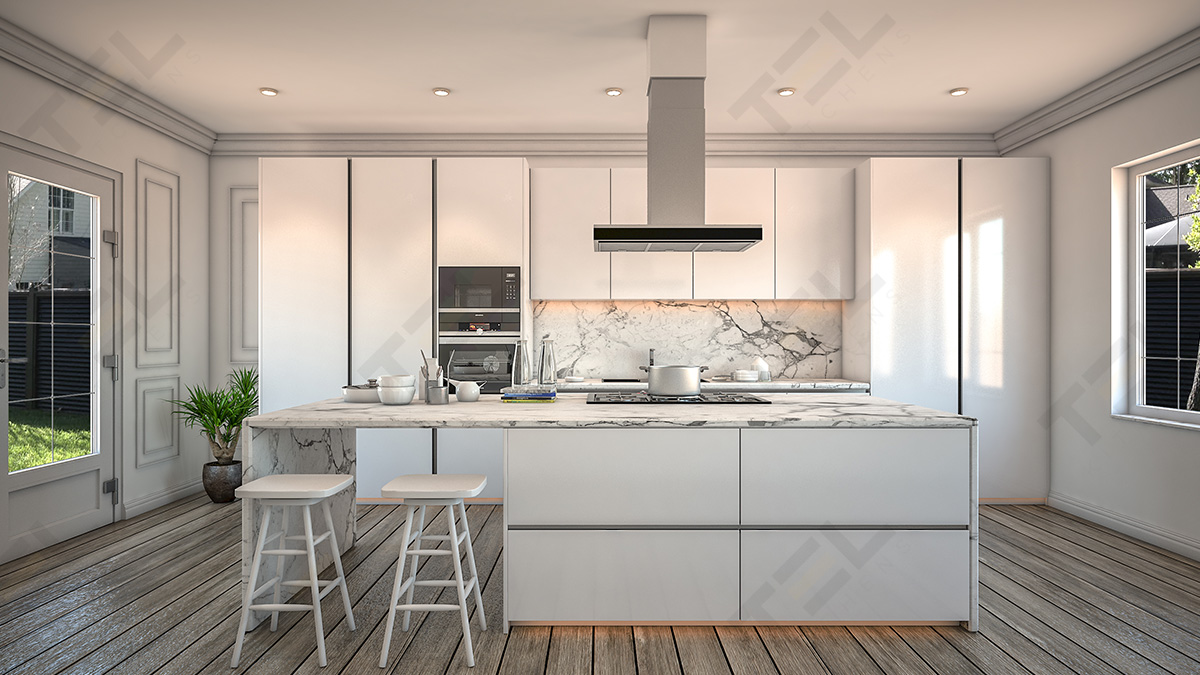 A single wall kitchen design with tall cabinets and an island setup in pristine white.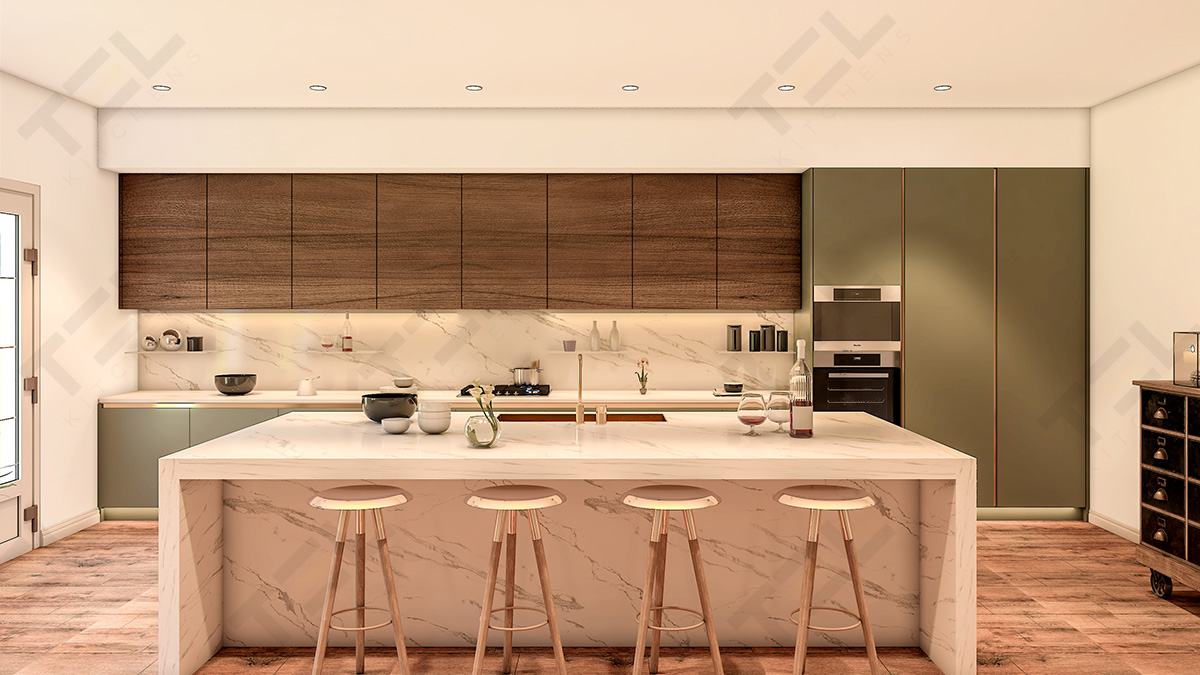 Bring in the warmth with rustic wall-hung and tall cabinets with a complete integrated setup in a single-wall kitchen layout.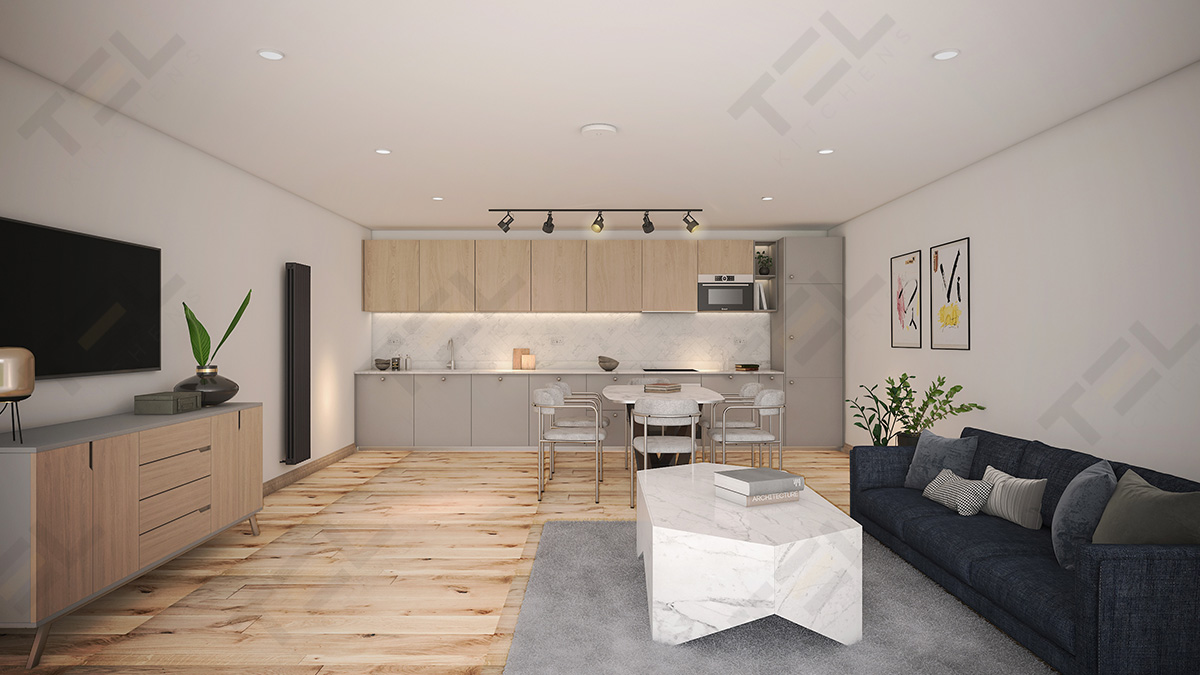 A combinational single wall setup of handleless wall-hung wood cabinets and cool grey cabinets with round knobs.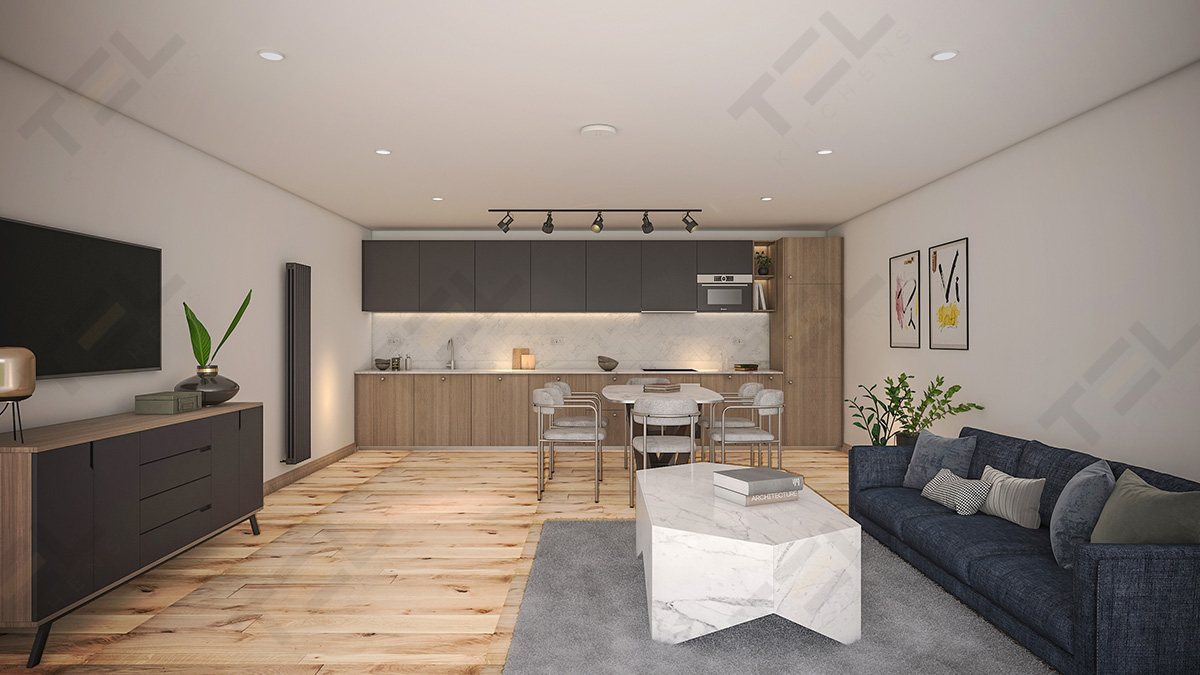 A completely seamless single wall kitchen design with warm wooden touch.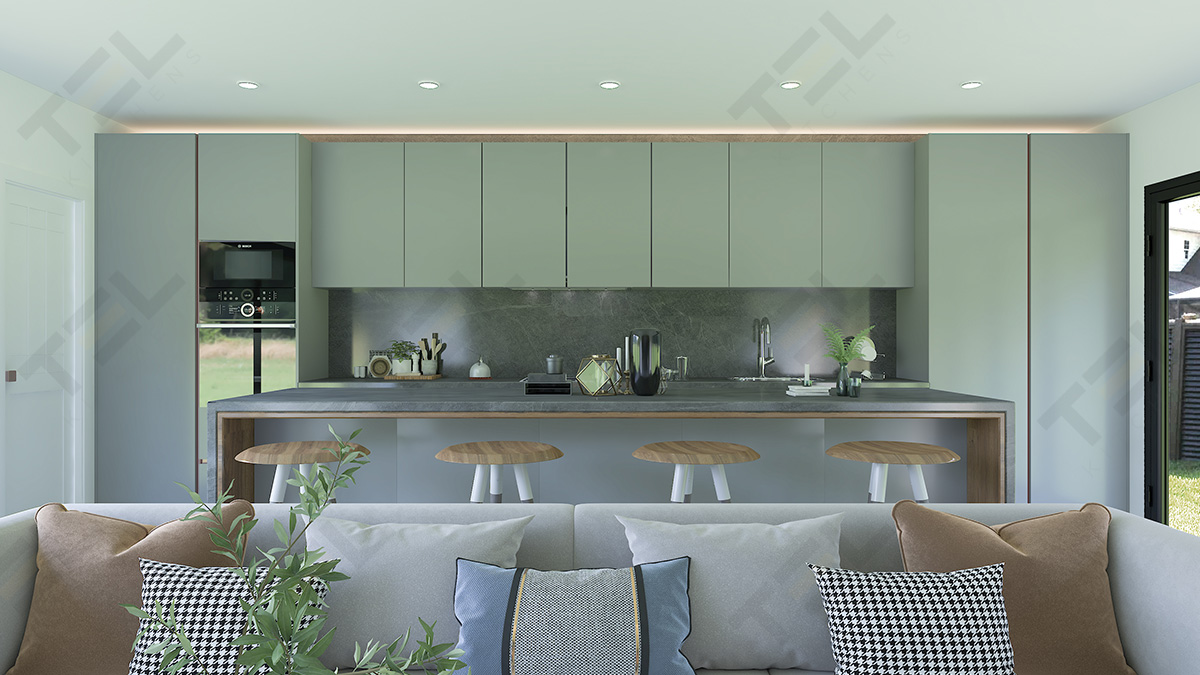 A single wall kitchen design with integrated kitchen appliances, handleless cabinets, and worktop and island setup in elegant marble.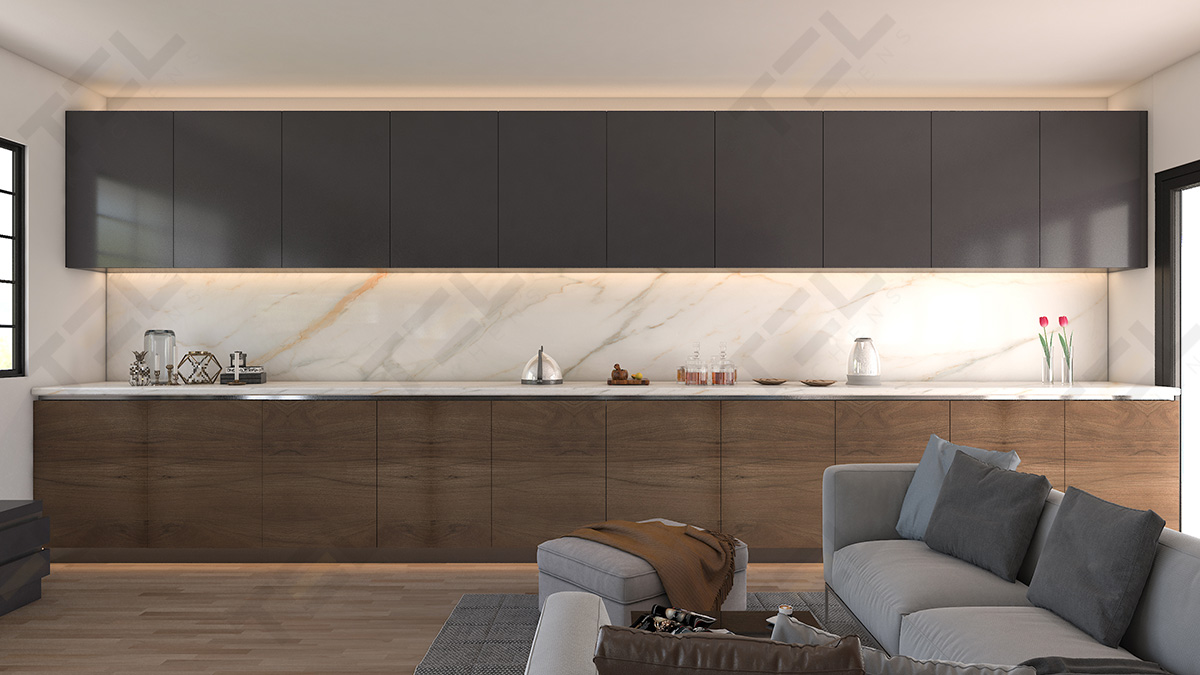 A handleless single wall kitchen design with ample storage and pretty splashback and worktop in textured white marble.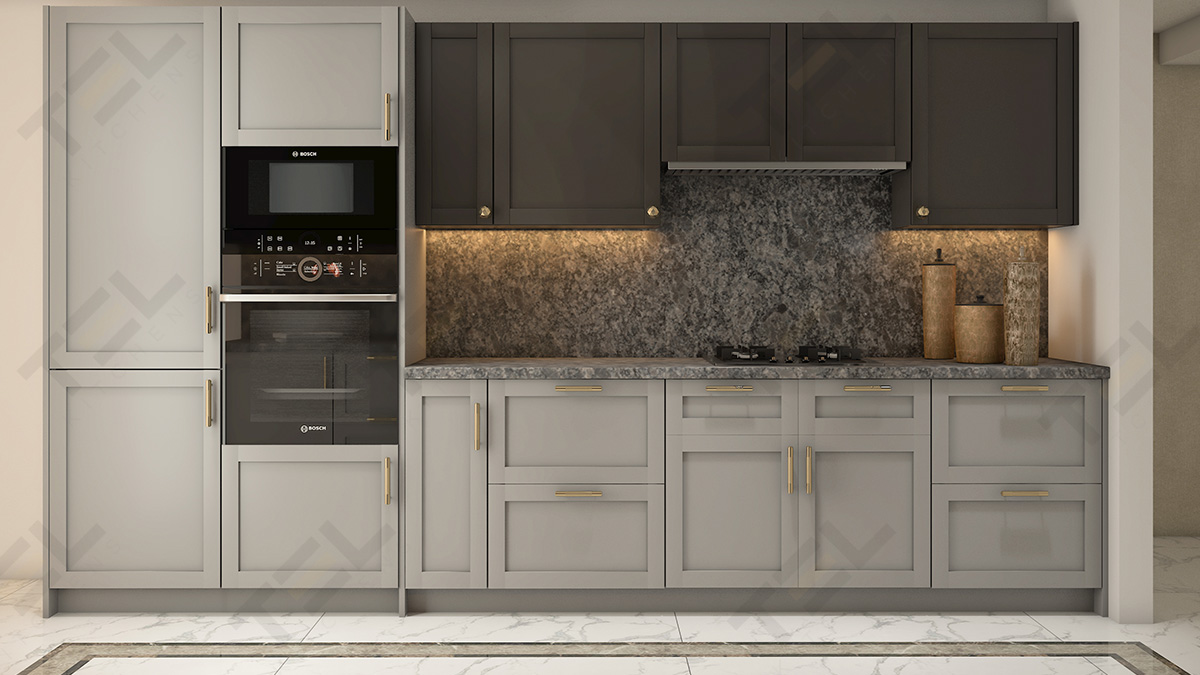 A perfect single wall kitchen design for the small kitchen spaces offering ample storage to accommodate the kitchen essentials of variable sizes.
Bottom Line!
Single wall kitchen designs are the smart choices in homes of varied sizes and styles.
Yes, the single wall kitchen designs are not only limited to design according to the smaller spaces only; it can also be an excellent option for open kitchen plans sharing an area with the living room while maintaining the aesthetic appeal of the space.
However, the easy part of getting a single-wall kitchen design is browsing and finding inspiration.
But the most challenging part is to settle on a kitchen design that meets both functional and spatial requirements.
And that is what TEL Kitchens provide you with.
TEL Kitchens- A complete one-stop solution to cater to all your requirements concerning single wall kitchen designs!
Have you got inspiration from the above-mentioned single wall kitchen design ideas?
Get in touch now!
Call @ +91 99144 34349 or write to us @ sayhello@telkitchens.in and connect to the TEL Kitchens experts.