An island kitchen is a freestanding unit added to boost the functionality and aesthetics of the cooking space.
These are basically the freestanding cabinets that can complement the existing design or blend in with the current interiors.
With the changing trends, kitchen islands have become the real icon element of a modern kitchen.
In this blog, explore and get acquainted with everything you need to know about kitchen islands.
Does it optimize the storage space and functionality?
Kitchen islands are specifically an additional fixture that adds functionality to the space while enhancing the storage space due to the cabinets under the countertop.
You can continually optimize it to get access to several other functions.
Like one time you can use it for cooking preparations, next for cooking, and some other time for baking preparations.
Where to put the kitchen island?
Putting the kitchen island in the right space can be a little tricky.
It should be placed in a way that there is enough space on all sides to enable the free traffic flow all around.
And most importantly the kitchen ergonomics are followed appropriately.
That is an excellent flow within all the key activity zones including stove, fridge, and sink.
Considerable tips for choosing the kitchen island for your space!
  A freestanding or peninsular concept matches and fits the smaller kitchen spaces well while creating a border between the dining area and kitchen.
  Functionality is the key! Whether you choose it for preparation work or use it as a primary cooking area, the island needs to serve the desired functionality.
  The size considerations and kitchen island ergonomics need to be followed appropriately.
  If the kitchen space already has enough storage space, the storage may not fall under essential consideration.
  A well-planned work triangle within the kitchen design assures a clear workflow.
How can you make the most use of your kitchen island?
Instead of just being an additional piece to the kitchen space, you can make the most use of your kitchen space.
Do it by
    Either turn it into a breakfast table
    A cooking worktop
    A chopping boards
    Or just putting in some additional stuff.
You can use it the way you want to! The innovation is all in your hands.
And surprisingly, the space doesn't even affect the planning of a kitchen design with an island setup.
If you think that kitchen island setups are for the large spaces only, you are probably wrong!
With the below-mentioned ideas, you can fit it to even the compact kitchen spaces.
Fitting kitchen island setup into compact kitchens! 
You can choose the kitchen island as a moveable unit that you can keep aside whenever not in use. 
The L-shaped unit creates the space illusion.
You can use an L-shaped unit's one section completely for cooking while the other for preparations—what a multi-use of a single unit!
Who said that the island only needs to be fixed in the kitchen's middle area?
You can place it anywhere and convert it to your breakfast table whenever you want to.
If your kitchen space is open on one side, you can place your kitchen island there and tuck your tools under it—a multifunctional piece of your kitchen!
Why do I need an island kitchen design?
Kitchen Islands are increasingly becoming the trending and a must-have addition to the kitchen spaces.
Here's why one must have an island set up in kitchens.
  It can be accessed from all sides while maximizing the kitchen space and provides more functionality than traditional countertops.
    They can become an excellent focal point of the kitchen
  You can enhance the functionality by adding stools to it and use it as a breakfast table.
  Due to its opening on all sides, it can accommodate multiple cooks or people around.
  It combines style with functionality.
How about getting one for your home?
Functions it can serve!
  Food preparation area
  A cleaning center
  Cooking area
  Additional storage space
  Chopping area
  A seating area
How do TEL Kitchens add these functional pieces?
TEL Kitchens has marked an excellent level in delivering high-end functional kitchen designs.
Whether it is about creating a functional piece or a luxury appearance in kitchen spaces, TEL has delivered it with desired excellence in the field.
With zero outsourcing, and a complete in-house team of proficient professionals, TEL Kitchens also provides an opportunity to visualize the space with all the actual elements in the form of 3D Renders.
Visualize it! Analyze it!
And if required; Revise it! 
Trendiest Kitchen Island Design Ideas by TEL!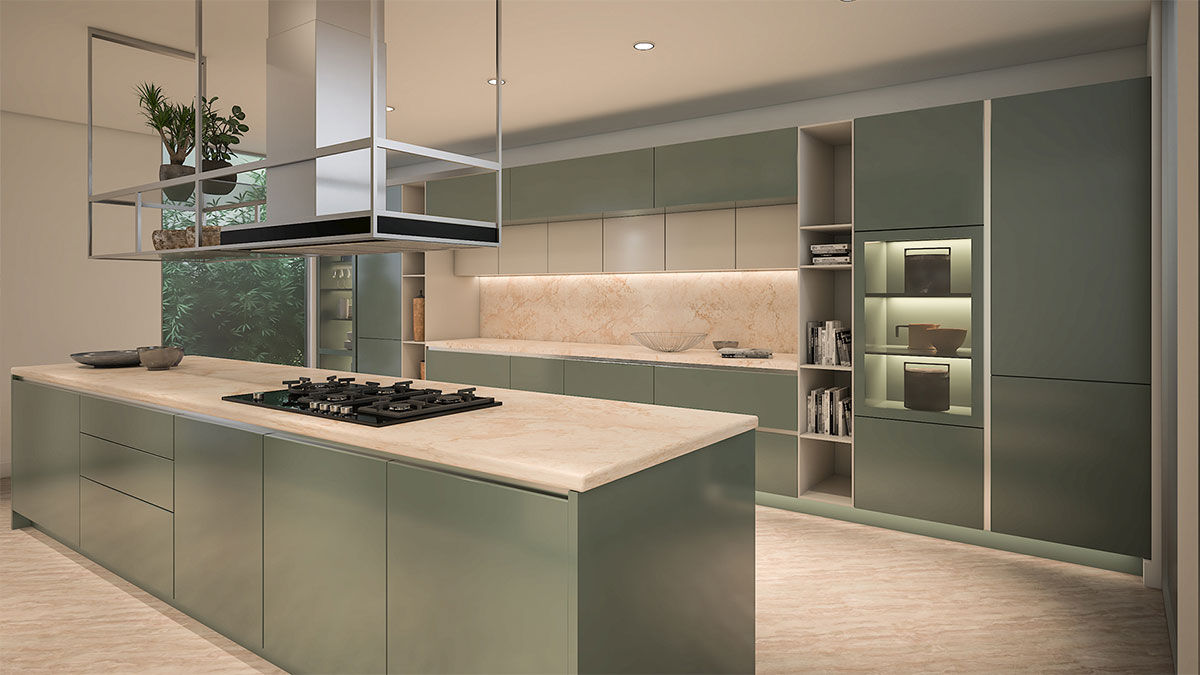 Modern kitchen design with elegant marble worktops
An integrated kitchen design with olive kitchen cabinets offers ample storage space and open shelving to display the collectibles.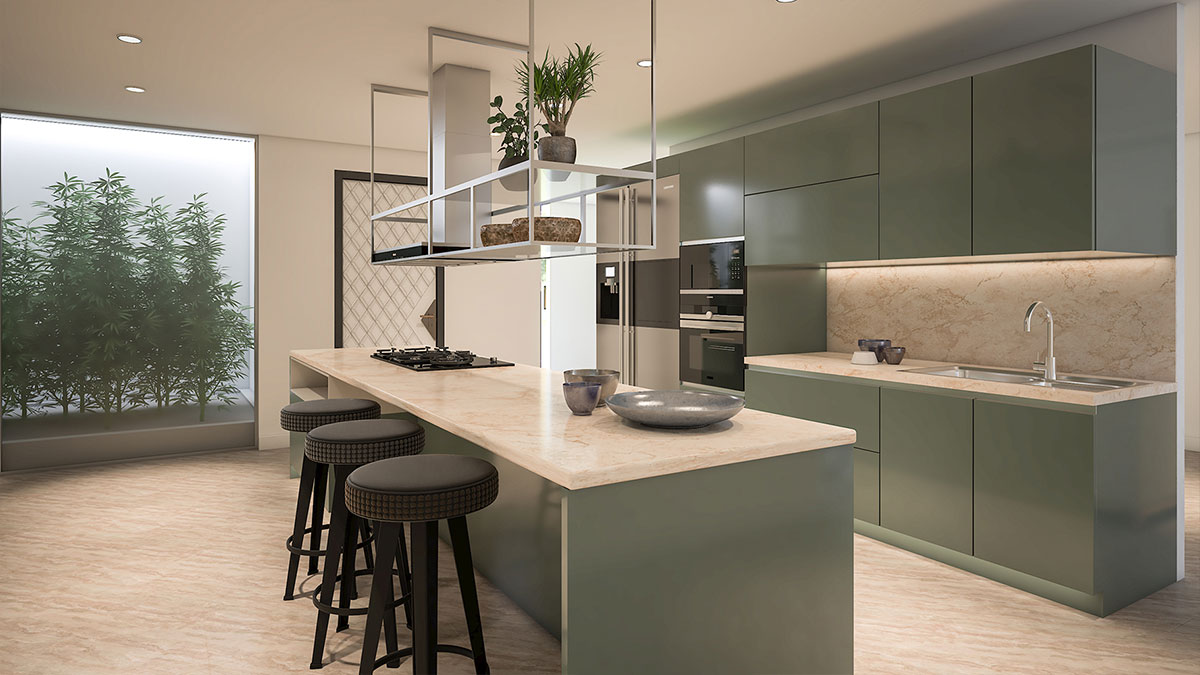 Handleless kitchen design with island kitchen setup
A complete integrated kitchen design with handleless kitchen cabinets and durable kitchen countertops in elegantly textured marble stone.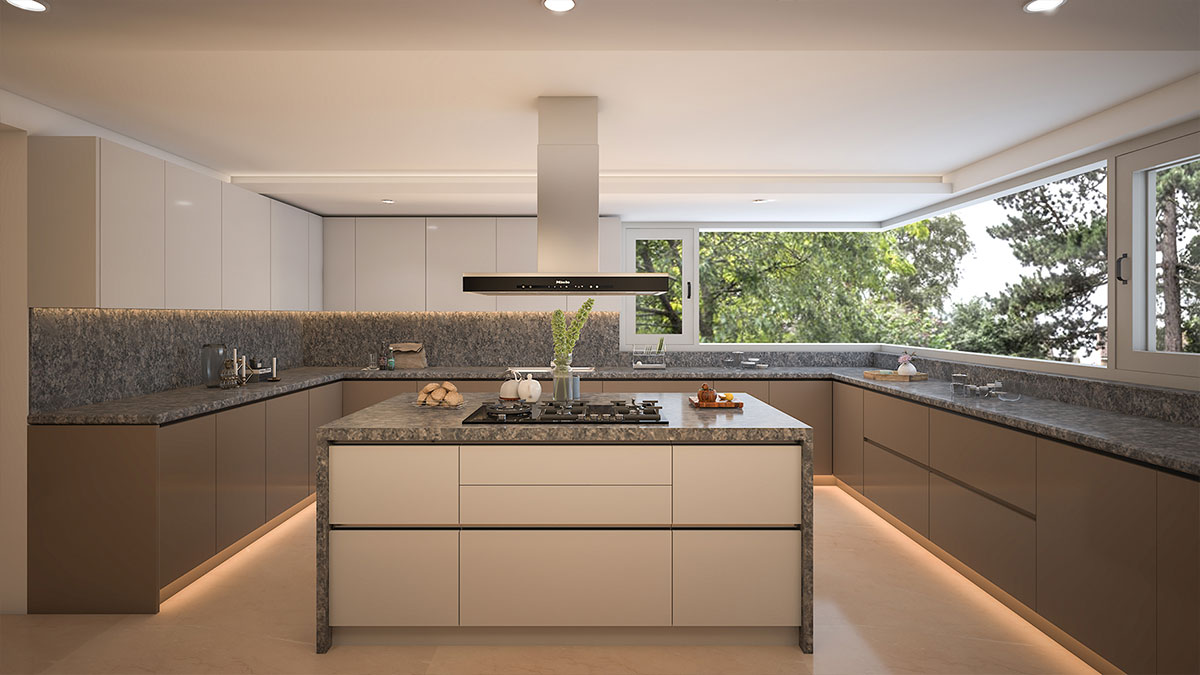 Space-age white kitchen design with island
This space-age kitchen design features glossy white kitchen cabinets without handles.
It's an efficient, simplest, and most functional planning setup with U-shaped in minimalistic style.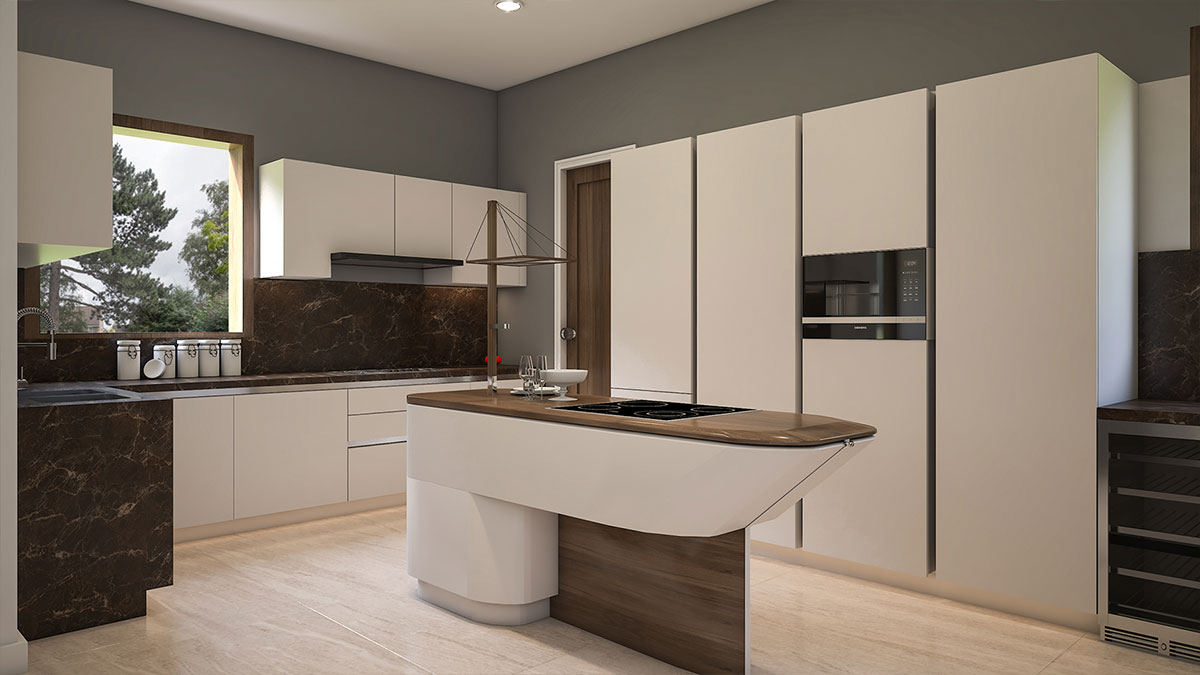 Kitchen design with the unique kitchen island in timeless white!
This unique kitchen island in timeless white and traditional glossy wood is the focal point of this kitchen design.
The long kitchen cabinets with the integrated design create a seamless look while accommodating all the kitchen essentials nicely.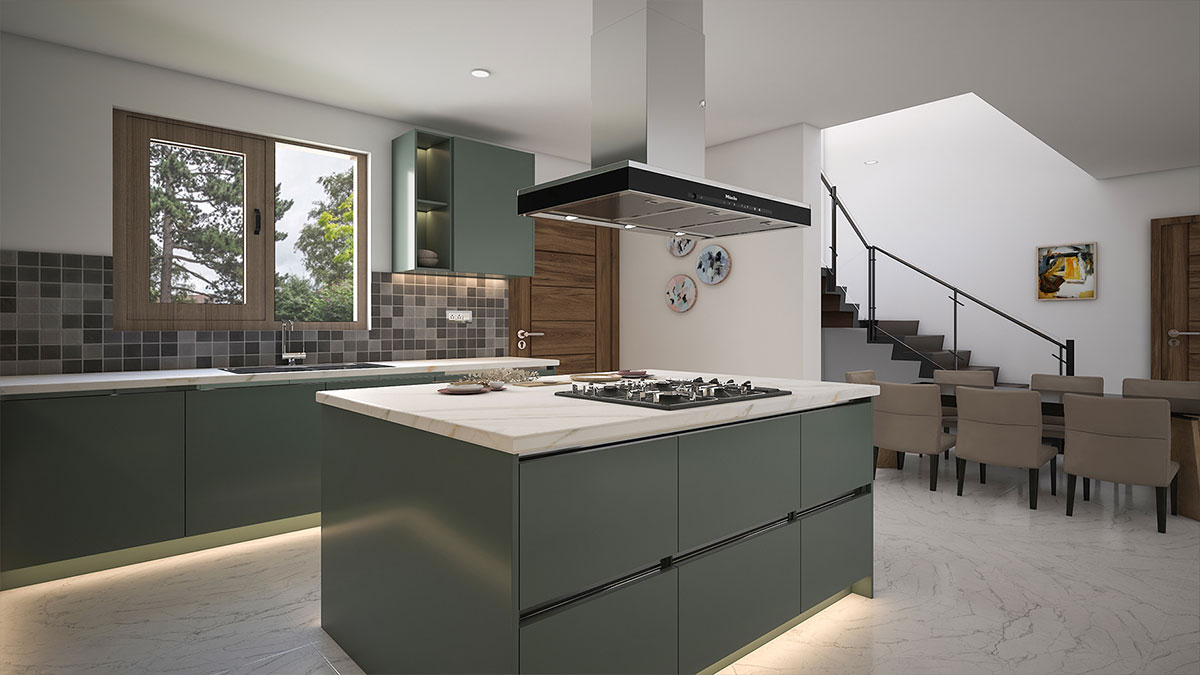 Country style modern kitchen island
This open plan kitchen design in a minimalistic look with an integrated kitchen island setup is delivering country-style modern space.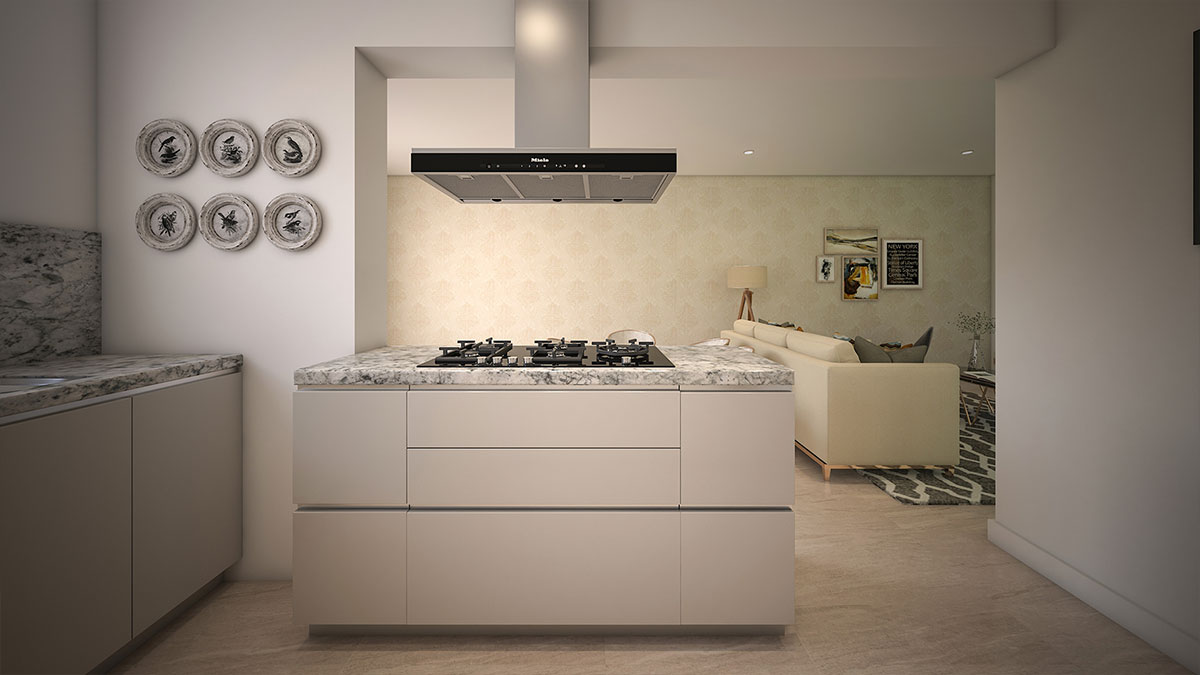 Timeless elegance of modern kitchen design
Luxury is redefined with this elegant timeless kitchen design. And this kitchen island setup is gracefully putting a full stop to kitchen design searches.
Pro-Tip!
Kitchen islands can have some stools around them, offering additional seating to the kitchen and enhancing storage by adding some storage doors.
Bottom Line! 
Kitchen islands can be the real game-changer in your cooking space, enhancing the functionality and adding aesthetics.
With an island kitchen design, get a stylish, excellent, and functional addition to the kitchen.
Get a complete functional solution to the kitchen design woes with the kitchen design and manufacturing professionals.
TEL Kitchens is the premium kitchen designing destination to cater to all your needs concerning functional kitchen solutions.
Feel free to explore your modern kitchen design inspiration with TEL.
Connect now @ +91 99144 34349 or write to us @sayhello@telkitchens.in.
Do not forget to stay updated with the latest trends and updates on our social media handles.